My snoring neighbor left during intermission (he was roused a bit when the musical vigor picked up in the finale of the Mozart).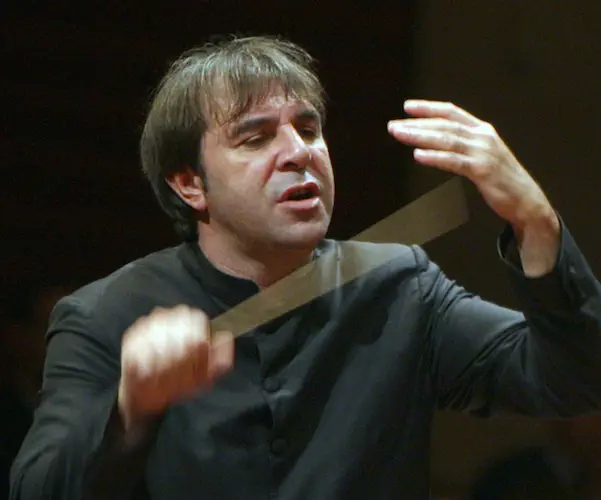 By Jonathan Blumhofer
It's pretty rare for a football game and an orchestra concert to have too much in common, especially when both occur on the same day. Yet Sunday's performance by the Orchestre National de France (ONF) at Symphony Hall (courtesy of the Celebrity Series) and the Patriots-Broncos AFC championship game had a few points of mutual intersection. Both offered their share of shiny relics, whether those be quarterbacks or pieces by Mozart and Tchaikovsky. Each featured a lackluster first half followed by a much more spirited second. And, just as the Pats couldn't pull off a two-point conversion, so an invigorating Tchaikovsky Fifth Symphony didn't quite redeem a sleepy Mozart piano concerto and some flaccid Debussy.
Of course, to suggest that Daniele Gatti, the ONF's longtime music director who led Sunday's performance, is the conducting equivalent of Tom Brady is to stretch the metaphor a bit thin. He's a smart, thoughtful musician, to be sure. But, as Boston audiences are aware, he can also be frustratingly inconsistent and erratic. With his Parisians this weekend, Gatti was all of the above.
Sunday's program opened with Debussy's Prelude to the Afternoon of a Faun, just the sort of piece you'd expect a French orchestra to play with the élan and passion you'd anticipate a visiting German orchestra to bring to Wagner or a British one to Elgar. By and large, the ONF delivered: this was a sumptuous, unhurried reading, full of lovely solos (the trio of principal flute Philippe Pierlot, principal oboe Nora Cismondi, and principal clarinet Patrick Messina delivered each of their several turns beautifully) and rich ensemble work (led by sumptuous strings and horns) topped with a glittering account of the piece's involved harp writing (played by the excellent Emilie Gastaud and Isabelle Perrin).
Tonally and texturally, the orchestra's playing was exquisite; interpretively, Gatti's reading was anti-climactic. It started well, at least, and built to a persuasive apex, but, as that began to unwind, the Prelude seemed to run out of gas, losing tension by the bar. This is music that should feel timeless – the best performances can cast such a magical spell that you shouldn't be aware of its ten minutes passing by at all – but on Sunday, over its second half, the time weighed heavily. The tempo dragged, the music's expressive tautness sagged, any remaining sensuous impulses went out the window. A few rows behind me, a patron, apparently lost in his own reveries, snored soundly. He kept on snoring through the next piece, Mozart's Piano Concerto no. 23 in A major.
On the plus side, this sunniest of Mozart concerti allowed for the opportunity to hear the French pianist Alexander Tharaud in the solo part. A very youthful-looking forty-seven, Tharaud is a technically accomplished, inquisitive keyboardist with a repertoire that covers a good three centuries. His account of the A-major Concerto on Sunday was thoroughly enjoyable, marked by a singing tone and a dexterous touch. That it ultimately wasn't revealing or particularly illuminating wasn't entirely Tharaud's fault – the couple of times he tried to tug on a phrase in the finale, Gatti kept the orchestra running at full throttle – but, from the start, this wasn't a piece in which he seemed too concerned about taking a risk or two.
On the contrary, both Tharaud and Gatti offered what I like to call "Faberge Egg Mozart:" gentle, delicate of articulation, its pretty details admired from a distance, rounded in tone, lacking any sharp edges that you might cut yourself on. It's an approach to Mozart that's an acceptable, if old-fashioned, kind of performance practice. But it's one that I find thoroughly off-putting and emotionally antiseptic. God forbid Mozart's music be treated like a living, breathing thing that can take a punch or two or that it not be handled like a first printing of the Rights of Man. Never mind that Mozart and Beethoven were, essentially, contemporaries and that the late piano concerti of the former exerted a powerful influence on the latter's five entries in the genre. Surely it's hard to imagine either of Beethoven's first two concertos, both published just a few years after Mozart's death, emasculated in performance the way Mozart's music often is.
But I digress. If Mozart viewed from behind glass was what Tharaud and Gatti were going for, that's what we were going to get. Rarely rising above a dynamic level of mezzo-forte and regularly playing piano or less, the first movement opened with a limp, edgeless orchestral exposition that Tharaud, in tone and articulation, matched impressively (if not promisingly) with his entrance. The brooding second movement brought some passion out of all the players, though it provided no real contrast to the first movement and remained emotionally distant. Only in the finale, and mostly towards the end at that, did the ONF break out of its lethargy and dig into the music, allowing it some opportunity to try and come to life. Tharaud, too, imbued this last movement with a welcome dose of energy, even as he and the orchestra spent much of it jostling one another for supremacy of the musical line: textures were often blurry and unbalanced.
My snoring neighbor left during intermission (he was roused a bit when the musical vigor picked up in the finale of the Mozart) and, as a result, missed a much different orchestra in Tchaikovsky's Symphony no. 5. Of course, it was the same ONF, but now they played with a purpose that had been strangely lacking over the first half of the afternoon.
The Fifth is a piece that's been a part of the ONF'S DNA for a while now: during World War 2, it was regularly performed to keep up the morale of the Parisian public during the German occupation and it's remained a staple of the ensemble's repertoire. Sunday's reading of it stirred. Gatti, often at his best now, commandingly drew out the seething tensions in the first movement: rarely have I heard its busy counterpoint sound so threatening. Hervé Joulain delivered a shining account of the great horn solo in the second movement. The third skipped along like a pebble caroming across a smooth pond, gracefully and with much charm. If there was an awkward transition or two in the finale – and Gatti was a bit fussy with several big moments in the outer movements – they were more than made up for by the heroic account of the coda that the orchestra turned in.
No encores followed: at the end of performance, Gatti, called back a couple of times by a hearty ovation, simply stood on the podium for an extended moment and then walked back into the wings. Perhaps he knew that most folks in the house wanted to catch the last half of the Pats game. Or maybe everyone on stage was just tired from their travels. Whatever the reason, it was a curious ending – the orchestra appeared to have new pieces opened and out on their stands, ready to go – to a peculiar afternoon, even if it wasn't ultimately as disheartening as the close of Sunday's football game.
---
Jonathan Blumhofer is a composer and violist who has been active in the greater Boston area since 2004. His music has received numerous awards and been performed by various ensembles, including the American Composers Orchestra, Kiev Philharmonic, Camerata Chicago, Xanthos Ensemble, and Juventas New Music Group. Since receiving his doctorate from Boston University in 2010, Jon has taught at Clark University, Worcester Polytechnic Institute, and online for the University of Phoenix, in addition to writing music criticism for the Worcester Telegram & Gazette.