Lettuce is in the midst of a headlining tour; on January 22 the group will be back on its old stomping grounds in a performance at Boston's House of Blues.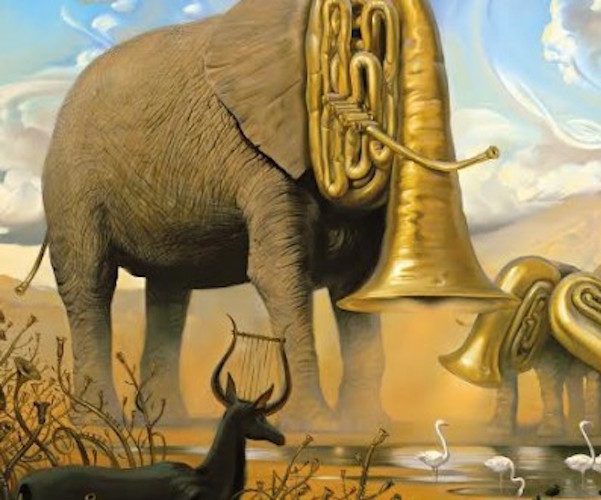 By Scott McLennan
It's been more than 20 years since a group of young musicians met at Berklee College of Music, bonded over a shared love of funk, and started playing around Boston as Lettuce. As can be expected, a lot has changed since then. The original collective has spawned new bands such as Soulive and Rustic Overtones while Lettuce's individual members have become in-demand producers, musical directors, and backing instrumentalists for a quirky list of clients ranging from Lady Gaga and Britney Spears to Dr. Dre and Kanye West to Robert Randolph and Nigel Hall.
Yet, no matter where their career paths have led, bassist Erick "Jesus" Coomes, drummer Adam Deitch, guitarists Eric Krasno and Adam "Shmeeans" Smirnoff, keyboard player Neal Evans, and sax player Ryan Zoidis have always found time for Lettuce, with trumpet player Eric "Benny" Bloom joining in 2011 to complete the current lineup.
In November, Lettuce released its fourth studio album, Crush, which went on to top Billboard magazine's top-selling jazz album chart: not bad for an LP that includes a smoking cover of the Bobbie Gentry 1970 pop-country gem "He Made a Woman Out of Me." Crush offers a tasty variety of other sturdy grooves as well: Spaghetti Western motifs, shimmering soul and R&B passages, and psychedelic head-trips.
Crush's expansive range reflects the band's outlier origins.
"Twenty years ago, nobody saw a place for us," Smirnoff recalled during a recent interview with him and Coomes. "But that just let us believe in dreams. Crush is a continuation of our dream, and it just keeps growing. It shows how it's possible to keep an idea growing and a moment going. It's really all about love. We love what we do. We love making music together."
Coomes added that he figured Lettuce was always going to be group that lived in a basement, essentially existing as a loose jam session that convened whenever the guys could get together. Instead, Lettuce has become an in-demand live act, a staple on the rosters of summer music festivals as well as an integral part of the current soul/funk revival that branched out from the jam-band scene.
Lettuce is in the midst of a headlining tour; on January 22 the group will be back on its old stomping grounds in a performance at Boston's House of Blues. Jaw Jems is opening the show.
"I never thought Lettuce would get to this level," Coomes says. "It goes to show how cool it is when the right combination of people finds each other. Dr. Dre told me when we first worked together that anything amazing he ever did came from working in a group."
Coomes took that to heart. Even when Dre, Kanye or Gaga were paying the bills, the bassist would find ways to make time for Lettuce. That devotion has meant sacrifice. When the bass player asked for time off to meet the rest of Lettuce in Japan for a one-off festival appearance it cost him a job as Anthony Hamilton's band leader
"If I hadn't done that, we wouldn't have been able to make the Live in Tokyo record," Coomes said; and he sounded pretty damn proud of the record.
The new LP is an important step forward for Lettuce. The group is flexing its creative muscles, helping to shape next-gen funk, which combines the disciplined musicianship James Brown and his band brought to the genre with the manic, chaotic energy George Clinton and his crew made synonymous with the music.
Coomes said the songs on Crush initially evolved out of jams. The tunes where then honed, polished, and performed on the stage before they were recorded. The process yielded a wild array of music. There are straight-up, groove-driven numbers, such as "Pocket Change" and "Get Greasy," that validate Lettuce's stature in the funk ranks. Then there are less conventional excursions that suggest new vistas are opening up for the funkateers, such as the Morricone-esque atmosphere of "Trilogy" and the hallucinogenic vibes of "Phyllis."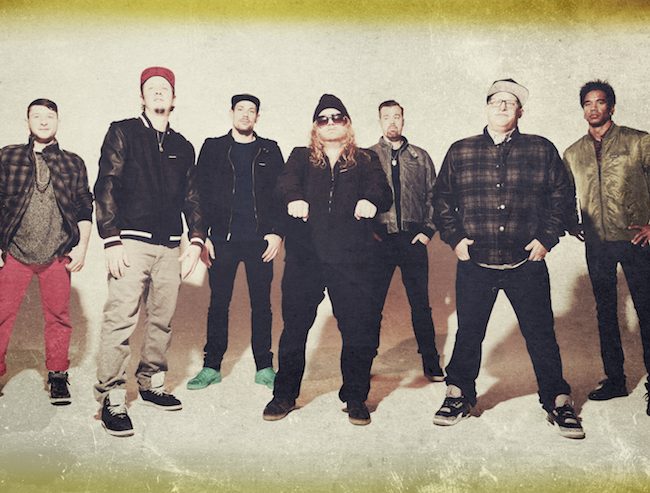 Crush also exudes a loose party vibe fundamental to funk. Short interludes punctuate the album's flow, while two vocal pieces add a frisky texture. Nigel Hall sings the boisterous "Sounds Like a Party" and Alecia Chakour dovetails her smoky, soulful tone with the staccato bop of "He Made a Woman Out of me" to create a rejuvenating arrangement of Gentry's original.
"I wasn't familiar with the song. It was Alecia who said we needed to do a version of this. Neal was really involved in the arrangement, and we came up with something that was really funky," Coomes explained.
Both Coomes and Smirnoff are deeply grateful for a level of success which they never would have predicted. Not only have they been able to keep a group of busy musicians dedicated to searching out innovative beats and rhythms together for over two decades, but they have found and maintained a supportive listenership: Lettuce has moved far beyond the days when members of the band had to beg clubs to let them play.
"We all feel pretty amazing right now," Coomes proclaims. "It's gotten to the point where we are making the music that is in our hearts and in the audiences' hearts. It feels like we're making music for a specific time and place. It's more magical and spiritual than it's ever felt before."
---
Scott McLennan covered music for the Worcester Telegram & Gazette from 1993 to 2008. He then contributed music reviews and features to The Boston Globe, The Providence Journal, The Portland Press Herald and WGBH, as well as to the Arts Fuse. He also operated the NE Metal blog to provide in-depth coverage of the region's heavy metal scene