As a musical, Rock of Ages may not be an innovative or brilliantly written work of art, but the show's delightfully cheesy enthusiasm, self-deprecating humor, and talented cast make it very hard to resist, especially for fans of 80s rock.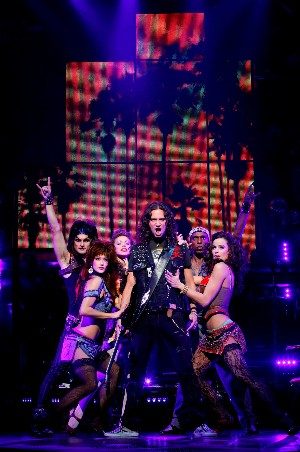 Rock of Ages. Book by Chris D'Arienzo. Directed by Kristin Hanggi. Music Direction by Brandon Ethridge. Musical Supervision, Arrangements, and Orchestrations by Ethan Popp. Choreography by Kelly Devine. Set Design by Beowulf Boritt. Costume Design by Gregory Gale. Lighting Design by Jason Lyons. Sound Design by Peter Hylenski. Projection Design by Zak Borovay. Presented by Broadway Across America at the Colonial Theatre, 106 Boylston Street, Boston, MA, through October 17. Not appropriate for children under 14.
Reviewed by Alyssa Machado.
The genre of rock, despite its huge commercial appeal, remains largely uncultivated in musical theater. Even the latest wave of so-called rock musicals, like Spring Awakening and Next to Normal, are closer to pop, light rock, or alternative. Unapologetically blasting 80s arena rock anthems, Rock of Ages takes its best shot at being a harder rock musical. While it does indeed rock as a concert-like entertainment experience, the show doesn't quite succeed as a work of musical theater.

Rock of Ages takes a mix of popular rock songs from the 80s, like "We're Not Gonna Take It" (Twisted Sister) and "Don't Stop Believin'" (Journey), and assembles them around a classic girl-meets-boy plot. When German developers try to demolish the Bourbon Room rock club on the Sunset Strip, where Drew, an aspiring rocker, and Sherrie, a small-town, wannabe actress, work and fall for each other, the two must face the realities of achieving their dreams and decide what and who is most important to them.
The individual songs, performed energetically and powerfully by the national touring cast, nail the rock concert vibe—bright, loud, in-your-face, slightly risque, and responsive to the audience. Indeed, everything from the colorful and glittery costumes to the bold lighting effects (frequently directed at the audience à la rock concert) operates a few notches above reality, successfully celebrating the rock-star world of spectacle.
Unfortunately, the scenes tying the songs together don't hit nearly the same heights. Book writer Chris D'Arienzo prefers to call the show a "mixtape" musical rather than a jukebox musical since it draws from over 20 artists instead of using only songs from one group. No matter what you call it, however, Rock of Ages suffers from many of the common flaws inherent in the jukebox musical format: interchangeable songs, reliance on audience familiarity with the material to carry the show, and weak plot and character development.
Since the songs weren't written for this particular story, the lyrics can't contribute to character or plot development as they would in an original musical theater work. Switch out the songs for any other rock songs about the same nebulous topics of love and loss and the plot barely changes. The lack of integration with the underlying story means that the book between the songs faces a considerable challenge—it must add individuality to the common girl-meets-boy/chasing stardom plot. Rock of Ages roars out the same old guff.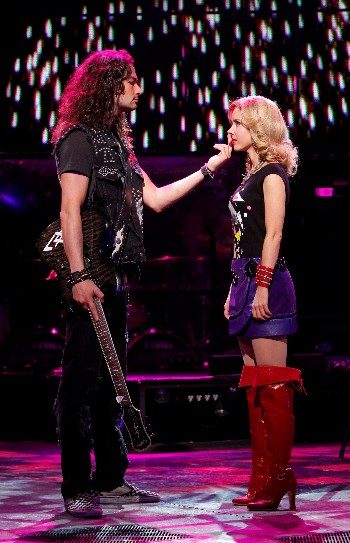 Chris D'Arienzo's plot veers from boring, grating, and ridiculous (a subplot about a hippie activist falling for the cartoonishly effeminate son of the developer, who really wants to start a confectionery shop, not demolish The Bourban Room) to cute but utterly predictable (the main love storyline between Drew and Sherrie). The majority of the characters are barely developed caricatures (Stacee Jaxx, the debauched, glamorous rock star; Regina, the hippie activist protester from Berkeley, CA; Justice, the confident, soulful, and mothering strip-club owner dispensing life lessons).
Thankfully, the show remains fully aware of its limitations and embraces a self-deprecating, tongue-in-cheek tone. Lonny, the club audio guy and musical's narrator (played with sleazy glee by Patrick Lewallen), doesn't miss a chance to smash the fourth wall to bits, even handing the show's program to Drew at one point to tell him he can blame the book writer for his current state. Later, he proclaims, "I'm no Andrew-Lloyd-Sondheim," before adding some jazz hands to the first act finale. This lack of pretension to do anything but entertain and amuse lets Rock of Ages succeed purely as a celebration of 80s rock and musical theater spectacle.
Much of that success is due to the fully committed cast, which encourages the audience to clap, scream, wave their LED lighters, sing, and generally "feel the noise." Constantine Maroulis, who was perfectly cast as Drew and nominated for a Tony Award for the role, exemplifies the high quality of individual performances. Maroulis sells Drew as shy, dorky, earnest, and utterly endearing in his everyday life and then makes him completely believable as the exact opposite—a powerful, confident, potential superstar rocker who commands huge audiences with his voice and presence. He brings individuality and heart to a fairly ordinary character and makes Drew impossible to root against. Even though Maroulis has been in the show since the Off-Broadway production in 2008, he still seems to love every minute of it, and his joyful performance makes it difficult not to grin no matter how ridiculous the show gets.
Rebecca Faulkenberry (Sherrie) and MiG Ayesa (Stacee Jaxx, the rock star who plays the Bourbon Room and Sherrie) also give standout performances. Faulkenberry's innocent yet spunky Sherrie holds her own against the loud guitar riffs with her strong and clear voice. She has easy chemistry with Maroulis, and their earnest renditions of ballads like "High Enough" (Damn Yankees) override some of the cheesiness of the lyrics. Ayesa's Jaxx swaggers, postures, and seduces with hilarious arrogance and self-absorption.
Late in the show, Lonnie confesses he was a serious theater actor who ended up in a show with "poop jokes and Whitesnake." Then again, he loves Whitesnake. It's an apt analogy for the Rock of Ages experience. It may not be an innovative or brilliantly written work of art, but the show's delightfully cheesy enthusiasm, self-deprecating humor, and talented cast make it very hard to resist, especially for fans of 80s rock.