Boston Ballet's reconstructed versions of Yakobson's Pas de Quatre and four Choreographic Miniatures were a revelation.
Leonid Yakobson – Boston Ballet @ Home. Reconstructing the Russian Choreographer, with Mikko Nissinen and author Janice Ross. Boston Ballet Studio, Boston, MA, Sept. 17 and 18.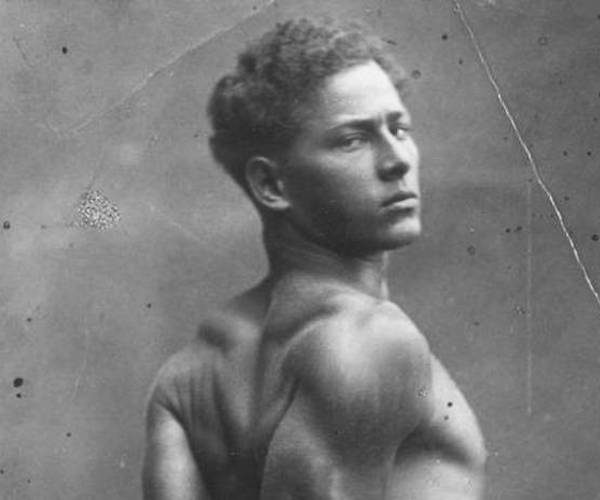 By Marcia B. Siegel
New choreographers appear all the time, but it's not often you encounter one with a big reputation whose work you know nothing about. Leonid Yakobson, born in 1904, was a contemporary of George Balanchine but unlike Balanchine he didn't flee the Russian revolution and its dire aftermath. Instead he stayed in Russia, making his dances under the surveillance and often the censorship of gyrating political regimes, until his death in 1975.
Stanford University dance historian Janice Ross and Boston Ballet artistic director Mikko Nissinen offered the best possible insight into Yakobson's work this week, with a book-length study and performances of five of Yakobson's works. Ross and Nissinen met years ago when Ross was a dance critic for the Oakland Tribune and Nissinen was dancing with San Francisco Ballet. Nissinen studied at SFB with Irina Yakobson, the choreographer's widow, and danced in revivals of his works. He said on Thursday night that seeing the dances in Boston was his utopian dream come true.
Without live performance it's hard to tell what Yakobson's ballets really looked like. Ross includes photographs in her book, but the dances in these images look old-fashioned and a bit lumpen. So the Boston Ballet's reconstructed Pas de Quatre and four Choreographic Miniatures (in their final reworked forms, 1971) were a revelation. I'm still not confident Yakobson was a great innovator and ballet reformer manqué. He made full-length ballets and many other theatrical works, so these five pieces demonstrate only two facets of a varied career.
The Pas de Quatre revisits the Romantic classic that was originally made for Marie Taglioni and three rival cohorts of early 19th century ballet. Anton Dolin's 1941 restoration became a staple of the ballet repertory, a showcase for individual ballerinas and sometimes a vehicle for subtle and not-so-subtle competition. The Ballets Trockadero's hilarious drag version features patronizing behavior, calculated upstagings and drawn-out bows. Yakobson junked the score by Cesare Pugni and whatever was left of the original choreography, to make a ballet on pointe to music from Bellini's Norma. His dancers are neither divas nor pretend divas, but serious ballet women.
Instead of applause-inducing bravura, he gave the dancers demanding ensemble and pointe work. The brief ballet begins as the four women (Thursday night we saw Lia Cirio, Anaïs Chalendard, Petra Conti and Erica Cornejo) holding hands in a circle. They move backward and forward together, maintaining their connection while twisting to create decorative archways and facings, bending in mutual acknowledgement and stretching out in admiration. The whole group moves downstage together. They all bend and look behind them from under their linked arms. It's like seeing a beautiful human engine in action. Finally they separate and bourrée backward in four directions, out into the wings.
They each return for a solo variation, using lots of large and small jumps and changes of direction, non-standard arm gestures while turning and traveling, hops with detailed hand and foot motions, off-vertical upper bodies, turns without preparations. None of it stops for applause. Regrouping from the wings, they cluster together again and weave one at a time through the group, bowing to each other in arabesque penchée. They line up, clasping one another behind the waist, and with a few low arabesques return to their initial pose. All of it, even the variations, looks understated, lyrical.
I couldn't have remembered all this without the help of a YouTube video of dancers from the St. Petersburg Ballet Theater named for Yakobson. I thought the piece was extraordinary in its seeming simplicity and I'm looking forward to seeing it again when the company brings it back in March.
I can't say the same about the Rodin Miniatures. An old idea in dance modernism: copy a famous work of art and put it into motion. Taking off from Rodin's sculptures, Yakobson made several duets, The Eternal Spring, The Kiss, Eternal Idol and Minotaur and Nymph, for dancers in skin-toned body stockings. The eroticism that supposedly infuriated the Soviet authorities escaped me.
Janice Ross's book (Like a Bomb Going Off, Yale University Press, 536 pp., $40) explores the roller-coaster career of the choreographer. Ross details how Yakobson clung to dissident themes and movement material under the Soviets, when classical tradition, experimentation, and social realism in turn became official conduits for ballet art. Although she's done vast research into this intriguing story, and interviewed many of Yakobson's survivors, her descriptions of the dances left me mystified.
I'm not sure what Ross means by modernism, certainly not the thoroughgoing reinvention practiced by Martha Graham, Doris Humphrey and the American modern dancers. It seems Yakobson worked in many different styles, incorporating folk dance motifs, broad pantomime, vernacular moves, and covert Jewish mannerisms. At times the dances read like wafty Isadora Duncan imitations; at others, burlesque Yiddish comedy.
Given the secrecy of the Soviets, Yakobson probably didn't have access to what was going on in the States or Europe, but Ross's account often suggested parallels to me that she didn't develop or mention. I thought there must have been links between her subject and other reformist things that were going on; for instance, Ted Shawn's hyper-masculine sports and work dances of the 1930s, Kurt Jooss's cosmopolitan The Big City (1932), and especially the early career of Bronislava Nijinska, who returned to Russia and worked there during the Soviets' brief experimental period before her return to Diaghilev in 1923.
What's clear from the book, and from the pieces bravely performed here as reconstructed by Yakobson's former dancers Nikolay Levitskiy and Vera Solovyeva, with assistance by Boston Ballet's former principal dancer Larissa Ponomarenko, is that something was emerging toward the end of his life that might have averted the hard-edge violence that passes for eroticism in today's contemporary ballet.
The Pas de Quatre will be shown again at New York City Center (October 10-11, 2015), as part of the Fall for Dance Festival, and at the Boston Opera House as part of Boston Ballet's Kaleidoscope program (March 17-26, 2016). Ross gives a talk on Yakobson, with performances of the Rodin Miniatures, at New York's 92nd Street Y on October 16 at noon.
---
Internationally known writer, lecturer, and teacher Marcia B. Siegel covered dance for 16 years at the Boston Phoenix. She is a Contributing Editor for the Hudson Review. The fourth collection of Siegel's reviews and essays, Mirrors and Scrims–The Life and Afterlife of Ballet, won the 2010 Selma Jeanne Cohen prize from the American Society for Aesthetics. Her other books include studies of Twyla Tharp, Doris Humphrey, and American choreography. From 1983-1996 Siegel was a member of the resident faculty of the Department of Performance Studies, Tisch School of the Arts, New York University.