In Bed with Roy Cohn is one high-energy spectacle: it is far more of a performance art piece than a 'well made' play.
In Bed with Roy Cohn by Joan Beber. Directed by Katrin Hilbe. Staged by Undercover Productions at the Lion Theatre, 410 West 42nd Street, New York, NY, through October 3.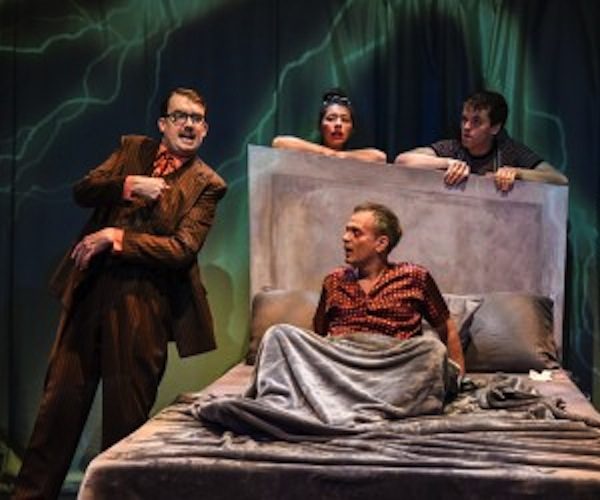 By Paul Dervis
Could there be anything new? Roy Cohn's rapacious persona has been immortalized in Tony Kushner's amazing saga, Angels in America. Historians have aptly captured his perfidy in textbooks, documenting his devious machinations as he prowled the American political landscape in the middle of the last century. Can Joan Beber's play deliver something fresh to his portfolio?
Well, she has.
Beber, who had already penned a script (Ethel Sings) featuring this enigmatic figure, can't let this guy go, perhaps because she has a tangential connection with the Cold War misanthrope. Her father, a lawyer, attempted to exonerate Ethel Rosenberg of espionage in the early part of the '50s.
Beber's bio in the program presents her as more a visual artist than a playwright. She has worked as a painter, poet, and as an installation artist. She comes to the legitimate stage late in life. She was 73 when her first play was produced.
Director Katrin Hilbe, who has as much experience directing opera as she does theatre, takes the piece in a very unconventional direction. This is one high-energy spectacle: it is far more of a performance art piece than a 'well made' play.
In Bed With Roy Cohn gets into the head of the man during the last few moments of his life, and it's a wild ride into the pathological nooks and crannies of denial.
Dying of AIDS and abandoned by all but his servant/nurse Lisette (dressed provocatively in a little French Maid outfit, the character just can't stop wiggling her buttocks), Cohn conjures up the people most important (and probably most recognizable to the audience) in his life. His nefarious autobiography includes being a major catalyst in the execution of the Rosenbergs, the last people put to death for treason in America, as well as serving as the right hand man for Joe McCarthy in the House Un-American Activities Committee. Barbara Walters pops in as his trusty beard, and there is Serge, an African-American actor and Cohn's lover. Ronald Reagan also drops by, a one-time close friend who pulls back from their relationship once it becomes clear that the connection can only hurt his political aspirations. Also standing by (preparing to welcome him to Hell, one assumes) is his domineering mother, Dora. And the haunting specter of Julius Rosenberg lurks in the deep recesses of Cohn's mind. Overseeing this three-ring circus is Cohn as a youth, watching silently as his future falls down the proverbial rabbit hole.
What makes this production so engaging is that it mixes so many elements of theatrical art. It is operatic in that much of the piece has a song-like quality, even when the cast doesn't actually sing. And the movement on stage, choreographed as if it's a non-stop dance, is supercharged. There is even a feel of commedia dell'arte, mixed in with old-fashioned vaudeville, given off by the heavy make-up and outrageous costumes. Dora wears a dress with what, I am sure, has multiple photos of Ethel Rosenberg on it; Serge wears shiny gold hot pants and little else.
And, aside from the actor playing Roy Cohn himself, the cast members give highly stylized performances, caricatures that make it clear that they (and we) are trapped in a phantasmagoric extravaganza. None of these 'real life' people are real. They are only the imagined versions of the various movers and shakers in Cohn's addled head.
Cohn's well-documented schizophrenia is channeled here. An anti-Semitic Jew, a racist with a black lover, and a closeted homosexual, he battles manifold demons throughout the play. Christopher Daftsios, as Cohn, does an exceptional job of bringing the character to life even as the bedeviled figure hurtles toward death. Daftsios' energy level (he never leaves the stage during the 90-minute piece) is impressive: he deftly intertwines debilitating physical agony with startling surges of defensive power.
Two other performances of special note are Marilyn Sokol's Dora and Rebeca Fong's Lisette. Sokol engages us even though she goes way over the top with her 'oh, so put upon' Jewish matriarch. And Fong's constant dancing around the stage keeps this rapidly paced play firing on all cylinders.
Director Hilbe takes advantage of this intimate intimate space by having the actors move among the audience members — this is surround-sound drama that draws us into Cohn's turbulent stream of polluted consciousness.
This is not a play for everyone. It yanks viewers out of their comfort zone, a roughhouse art approach that owes more than a little to the 'anything goes' experimental theatre of the 1960s (take a bow, The Living Theatre). But for those who like their theater without seat belts it is definitely worth the ride.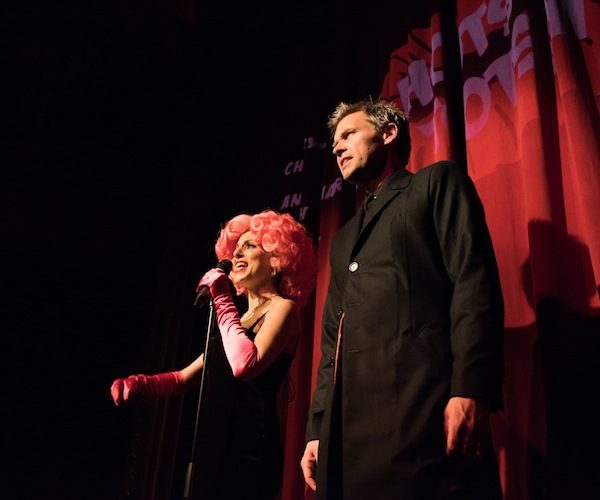 Hotsy Totsy Burlesque — Keeping the Tradition Alive
This troupe, co-founded by Boston area actress Cyndi Freeman, performed it's new TV-themed spoof Doctor Who: A Hotsy Totsy Burlesque Tribute at the Slipper Room in SOHO (167 Orchard St, NYC) on Thursday night. First a confession: I have never seen an episode of Dr Who. (Am I the last person on the planet who hasn't?) But familiarity with the sci-fi subject is not required to enjoy the show. Though I didn't know any of characters I got the idea pretty quickly.
An SRO crowd was chanting ten minutes before the show started. The fans, many of whom looked as if they had just arrived from moneymaking on Wall Street (and the majority of the house were women), had drinks on their tables and dollar bills in their hands to stuff into the appropriate g-strings.
Last year's show, based on Mad Men, was more acrobatic, but the talent for amusing and alluring burlesque is still here in spades. Both men and women share the stage in this titivating tale, and the house seemed to care little which gender was featured in a routine. The cavorting and undressing was all done in good fun: a thoroughly enjoyable night was had by all.
Cherry Pitz (Freeman) was the closing act and she literally brought the house down, not to mention her stockings and Merry Widow.
---
Paul Dervis has been teaching drama in Canada at Algonquin College as well as the theatre conservatory Ottawa School of Speech & Drama for the past 15 years. Previously he ran theatre companies in Boston, New York, and Montreal. He has directed over 150 stage productions, receiving two dozen awards for his work. Paul has also directed six films, the most recent being 2011's The Righteous Tithe.