"Theater producers do not want to make their audience members uncomfortable and talking about race makes folks uncomfortable."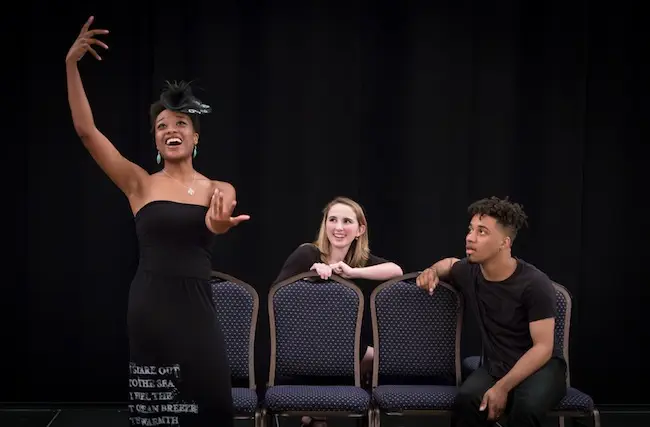 A Crack in the Blue Wall, by Jacqui Parker. At Hibernian Hall, 184 Dudley Street, Roxbury, MA, November 6 through 22.
By Bill Marx
The major impulse behind this interview stems from a column I wrote back in April when I read in a Trinity Repertory Company press release that the theater was mounting a production of To Kill a Mockingbird "in direct response to the events in Ferguson, New York City and elsewhere this past year." Incredulous, I had to fire off a few questions that I hoped would put my critical brethren as well as local theater producers on the spot:
A serious theater critic in 2015 should ask, loudly, some elemental questions — why must our professional theaters go back thirty years to find a play that explores race relations in America? Why must racial dramas be set decades in the past? Have no playwrights written a quality script about what is going on in our country in terms of race over the past decade or so? Why are our theaters so damned scared of reflecting the times we live in?
I noted at the end of the piece that veteran Boston actress and dramatist Jacqui Parker was presenting the staged reading of her drama A Crack in the Blue Wall, which deals with a white policeman in Boston who shoots a young black man. I saw the show, which ran from July 9 through 12 in Roxbury's Hibernian Hall, where Parker has been named Visiting Playwright. (The script is now receiving a full production at Hibernian Hall in Roxbury, November 6 through 22.) It is a compelling script that deals seriously with a hot-button issue: the black family that must deal with the terrible loss is wealthy and the victim's father is a respected cop: so much for Cable TV and current 'theater of empowerment' cliches. Parker wants to register the pain and complexity of the tragedy, not score reassuring political points.
A few years ago, 'community' was a buzz word for local theater companies. Troupes claimed that their mission was to speak to the social concerns of their neighborhoods, to respond to the hopes and fears of people in the immediate region. But that notion has been discarded (ideological/commercial agendas have changed) or in some cases response to public feedback has morphed into a marketing strategy, a mask for demographic research and the calibration of customer satisfaction. In that sense, A Crack in the Blue Wall is a throwback: it explores a grim reality around us, raising awareness by challenging automatic responses rather than running back to the past. The upcoming production of the play should be supported — at least be seen and reacted to, pro or con — by those of us (I can't be alone) who are tired of being handed theatrical fantasy about race via antique products such as To Kill a Mockingbird or Guess Who's Coming to Dinner. There was a time when one of theater's strengths was commenting on contemporary reality — today it is increasingly dedicated to lifting us up, up, and away into nostalgia or Neverland.
There are signs that not all is moribund in terms of the production of contemporary plays that deal seriously with race: appropriate at the SpeakEasy Stage Company (through October 10) is a wild post-modern satire/melodrama in which the members of a dysfunctional white family find that they cannot 'fix' the legacy of racism by dreaming it away.
I sent a few questions to Parker via e-mail about the script as well as about the timidity of Boston theaters. What are our producers afraid of? Why are critics and audiences willing to settle for the same old thing?
---
Arts Fuse: How much of A Crack in the Blue Wall is a reaction to what is happening in the news, Ferguson, etc? What do you wish to add to the conversation?
Jacqui Parker: I wrote this play as a response to the alarming number of police shootings of members of the African American community throughout the country during the last several years. I did not target any one event. I wanted the artistic freedom to respond organically as a playwright with a story to tell. My contribution to the national narrative is that I focus on what happens to the family members, who are the real victims and have suffered such loss. That these are real people who still have to live, love, laugh, and cry. And that each of us takes action in his or her own way, including choosing inaction.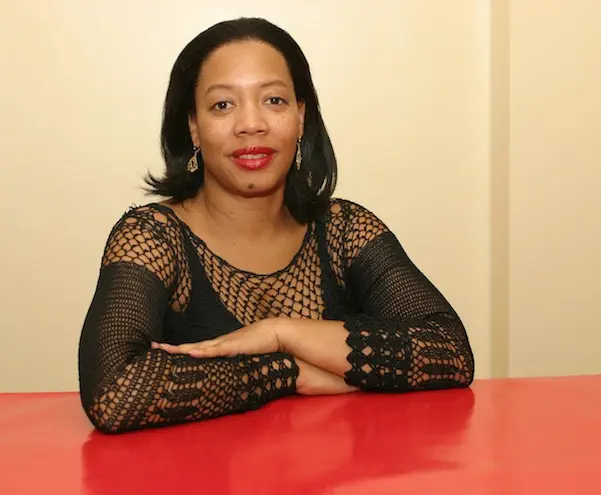 AF: In your notes to the play you refer to how "the mothers and fathers of the children who have died [have been used] to further another person's agenda." Please be more specific about that? What agenda are you referring to?
Parker: I believe that in many cases community leaders, especially politicians, use grieving families to further their own agendas, to look involved and caring after a police person had taken another black life. Yet I look into the painful faces of family members who stand in the background during a news conference simply wanting answers and I know that their numb expressions or tearful sorrow are being exploited until the investigation has run its course. Then its onto the next victims, while this mother or father is still wondering why an officer is not being indicted or why their child's murder has never been solved.
In the black community the picture is bigger than police officers who shoot black men. I can't help but wonder — where are our community leaders when black on black crime occurs? Because its happening almost daily, yet it rates only a tiny speck of space in the newspaper. What upsets me most about the so-called community leaders is that while we are deeply angered by police brutality, we are also disturbed by the unsolved murderers of hundreds of African Americans in American communities. Of course, that is another play. But those are the leaders that I am speaking of.
AF: What were the challenges in writing a play that is not only about racism and the police but is set in Boston?
Parker: The racism part was easy because it still exists in Boston. I experience it often enough, especially when I go apartment hunting, or go to restaurants and beauty salons. I really wish I had been clever enough to have taped some of the situations I have run into, but I have decided not to live my life that way because the good people outnumber the silly ones, as I call them. Regarding setting the play in Boston, I must say with the exception of Usaama Rahim in the CVS parking lot and Santos Laboy near Boston University (both of whom had knives), there have been no reports of white officers shooting and killing black men or hispanic men in a long time. (The play was written before either of those incidents.) In fact, we could be a city that might serve as a model for officers who think before they fire their weapons.
I remember earlier this year the story of a white police officer chasing a man in Jamaica Plain and the officer shot him in the leg, I think. This man was shooting at the officer over his shoulder as he ran and it would have been justifiable had the officer killed him. But the officer, in the midst of it all, had the focus to think and not panic and shoot the man to stop him, not kill him. That said, in my research, I saw that there are still hot-headed officers in Boston (like Wilson, the character in my play) who are bullies and who stop black men for no reason, or talk down to men who ask simple questions about why they were being stopped. There is still a misuse of power. And there are many stories of young black men who feel abused by both black and white officers.
So I decided to set the play in Boston because it could happen here. In my research there are also police officers out there who are involved in domestic violence and neighborhood bullying who are disconnected from the neighborhoods they serve — stopping black men for no reason. I'm just saying it could happen. And there is still that Blue Wall. That Code. But Boston does have really serious policies in place when it comes to taking a life. A Boston officer has to turn in his fire arm after shooting someone and go on administrative leave even if he or she were clearly in the right. State Troopers however, only have to turn in the gun that was used: they can pick up another weapon when they leave the station.
AF: Many theater companies (here and elsewhere) have shied away from taking on this kind of hot button subject matter. Do you want to shock audiences? Educate them?
Parker: I do not want to shock audiences, which is why I have made this about a family and its relationships. I wanted this story to be universal. I did not put in racism for the sake of racism — as you can see there is a very strong relationship between the black and white officers. I just wanted it to be about people and to show what happens to a close-knit family when a loved one is killed. I also wanted to make it clear that it is a problem for this country, not just a poor folks problem or a black problem.
AF: Are there any playwrights or writers that influenced how you wrote the play? Seems to me that there is more than a little Arthur Miller in the connections drawn between public issues and domestic loyalties.
Parker: Arthur Miller hummm. I'll take that. I read and have read a lot of plays by men, women, black, white, latino etc. over the years, not to mention that I have performed as an actor in a range of scripts, from Shakespeare to George C. Wolfe. I am sure I have been influenced by them all. When I write I usually pick a subject that moves me, do the research, figure out what I want to say, and let the characters speak for themselves. If their words do not haunt me night and day, I don't write the play. So I suppose one could say I write on an almost unconscious level. But the dramatic result usually comes about after the subject has been decided and the research is done. As for playwrights, I am a big fan of August Wilson, Pearl Cleage, Robert Harling, Edgar White, Athol Fugard — the list goes on and on.
AF: In an audience talk back after a staged reading of A Crack in the Blue Wall you mentioned that, aside from Lydia Diamond's Stick Fly, plays about middle or upper class African Americans are rare on American stages. I agree — why do you think that is?
Parker: I think theatre companies do not think there is a large enough audience for plays about middle class or upper class black folks. Most theatre companies are more comfortable with black musicals or yet another staging of A Raisin in the Sun (which I do love). Though I do think more companies are taking chances on new playwrights of color, such as Kirsten Greenidge and Melinda Lopez. And perhaps Hibernian Hall is taking that kind of chance with me. But there are not nearly enough alternatives around. African Americans are starving for plays of substance that show them in a better light. I am still receiving emails and facebook messages from people who attended the workshop asking when A Crack in the Blue Wall will have its run.
AF: Talk about how your experience growing up in Boston informed this play. Also, did your being a woman shape how you dramatized the issues your play raises?
Parker: As I was thinking about the character of Wilson (the officer who shoots and kills the black man), I wanted to explore what would make someone nurture the kind of rage in which they could pull the trigger without guilt. I kept going back to the climate of Boston during the '70s and busing. I remember those faces of hatred as I peeked through the bus window and that informed not only my understanding of Wilson's rage but the opposite of that experience, which is that of Evan, the white police officer in the play who feels shame at being a part of that kind of blind hatred. As for me being a woman, I must say the greatest compliment from the audiences came from several men, black and white, who felt I had honestly captured the language and realistic behavior of men. However, I am sure the sexy/romantic parts of the story have something to do with my feminine feelings, which can be attributed to the female characters. I would say that in writing this play I tapped into both my masculine and feminine sides.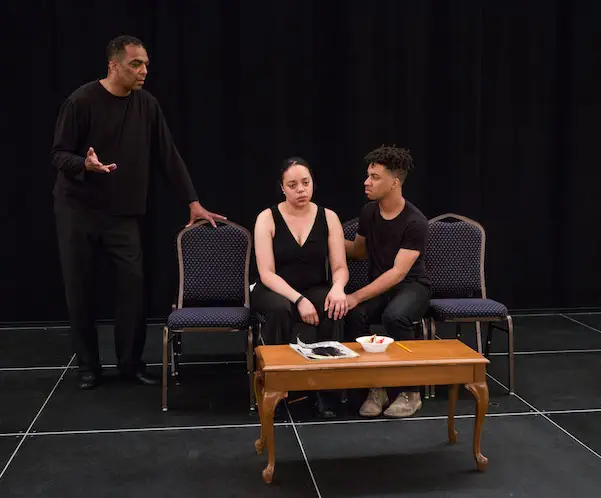 AF: In the script, you take great care to show a strong friendship between two policemen — one white, the other African-American. Obviously, part of what you wanted to do in this play is to challenge stereotypes, including perceptions of wealthy African-American women and their children.
Parker: Yes, it was very important that I did not allow my anger over white officers killing blacks to inform the play. If nothing else I want people to talk about the play and the relationships. I think we have to solve these issues together and we must all be included because we need each other. Racism is so ridiculous — yet it exists. But I have been blessed to be in the world of theater and music, where we can transcend race and respect the art. But, of course, not everyone has that experience so maybe in my art/play I can provoke people to have conversations who normally would not deal with these issues. I am just trying to play a small part in the growth of humanity.
AF: For many theater companies, the impulse in the face of what is happening in Ferguson and elsewhere is to revive (once again) To Kill a Mockingbird. Why do you feel there are so few contemporary African-American plays being produced that deal seriously with issues of racism?
Parker: Producers do not want to make their audience members uncomfortable and talking about race makes folks uncomfortable. I remember when the film 12 Years a Slave came out. Most of my white friends did not want to go, explaining that it would be too painful. But some of my black friends, including myself, had to work ourselves up to a certain emotional state in order to go and see it. When I did the workshop of A Crack in the Blue Wall a friend came because she was my friend, but she shared with me that she did not really want to be there. She didn't want to hear about yet another black male being killed. But afterwards she thanked me for not making her feel hatred towards police officers and white people.
So it is all in the choice of plays and to Kill A Mockingbird is safe. Guess Who's Coming to Dinner is safe. Good Theatre, but safe. We need courageous producers who are willing to reach out to playwrights who are not afraid to say what it is but at the same time offer a real human experience on stage. In addition, producers can discover and build new audiences by reaching out to the young people (high school and college), black audiences, professors, and churches members who are looking to experience something difficult and are open enough to talk about it. Also, regular audience members and subscribers are intelligent, loyal, and stronger than producers may think. I personally believe they'd love a good challenge. As for A Crack in the Blue Wall I am very thankful that it will be produced by Dillon Bustin at Hibernian Hall. We will see how it goes in November, but I am very excited and hopeful.
---
Bill Marx is the Editor-in-Chief of The Arts Fuse. For over three decades, he has written about arts and culture for print, broadcast, and online. He has regularly reviewed theater for National Public Radio Station WBUR and The Boston Globe. He created and edited WBUR Online Arts, a cultural webzine that in 2004 won an Online Journalism Award for Specialty Journalism. In 2007 he created The Arts Fuse, an online magazine dedicated to covering arts and culture in Boston and throughout New England.