Dough contains plenty of tasty charm and passion.
Dough, directed by John Goldschmidt. At the Boston Jewish Film Festival, November 5 through 11 at selected cinemas. Check website for times and locations.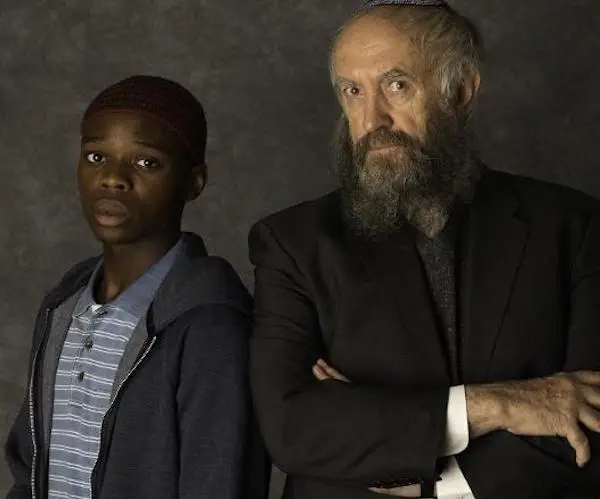 By Paul Dervis
Dough is a welcome blast from the past.
From the late 1950s through the early 1970s, British film was in its heyday. With the contribution of gifted directors such as Tony Richardson (Look Back in Anger, A Taste of Honey, Loneliness of a Long Distance Runner), Karel Reisz (Saturday Night and Sunday Morning, Morgan!, Night Must Fall) and Lindsay Anderson (If…., O Lucky Man, The Sporting Life), the English film landscape was turning away from the generally genteel drawing room fare of Noel Coward and early David Lean to a gritty look at the working class and the post-World War II erosion of the caste system.
Dough is the stepchild of this genre, albeit without a piccolo on the soundtrack and with a drug through-line that was rarely explored during that period. You could argue that, thematically, the film mirrors more recent projects such as early Stephen Frears (Sammy and Rosie Get Laid, My Beautiful Laundrette) or Mike Leigh (Life is Sweet), but there is a sorrow and a sweetness here that connects more to the earlier era … the dankness of the lives of these characters could be lifted right out of a Shelagh Delaney script.
Jonathan Pryce is Nat Dayan, proprietor of a Jewish bakery that has been in his family for over a hundred years. But Dayan is aging; his son has become a highly successful lawyer and has no interest in the shop. (Like the world needs another Jewish lawyer?) Dayan laments the end of a tradition. The 60-something baker is working with a protege that he hopes will keep the place alive, but the young man is lured away by an entrepreneur who wishes to add Dayan's piece of real estate to his growing empire. So Nat is forced to search once more for an apprentice. The only worker left in the store, besides Dayan, is a middle-aged Muslim cleaning woman fresh from Africa. She's a kind of a black Rita Tushingham in a hijab.
But she has a son who needs a job.
Young Ayyash (played with quirky passion by Jerome Holder) is a failing dope dealer who's supplier boss insists he find a do-nothing job that will work as a legal cover for his illicit income.
Ayyash and Nat couldn't be more different. One early scene shows them both doing their sunrise prayers in separate rooms: it is a charming but also disconcerting image. Each brings his own brand of prejudice to the relationship, even as they find they must bond out of mutual need. As Dough rises (in terms of its story), we watch their attachment move far beyond their initial desire to make baking profitable—they become as close as father and son.
It seems as if Ayyash has a rare gift for the culinary arts, but that is because he has chosen to double dip. He bakes some of his high-grade weed into the dough, and that suddenly makes the shop a thriving business. This success holds off Cotton, the businessman who wants the space for his own. But the nefarious capitalist, played by Philip Davis (High Hopes) figures out Ayyash's appetizing gimmick and uses his knowledge as leverage for his take over.
One interesting subplot in the narrative is in the hands of Pauline Collins of Shirley Valentine fame. Here she plays Joanna, the landlady of the building the bakery is housed in. She is recently widowed (six weeks, to be exact) and she is ready to move on…and would like to do so with Nat. If not, then she is ready to sell to Cotton and go where old Jewish ladies move on to die…not Israel—Florida. There is a very funny scene at a women's exercise class. Nat walks in, beseeching Joanna not to sell to Cotton. He cannot stay unless he does the workout with the others.
At times this film feels like a gentle comedy, but director John Goldschmidt never loses sight that it is offering us an intimate slice of life.
The climax of this film becomes pretty silly, but that doesn't ultimately take away from Dough's charm and passion.
Staying with the theme of food, the festival is screening (on November 8 at West Newton Cinema) the documentary Breakfast at Ina's, which revolves around Ina Pinkney, who is known as the 'Breakfast Queen of Chicago.' Ina chronicles a lifetime of trials and tribulations while she greets customers and prepares to close her establishment after a 33-year run.
These two films should leave hungry cinephiles satisfied.
---
Paul Dervis has been teaching drama in Canada at Algonquin College as well as the theatre conservatory Ottawa School of Speech & Drama for the past 15 years. Previously he ran theatre companies in Boston, New York, and Montreal. He has directed over 150 stage productions, receiving two dozen awards for his work. Paul has also directed six films, the most recent being 2011's The Righteous Tithe.