In Kinship, dramatist Carey Perloff hasn't found a language that conveys irrational longing.
Kinship by Carey Perloff. Directed by Jo Bonney. Staged in the Nikos Stage by the Williamstown Theatre Festival, Williamstown, MA, through July 25.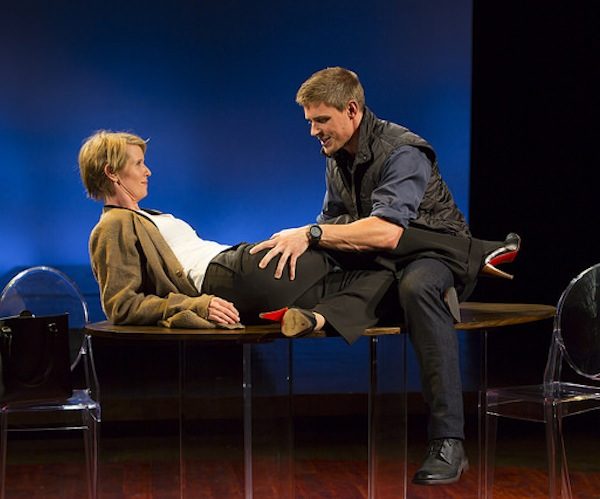 By Bill Marx
About suffering they were never wrong,/The Old Masters," wrote W.H. Auden. I would argue that contemporary playwrights are too rarely right when it comes to dramatizing pain. Why is that? The Old Masters were willing to go to extremes, to poke and probe at the razor-thin limits of humanity. Modern dramatists are moderate and wary to a fault – they are more than likely to pull back for the sake of reassuring audiences that all is well, that the brutal insanity of the past has been safely pushed aside by middle class manners and wealth. Of course, the world is as violent, crazy, and unjust as ever (just what is all our suburban ease based on?), the tidal waves of suffering multiplied a thousand fold given the new ways we have invented to torture ourselves and others. But self-laceration is so then – comfort is now.
The latest example of the present falling grievously short of the past, and shortchanging the present in the process, is Kinship, which is receiving its American premiere at the WTF. The play is explicitly (perhaps ironically?) inspired by Racine's 1677 tragedy Phèdre, the story of how an all-consuming love for an indifferent young man grips a powerful older woman, who kills herself out of frustrated passion. The rigid armor of Racine's alexandrines heightens the erotic energy of the unconsummated romance – libido oozes through the steely poetic lines. In Kinship, the play's trio of characters, who are not named, see (and discuss) a small theater production of the Racine play. "She" (Cynthia Nixon) is an accomplished workaholic editor with a doctor husband and children who falls hard for "He," a might-be manipulative intern (Chris Lowell) whose mother (Penny Fuller), a friend of the journalist, doesn't know about the affair-in-the-planning until it has reached self-destructive proportions.
Can the honcho tell if the underling is really in love with her or just wants to get ahead at the job? Does He know what He wants? Where does Mom stand? She had a torrid affair with another actor, a betrayal that the son has still not forgiven her for. Lots of questions, but we really don't become very concerned with the answers. The elemental problem is that Perloff, even though she has much more flexibility when it comes to expressing the hurricane force of sexuality than Racine, is inexplicably puritanical. She hasn't found a language that conveys irrational longing. It is not that the characters don't have sex, but that the romance between She and He never goes beyond the strictly PC level — no 'sexting' allowed, no raw confession of physical desire, no dirty talk, barely a naughty look … just lots of gooey, sappy chatter about eating each other up. Cable TV went further than this starry-eyed candy-gram prattle a decade ago. The Old Masters knew a thing or two about conveying irrational passion — especially the torments of love bordering on madness.
Thus Kinship isn't really about the furies of obsession. It is more like a look at the inconvenience generated by a case of overheated infatuation, a yarn about how that Ole Sexual Devil has been tamed through bourgeois will power and the satisfactions of double dealing. Or it is a study of workplace exploitation? Here vengeance is exacted by the spurned editor (who has the power to give or take bylines) on an adored underling. Though She can only get away with her journalistic skulduggery because the young man doesn't fight back.
Perloff's temperance may be for the sake of particular audience: the aging theater going crowd is happy to fantasize about an older woman being smitten with a younger man, but it doesn't want to get too close to the erotic nitty gritty, to hear too much about the bottom line of desire. And the notion of killing yourself (or even threatening to do bodily harm) because of love gone wrong? How vulgar. How messy. How old-fashioned. Could it be that these kinds of things don't happen any more? Nobody dies for love. But, among civilized nations, America is the epicenter of gun violence, top of the list in terms of suicides (even among the middle-aged) and the murders of people of all ages. It does happen here all the time — somebody shoots somebody because somebody slept with somebody they shouldn't. Happens in the movies and on TV all the time. It just doesn't happen in today's unreal/polite theater environment. And in what seems to becoming (for economic reasons as well as fears of shrinking audience attention spans) the standard format for new plays: small cast, no intermission, and about the length of a movie from start to finish.
This said, Kinship holds your attention, despite the tepid emotional fireworks, because you are never quite sure where it is going to go. Might all of this yakking go off the rails? The cast is also interesting, with Cynthia Nixon (of Sex and the City fame) flipping nicely from super boss to servility and then back to strained dominance, while Chris Lowell makes for a nicely neurotic hunk. Hard to tell which of these characters is more psychologically askew. Director Jo Bonney moves the proceedings along efficiently, though the staging is too cool — you need more than the glow of red lights to heat up such a cold fish of a script.
---
Bill Marx is the Editor-in-Chief of The Arts Fuse. For over three decades, he has written about arts and culture for print, broadcast, and online. He has regularly reviewed theater for National Public Radio Station WBUR and The Boston Globe. He created and edited WBUR Online Arts, a cultural webzine that in 2004 won an Online Journalism Award for Specialty Journalism. In 2007 he created The Arts Fuse, an online magazine dedicated to covering arts and culture in Boston and throughout New England.