Cinderella isn't a lavish spectacle à la the Met, but rather, like its heroine, modest on the surface while pulsing with a generous heart underneath; it is gently silly here and sincerely yearning there.
Cinderella, staged by New York Theatre Ballet. At Jacob's Pillow Dance Festival through June 28.
By Janine Parker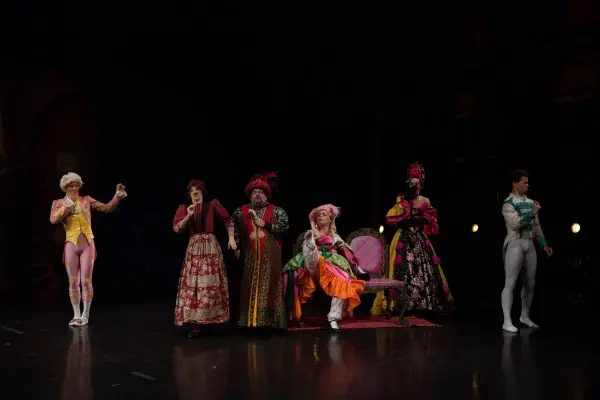 "Who doesn't like a good story?" mused Ella Baff, artistic and executive director of Jacob's Pillow Dance Festival, during her curtain speech at Thursday night's performance of New York Theatre Ballet's Cinderella. The chamber-size company, performing in the Doris Duke Theatre this week, specializes in the "telling" of stories through the language of ballet, with productions that are often geared both toward a younger audience—approximately hour-long performances with clear, and as necessary, de-gorified plots—and the adults who bring them. The dancing is quite decent, as is the overall quality of the productions' elements.
New York Theatre Ballet's version of Cinderella was choreographed in 1982 by Donald Mahler, an international veteran in the field whose origins—training with legends Margaret Craske and Antony Tudor at the Metropolitan Opera Ballet School—kept him connected to the Met throughout his career, as a dancer and ultimately director of the ballet, where he began choreographing. His Cinderella isn't a lavish spectacle à la the Met, but rather, like its heroine, modest on the surface while pulsing with a generous heart underneath; it is gently silly here and sincerely yearning there.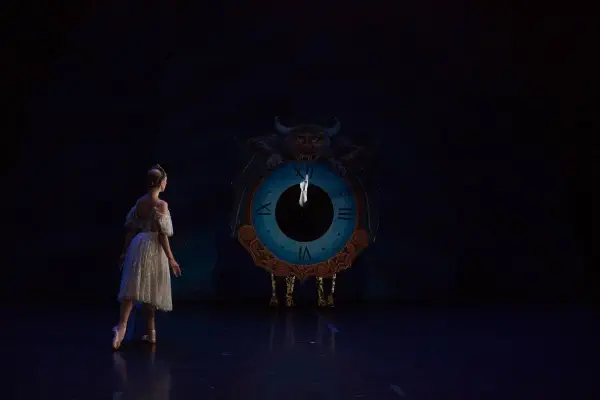 In addition to the entertaining, easy-to-follow, continuous (but not manic) pacing of the ballet, what whippersnappers will particularly like are the colorful, simple-yet-imaginative sets designed by Gillian Bradshaw-Smith and the richly-hued and detailed costumes by Sylvia Taalsohn Nolan, the Met's resident costume designer. Four portable twilit-painted panels serve as frontispiece/front curtain or backdrop; at various times they are skimmed and shuffled about the stage, adding to the magic. Time in Cinderella is a crucial element, and here it's fairly alive, a Maurice Sendak-like creature whose four legs sometimes kick at each other, or break into mini-shuffle-off-to-Buffalo routines; one long-gloved arm reaches out, half-comically, half-chillingly, from the middle of its face, to warn our heroine of midnight's absolute curfew.
This fairy tale has been told for centuries with varying details depending on the culture and the author—in Perrault's version, when the Prince appears at Cinderella's house, the stepsisters simply do "their best" to get their feet into the magic slipper while those bloodthirsty Grimm boys have them hacking off toes—but in the ballet world, regardless of which text a choreographer follows, the driving force has largely been Sergei Prokofiev's romantic, often cinematic score, so wondrously inflected with magic, drama, and humor. Mahler is deeply attuned to it, and his ballet affords for a deeply pleasurable listening experience.
Mahler's version is also, very occasionally, choreographically a tad timid. I think he could have plumbed those darkly foreboding passages more deeply, and soared higher with the passionate ones without endangering the production's "family friendly" rating. But that's a quibble that may have more to do with the maturity or the coaching of some of the dancers, who, also very occasionally, err on the side of safety, resulting in a dryness to the choreography and a hardness in their musicality. Technical correctness is, of course, a good thing, but the pursuit of it shouldn't trump the breath and life of the movements.
Overall, however, these are well-trained dancers performing appropriate material, with engaging and comfortable stage presences. Clearly founder and artistic director Diana Byer is achieving good things with her particular group of dancers.
Elena Zahlmann and Amanda Treiber, rotating in both the lead role and as the Fairy Godmother, are each quite lovely dancers; at the performance I attended Zahlmann articulated, in her face and in the carriage of her body, a seriousness necessitated by Cinderella's life's somber experiences, but with a sweetness yet undestroyed. An independent spirit, she was expansive when alone, running and bourréeing about the stage confidently, but quick to shrink back when her tumultuous, boorish stepsisters (the adroitly farcical Mitchell Kilby and Michael Wells) crashed onto the scene. A sign of her spirit is that at these times Zahlmann's Cinderella didn't seem lonely, but clear that she'd rather be alone than waste time and energy with those two; daydreaming, however, is a valued hobby for her, and when we finally see her smile, as she sweeps about the stage with her broom-cum-dancing partner, we feel that we are seeing her innermost self. She deserves Treiber's generous, calm, and glowing Godmother, though they are more like the closest of sisters, the best of friends.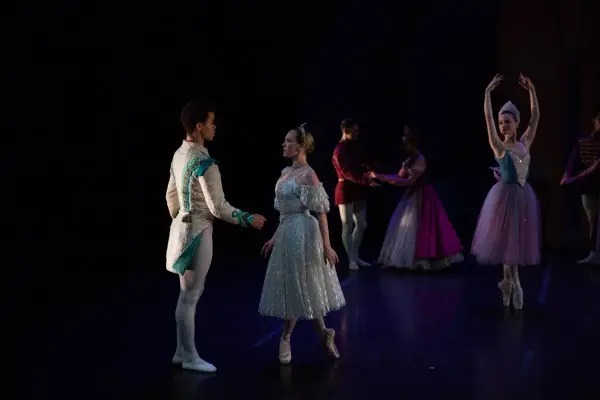 And she gets the Prince she deserves too: Steven Melendez is sincere and attentive without being protective (the recognition that Cinderella isn't a damsel in distress just waiting for a male savior is a nice touch, important for the impressionable girls in the audience), and is also a fine dancer, with nice lines and good, bounding jumps with buttery landings. He is so earnestly smitten that it becomes not just a story about Cinderella's happy fortune, but his, too. Melendez is a secure and observant partner; the pas de deux are thus a pleasure to watch, as is the entire, lengthy ballroom scene, where Mahler is at his best; it's when the largest number of dancers are involved, and he weaves bigger group dances with the intimate duets deftly.
As "Major Domo," actor Dan Renkin is at first a buffoonish presence, but underneath the harmless façade is an elfin spirit who seems to be part of the magic, along with the Godmother and her attendants, that helps this all turn out well. Renkin is first-rate; the cartoonish detail of a very large belly under his robe, however, is a dated means to humor, as is the stepmother's ridiculous nose. At the risk of being mistook as humorless, I think we can all do better, especially with what we're showing to children, and I think this company is already leading the way in this kind of thoughtful sensitivity. The audience was, I was delighted to see, peppered with children and young adults, and the ones nearest to me—a 7- or 8-year-old boy and an 18-year-old woman—giggled throughout, obviously enchanted throughout.
Today, young people are being taught that one shouldn't judge others on their appearances; encouraging laughter because someone is fat, or has a big nose, or is transgendered (yup, it might mean, in productions geared toward children anyway, that the traditional drag act of the stepsisters has to go) doesn't seem like a good moral to the story.
---
Since 1989, Janine Parker has been writing about dance for The Boston Phoenix and The Boston Globe. A former dancer, locally she performed with Ballet Theatre of Boston, North Atlantic Ballet, Nicola Hawkins Dance Company and Prometheus Dance. Ms. Parker has been teaching for more than 25 years, and has a long history with Boston Ballet School. She is on the Dance Department faculty of Williams College in Western Massachusetts, where she has lived since 2003.