In A Swedish Love Story, Roy Andersson muses on the meaning of life, but for the first and last time, he expresses his sense of life's absurdity through an accessible plot line.
A Swedish Love Story, directed by Roy Andersson. At the Museum of Fine Arts, Boston, July 2.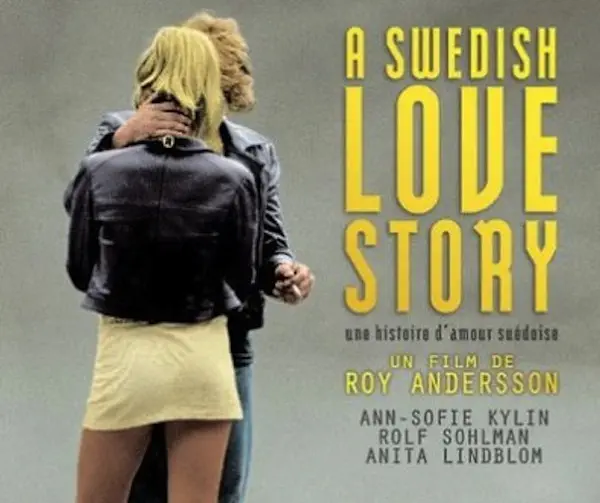 By Paul Dervis
Swedish director Roy Andersson had only made a couple of shorts and a documentary when, in 1970, at the age of 27, he wrote and directed his first feature length film, A Swedish Love Story. Although released the same year as the Arthur Hiller schlockfest starring the all-too handsome Ryan O'Neal and the talent-free Ali MacGraw, the English Language titles for these two films is where their similarities end.
Okay, both films revolve around doomed love. But in Andersson's piece the romancers are just children … kids victimized by feckless parents simply trying to make it through the night.
Annika, a porcelain blonde beauty just now passing through puberty, is parented more by her floundering aunt then by her own folks. Her father is angry and pathetic, constantly railing against his sinkhole of a life. Her mother, who is the constant victim of her spouse's abuse, spends so much of her time licking her own wounds that she barely has any time to take note of her daughter's many issues.
So, Annika spends way too much time hanging with the wrong crowd, chain smoking, and being pursued by older boys that are no-good-nicks..
Par is the son of a garage mechanic. The family lives above the shop where the boy's simple and shy mother cloisters herself. Moped in tow, Par has a lot of time to get into trouble. Clad in leather jacket, a pack of Marlboros rolled up in his shirtsleeve, he spends much of the day (and night) looking for love.
Yes, it's a love story, but it is more about the abject disappointments we all face. And, although is is quite unlike future films of Andersson in terms of style, A Swedish Love Story takes up themes that he will explore more deeply in his future work. And, as a fifteen-year-old in 1970 myself, I must note that the director displays an uncanny ability to capture the nuances of these children at this specific time in their lives, picking up on the generation gap (and clashes) that were making life particularly volatile.
Andersson reflects that rebellious time by unsettling us. He taps into (though not too graphically) the provocative sexual appetites of these kids. He also touches on the random acts of bullying they have to deal with, not only from the parents, but from their peers as well. And he vividly dramatizes their romance through unspoken moments…eye contact, a touch, a smile. He makes us, against our better judgement, root for these lost souls.
But he never lets us forget that their future is bleak. The lives of the adults prophecy that future all too clearly.
As in all his films, the cast is superb. Anderson, frame by frame, is in nuanced command of his performers. The two leads, Anne-Sofie Kylin as Annika and Rolf Sohlman as Par, never supply any false moments. They are beaten-up innocents, nurturing a compassion for each other that they sorely lack at home. Annika's domestic nightmare is painfully obvious, while Par's is more subtle and sad. Both dysfunctional homes lead these children to the same place.
Like so much of Andersson's work, episodes of deep despair are laced with humor. The ending of the film lifts into the heart stopping, before it finally crashes into irony…and one can't help but laugh. That is Andersson's brilliance.
That this, Andersson's rookie film, was also his biggest commercial success should surprise no one. Yes, the director muses on the meaning of life, but for the first and last time he expresses his sense of life's absurdity through an accessible plot line. Still, even though A Swedish Love Story is a different kind of film from those he will make throughout the rest of his career, the tragicomic soul of this artist is already strikingly obvious.
Bravo.
---
Paul Dervis has been teaching drama in Canada at Algonquin College as well as the theatre conservatory Ottawa School of Speech & Drama for the past 15 years. Previously he ran theatre companies in Boston, New York, and Montreal. He has directed over 150 stage productions, receiving two dozen awards for his work. Paul has also directed six films, the most recent being 2011's The Righteous Tithe.