Those who want to experience the brilliance of Bertolt Brecht at its mellowest should head down to Yale Rep's lively and moving production of The Caucasian Chalk Circle.
The Caucasian Chalk Circle by Bertolt Brecht. Translated by James and Tania Stern, with W.H. Auden. Directed by Liz Diamond. Music by David Lang. Choreography by Randy Duncan. Set design by Chika Shimizu. Staged by Yale Repertory Theatre, New Haven, CT, through April 11.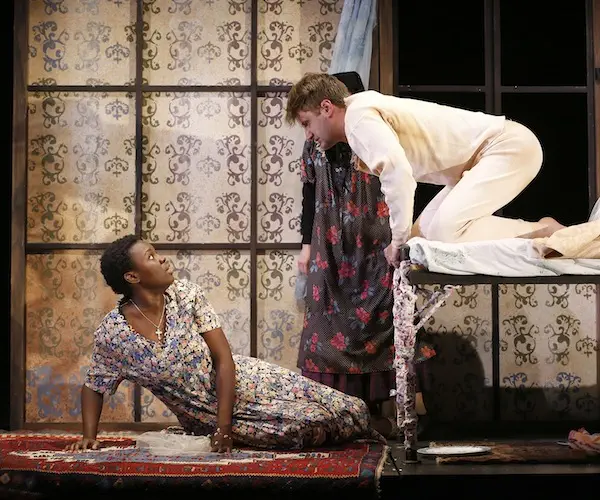 By Bill Marx
Productions of the plays of Bertolt Brecht, which used to pop up with some regularity in these parts, are becoming scarce. That is a sad, telltale sign of the thinning out of our theatrical imagination. Brecht's thorny political vision, with its tragic reverberations, is no doubt off-putting to companies fearful of pushing beyond the Disney-fied cliches of empowerment. Today his Marxist side looks more antiquated than radical to many, particularly given how the proletariat has become invisible on stage (aside from singing and dancing their blues away), with public discussion of the widening inequality gap confined to toothless harangues on cable TV. Finally, Brecht is nothing if un-P.C., given his (admittedly) exploitative treatment of the creative women in his life and the opportunistic maneuvers he took for the sake of survival in catastrophic times.
Worse, on the rare occasions contemporary troupes pay homage to Brecht, his exhortation that theater should be a place where spectators are forced to think is replaced by ersatz-Weimar era decadence, class conflict made palatable via naughty entertainment that features an idealized downtrodden. This kind of kinky didacticism has little to do with the complexity of Brecht's attitude. He may have longed for economic and moral justice, but he strongly suspected that it was an impossibility given man's wolfish nature. In his early play Baal, Brecht wrote, "I see the world in a mellow light: it is God's excrement." Nothing in his other plays or poetry rules out that verdict. Those interested in learning about the considerable breadth and depth of Brecht's cultural commentary — and its continued relevance –should turn to Stephen Parker's terrific study Bertolt Brecht: A Literary Life, published by Bloomsbury in 2014.
So it is a pleasure to report that those who want to experience the brilliance of Brecht, albeit at its mellowest, should head down to Yale Repertory Theatre's lively and moving production of his 1944-45 play The Caucasian Chalk Circle. Directed with immediacy and vaudevillian savoir faire by Liz Diamond, the script gives us the dramatist/poet at his most "bourgeois," in the sense that he celebrates the bonds of maternal love (and its fragile protectors) amid a chaotic vision of warfare, barbarity, and death, with workers and soldiers butchering each other, double-dealing the "ethical" norm, and various tyrants, great and small, popping in and out of power. Brecht's drama points out, with impish irony, that with confusion comes the possibility of justice — with disorder comes the opportunity to do the right thing. Once authoritarian and corporate systems comfortably assert their iron grip, those with power and money call the shots without any muss or fuss.
The first half of the piece is a picturesque fable: the baby of a murdered ruler is left to fend for itself by its panicked mother, who flees the coup. That leaves the humane Grusha, the only servant who hasn't run off, with a considerable problem: does she leave the child to die? Or does she complicate her own chances of staying alive and save the kid? What's interesting about Brecht's approach is that the woman doesn't decide out of empathy (contemporary theater's fashionable trigger for charity), but through an instinct to protect innocence, an elemental sense of responsibility. She picks up the baby and, through a number of tragicomic trials and tribulations, including a comically absurd marriage, saves the child from the clutches of the powers-that-be, who want to reclaim the heir to a fortune.
The second half of the play focuses on the scalawag Azdak, a man from the lower depths who, because he saves a higher-up (in disguise) on the lam, is named a judge. When he is on the bench he plays an agile game; he hasn't forgotten where he comes from, so he brings ingenuity and generosity to the struggle for justice. Yes, he takes bribes aplenty, but he also (at times) rules for the sake of the have-nots. Grusha comes before Azdak when the mother of the child sues her for custody. Azdak can't believe that Grusha won't sacrifice the child for the sake of its own well-being — "Wouldn't you want the kid to be rich?," he asks. Yet it is the very tenacity of Grusha's love that he responds to — though after Azdak makes his decision he disappears in order to save his own skin. Society can stand only so much fair play.
Diamond wisely ignores the play's dated opening section, which deals with the amiable settlement of a disagreement between two collective farms in Soviet Georgia. She does away with the masks for the evil characters and excises some of the script's sentimentality (things should "belong to those who are good for them: the children to those who are motherly … the valley to those who will irrigate it and make it fruitful"). She also combines Azdak and the Singer, which not only helps unify a structurally lumpy play, but amplifies (emotionally and dramatically) Azdak's crucial role in the storyline. The play becomes a playful if grim fable conveyed through Azdak's no doubt imaginative memory — remembrance of a fragile time when justice for the poor was possible.
Less admirable is some of the updated language in the translation. But the leads are first-rate. Shaunette Renée Wilson provides an affecting Grusha; Steven Skybell robustly balances cynicism and humanity as Azdak. The supporting cast invests its roles with plenty of invigorating comic detail and provides sterling musical accompaniment as well. The score by Pulitzer Prize–winning composer David Lang compels. Chika Shimizu's set, a suggestion of war zones around the world, is effective — if a bit too toylike at times to be sufficiently chilling. In one of his poems, Brecht asks: "In the dark times/ Will there also be singing?/ Yes, there will also be singing./ About the dark times." Yale Rep's production suggests one way to sing well about our dark times.
---
Bill Marx is the Editor-in-Chief of The Arts Fuse. For over three decades, he has written about arts and culture for print, broadcast, and online. He has regularly reviewed theater for National Public Radio Station WBUR and The Boston Globe. He created and edited WBUR Online Arts, a cultural webzine that in 2004 won an Online Journalism Award for Specialty Journalism. In 2007 he created The Arts Fuse, an online magazine dedicated to covering arts and culture in Boston and throughout New England.