Two current productions make vivid cases for the strength of Canadian theater.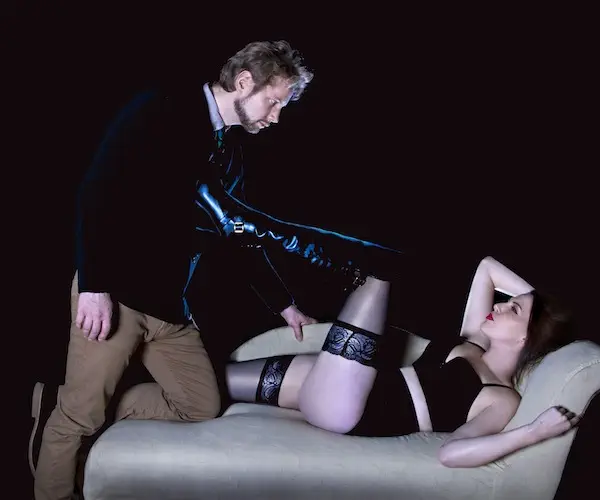 The Envelope, written and directed by Vittorio Rossi. Staged by Centaur Theatre Company at the Centaur Theater, Montréal, Canada, through April 19.
Venus in Fur by David Ives. Directed by Catriona Leger. Staged by Plosive Productions at The Gladstone, Ontario, Canada, through April 18.
By Paul Dervis
So I am up in Eastern Canada for ten days and I thought I would take in what Quebec and Ontario English theatre was offering these days. I strolled down to the Centaur Theatre in Montreal's Old Port to catch Vittorio Rossi's latest offering, The Envelope, as well as the Gladstone of Ottawa's opening night of David Ives's Venus in Fur. I was not disappointed.
Rossi, one of the country's leading playwrights, has had ten productions of his plays performed at the Centaur, Montreal's most distinguished Anglo Equity theatre. They include The Chain and The Last Adam. He has also had several of his works staged in America, such as Little Blood Brother, Backstreets and Scarpone. Although he has negotiated for his work to be turned into films, nothing has ultimately come of it…and that is at the heart of this latest drama, which is as much an indictment of the Canadian film industry as it is an entertaining backstage story about the mounting of a production.
Michael Moretti is an aging, respected local playwright and director in Montreal. His latest piece is only days from going up on stage. An American independent film producer is keen on buying the rights to it, but he has little capital. In walks an old partner of Moretti's with a plan to get Canadian public funding to make a much larger investment…but with a boatload of catches attached. Moretti has been burned in the past and would rather have control of the project than the extra funding. But the money difference is significant and our author is wavering. To go with the Canadian backing means selling his pre-picked cast down the river, not to mention giving up his own artistic control. All the while he and the cast are losing focus on the task at hand…getting the show ready for opening night.
Ron Lea plays Moretti with a quiet sureness, never letting his character burn too high or too low. Lea does as much with his silences as he does with this cagey delivery of his dialogue. And David Gow, a major Canadian playwright in his own right (Cherry Docs) infuses Moretti's former partner in crime with a grandiose sleaziness that balances the comical with an unsettling darkness. META Award Winning actress Leni Parker, playing the part of the Canadian Funding Rep, ends the first act brilliantly. She talks big, but she is acutely aware that her function amounts to no more than prostituting small artists, destroying their original visions for sake of collecting a ridiculous bottom line.
It is clear, after viewing the The Envelope, why Rossi and the cast members in his latest production have had such a lasting impression on the Canadian theatrical landscape.
Down the road in the capital of Canada, Plosive Theatre at the Gladstone is presenting Venus in Fur. Ives's award-winning play, which was turned into a film last year by Roman Polanski, centers on a very unusual audition. Thomas is a writer/adaptor turned stage director casting his latest piece and having a hell of a time finding the right actress for the lead. Showing up late for the casting call is Vanda, a seemingly scatterbrained working class woman who bullies her way into the audition.
What makes this play so interesting is the dynamic between the characters. What starts off as a drama about the tyrannical power the director holds over a powerless actor wannabe, slowly turns topsy-turvy. At first the pair seem to be developing a mutual respect for each other, but it doesn't stop there. Gradually, the hunter becomes the hunted. And all of this is worked out within the sexual machinations of a sadomasocistic relationship. Venus in Fur is often a funny play, but it never lets us forget its underlying darkness.
Chanel Gambles plays Vanda with a compelling steaminess while David Whiteley provides a stiff, cerebral Tom. Catriona Leger's direction is quite clever; the setup of this play is simple, but she manages to keep our focus on the complex drama supplied by the characters' shifting emotions.
After a year and a half's absence from my adopted homeland, it is quite heartening to see these talented artists continuing to work at such a high level.
---
Paul Dervis has been teaching drama in Canada at Algonquin College as well as the theatre conservatory Ottawa School of Speech & Drama for the past 15 years. Previously he ran theatre companies in Boston, New York, and Montreal. He has directed over 150 stage productions, receiving two dozen awards for his work. Paul has also directed six films, the most recent being 2011's The Righteous Tithe.