The enduring curse of the past is not a new subject; it is Obra's compelling visuals that make it special.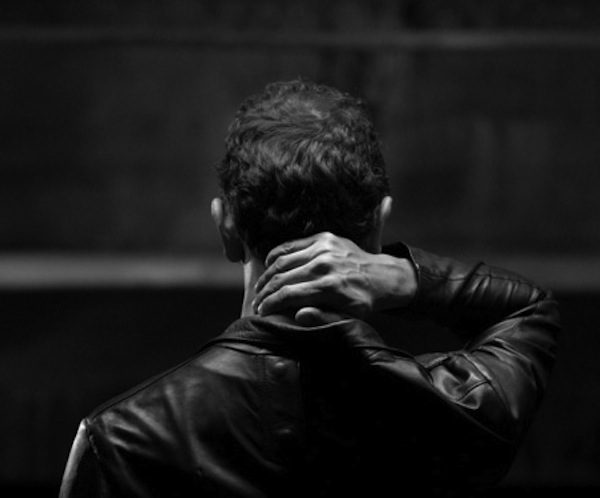 By Paul Dervis
Boston's Museum of Fine Arts opened its New Latin American Cinema series this week (through March 18) with a strikingly visual film, the kind of swashbuckling eye-popper rarely offered in our own country. Obra (screening on March 11 and 13) is from Brazilian writer-director Gregorio Graziosi and it certainly fills the eye and then some.
The opening shot pans across the smog-shrouded skyline of contemporary Sao Paolo and its massive slabs of concrete and steel, one building virtually indistinguishable from another. The sharply-etched black and white photography makes the city appear to meld into one enormous, decaying rubble. And young, idealistic architect Juan Carlos Ribeiro is determined to make his way in this mound of broken dreams.
Married to a delicate British woman and expecting his first child, Ribeiro comes from an affluent family that is shrouded in mystery. His grandfather, a prosperous real estate magnate, is near death. His father is tight lipped about the family's history. Ribeiro has taken over one of his grandfather's crumbling buildings and intends to make it a model for his vision of a better Sao Paolo. At the same time, Ribeiro is attempting to restore an abandoned ancient church, a task that infuses the young architect with a spiritual mission.
But something goes wrong. The demolition of the old building exposes a grave site where countless skeletons testify to a heinous past. Who were these people? Political dissidents? What was his grandfather's role in this crime? The men in the Ribeiro family simply do not speak about the past. The grandfather is an a semi-comatose state and the father is silent. That leaves Juan a victim of this apparently bloody heritage.
As the architect struggles over his dilemma, his body begins to fail him. A strong young man, his back weakens. He needs to wrap himself in supportive devices simply to get out of bed. Tying his shoelaces becomes agony. Life loses its appeal. Even though he is anticipating his first child, the future is being blotted out by his discovery of an increasingly bleak past.
Director Gregorio Graziosi is tapping into the horrific legacy of the crimes and corruption of Brazilian politics in the late sixties and early seventies. It was a time of unspeakable torture — mainly of lefties and members of the Catholic Church — at the hands of the leaders of a military take-over. A 1979 amnesty proffered blanket amnesty to all: everyone involved escaped punishment. Ribeiro is faced with a dramatic representation of his tragedy; he wants to renovate the church, yet he is undecided whether to plow over its unmarked graveyard or not.
The enduring curse of the past is not a new subject; it is Obra's visuals that make it special. Moving through the city, the director takes us from one interior space to another, exposed windows inevitably framing a drab, cement backdrop. It's as if there is no beauty in this city, no picturesque views. If we are not staring onto the windows of yet another colorless building, then we are looking down into massive, colorless avenues.
The film is fixated with emptiness. One room after another is a vacuum. A bedroom only contains a bed. Six steel desks make up an office — nothing is on the walls. This is a world cleansed of emotion, memory, language, and color.
The omnipresence of starkness, while striking, becomes the film's primary limitation. The cryptic storyline depends too heavily on repression. Irandhir Santos is coldly understated as Ribeiro; we can feel his despair at what is happening, but the figure is never given the opportunity to express what is going on inside him. He and the other characters are inarticulate to a fault.
Still, Obra's demanding visuals — harsh, antiseptic, and startling — put the film's disturbing message across.
---
Paul Dervis has been teaching drama in Canada at Algonquin College as well as the theatre conservatory Ottawa School of Speech & Drama for the past 15 years. Previously he ran theatre companies in Boston, New York, and Montreal. He has directed over 150 stage productions, receiving two dozen awards for his work. Paul has also directed six films, the most recent being 2011's The Righteous Tithe.