Director and writer Damián Szifrón fills his tales with lethal ironies and jarring twists of fate that build with relentless momentum to resolutions that somehow manage to be both horrid and comical.
Wild Tales, written and directed by Damián Szifrón. At the Kendall Square Cinema and West Newton Cinema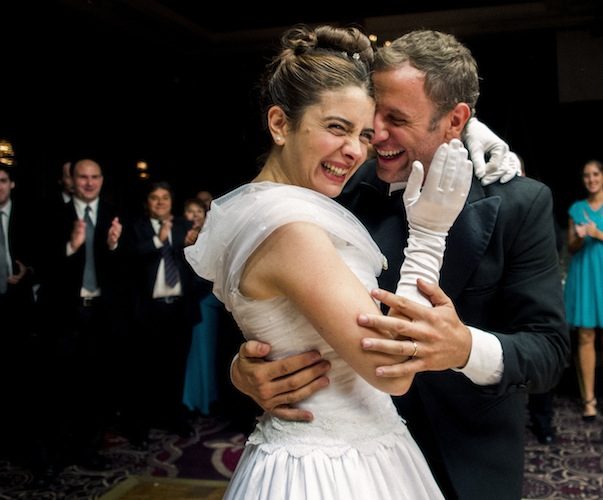 By Tim Jackson
This Best Foreign Picture nominee from Argentina is comprised of six imaginative stories that dramatize the uncivilized impulses that seethe beneath the veneer of civilized life. Director and writer Damián Szifrón fills his tangy tales with lethal ironies and jarring twists of fate that build with relentless momentum to resolutions that somehow manage to be both horrid and comical. Each yarn takes place in a distinct setting and proffers a visual style that befits its particularly sorry vision of humanity.
Before the credits even roll Szifrón gives us a taste of the madness to come. "Pasternak" is set aboard a passenger plane on which a group of passengers discover a secret that sends a chill though the audience. The mini-tale begins at a slow suspenseful burn and ends on a final dazzling shot that freezes the frame. After viewers are no doubt left shaken, the credits roll and the film begins again. In "Las Ratas," we're at a small deserted roadside café during a downpour. There is one customer. The waitress realizes that this is the gangster who, years ago, drove her father to suicide and then ruined her mother. She has murder in her heart. The chef, a tough talking ex-con played by Rita Cortese, suggests rat poison be brought into play. Common sense stifles the waitress's vengeful urges. But sudden twists come out of left field. This will not end well. Szifrón's camera moves in slowly, creeping around corners, peering about with slow zooms, setting up the frenzy of the Guignol scene to come with a mordantly repressed counterpoint.
There's no blackout: the next scene jumps to an open highway for "El Mas Fuerte" (the Strongest), also called "Road to Hell." A well-heeled man driving a sports car tries to pass an old pick-up truck that seems to be intentionally hogging the road. The car finally squeezes by, its driver flashing his middle finger as he roars by. But when his sports car, because of a flat tire, has to stop by a nearby bridge, the insulted truck driver stops, gets out of his car, and approaches him ominously. Road rage soon evolves into a battle of insults and slights of surreal proportions. To say that 'all hell breaks loose' would be to put it mildly. The resulting free-for-all — in and out and up and down the vehicle, the mountains looming majestically in the background — is staged as brilliantly as a silent comedy with images grim enough to populate a Goya 'black' painting.
The third story, "Bombita", moves to the city, where a demolition expert named Simón, (the wonderful Ricardo Darín from The Secret in Their Eyes and XXY) is expertly leveling a massive building with dynamite. He will soon be trying bring down the whole social system. On his way home he stops in a bakery to pick up a birthday cake for his daughter and his car is towed. We all know the sting of injustice when faced with the intractable power of tow companies. But Simón has had enough. After he misses his child's party his wife complains: "You blame society for everything. But you know that society won't change and you won't change and I'm tired." "What does that mean?" he asks. "You do the math" she warns. He ignores her warning as he continues his obsessive quest for justice. "There was no yellow line on the curb," he bellows at the workers at the towing facility. After he receives no satisfaction, his tactics shift from a reasoned response to a myopic hubris (with a violent streak) that will complicate his personal life to the point of insanity. Szifrón shows us an anonymous city of cold corporate interiors and impersonal bureaucracies. What begins as revenge twists and turns toward an ironic, dark, but comically satisfying ending.
The fourth episode, "La Propuesta", offers the film's most stinging critique of class entitlement, shot amidst the clean modernist interiors of a beautifully appointed home that belongs to a wealthy man. His son has been involved in a fatal hit-and-run accident where a pregnant woman has been killed. He is concerned less about the death then with how this incident could ruin his son's life. But there is a solution: pay his caretaker enough money to take the fall. What are a few years in prison? The caretaker could be financially set for life after being let out. Meanwhile, the public and the press demand immediate justice and accountability. Apparently such scandals, pay offs, and mysteries are commonplace in Argentina. The alleged suicide of investigator Alberto Nisman last month or the questionable death years ago in a helicopter crash of the son of Argentina's former president Carlos Menem come to mind. Vicious comeuppance to those who try to leverage their social privilege for advantage is a theme in all these stories.
The grand finale is "Hasta Que La Muerte Nos Separe": an upper class Jewish wedding goes hideously wrong. The camera swirls and celebrates with the revelers. Music plays, the atmosphere is giddy. Suddenly the bride detects something about her new groom that unhinges her. Érica Rivas is intense as Romina, the jilted bride who knows no compromise. She demands justice, her wedding day be damned. The ceremony spins completely out of control, careening from one ghastly moment to the next and landing nowhere you could ever imagine. A cynic might see this episode as a universal fable about marriage, compacted into a single lunatic 15-minute tale.
The tough fables in Szifrón's Wild Tales offer savage proof of the venerable Chinese proverb — "When you go out to seek revenge, dig two graves."
---
Tim Jackson is an assistant professor at the New England Institute of Art in the Digital Film and Video Department. His music career in Boston began in the 1970s and includes some 20 groups, many recordings, national and international tours, and contributions to film soundtracks. He studied theater and English as an undergraduate and has also has worked helter skelter as an actor and member of SAG and AFTRA since the 1980s. He has directed a trio of documentaries: Chaos and Order: Making American Theater about the American Repertory Theater, and Radical Jesters, which profiles the practices of 11 interventionist artists and agit-prop performance groups. His third documentary, When Things Go Wrong, about the Boston singer/songwriter Robin Lane, with whom he has worked for 30 years, has just been completed. He is a member of the Boston Society of Film Critics. You can read more of his work on his blog.