"It's important not to get into the 'They don't write songs like that anymore' school of thought."
By Brett Milano
It's easy to forget that Peter Asher, who hits the Wilbur next week (on February 26) as part of a British Invasion-themed package tour, once had hit records of his own, as part of a mid-'60s duo with the late Gordon Waller. His grander success came in the following decade, once he heard a young singer/songwriter named James Taylor, got him signed to the Beatles' Apple label, and took over as his manager/producer. He'd then become the quintessential L.A. producer, doing multiple albums for Taylor and Linda Ronstadt, plus a few for J.D. Souther, Bonnie Raitt and 10,000 Maniacs.
Asher will perform the Peter & Gordon material (much of which was custom-written for them by his sister Jane's boyfriend Paul McCartney) at the Wilbur on a bill with Chad & Jeremy, Denny Laine (ex-Moody Blues and Wings), Mike Pender's Searchers and Terry Sylvester (who replaced Graham Nash in the Hollies).
---
Arts Fuse: Most of your career since Peter & Gordon has been on the other side of the glass. Did you always intend to get back to performing?
Peter Asher: Not really, no. I've felt from time to time that I've got to start singing, because I'll wind up on some records I'm producing. Or when it starts up with Jeff Lynne or Eric Idle, or whoever I'm lucky enough to hanging around with after dinner when guitars come around. But I never thought of doing it in public until Gordon and I go together at the benefit Paul Shaffer put together for Mike Smith [the late Dave Clark Five vocalist, in summer of 2005]. That one turned out to be fun, I realized that I enjoyed singing and storytelling onstage. Then when Gordon was no longer with us I came up with the memoir idea, and that evolved gradually. So it wasn't a conscious thing, just a series of serendipitous events — as my whole career has been.
AF: You talk in your show about seeing the Beatles write "I Want to Hold Your Hand" in your house. It seems that despite your proximity to the group, you were very much a fan.
Asher: Sure, you couldn't not be. One was aware that they were an incredibly great band, and seeing them close up you could see what made them the best band there's ever been. One thing I've talked about is that when "I Want to Hold Your Hand" went Number One, and then when our record "A World Without Love" went Number One, the thing we got most excited about was that it meant we could go to America. So we got to go over and be the second-division Beatles. In America we were all perceived as being part of one unified movement, which was slightly true—but we were all from different classes and cities. They assumed we all came from Liverpool, so they asked us what Liverpool was like. I'd been there for one gig, and it was horrible.
AF: Did you ever get your clothes ripped off by screaming teens?
Asher: I did. It was very enjoyable.
AF: Not a lot of people realize that you were responsible for John Lennon meeting Yoko Ono.
Asher: Partly responsible, yes—That was my gallery and John Dunbar [the artist who introduced them] was there at the pre-show. It didn't occur to me until much later that the meeting changed pop history in one sense, but I'm not one of those people who blames Yoko for breaking up the Beatles, there was much more going on. I thought Yoko was cool then and she's cool now.
AF: Would you say that the direction of your career took shape when you met James Taylor?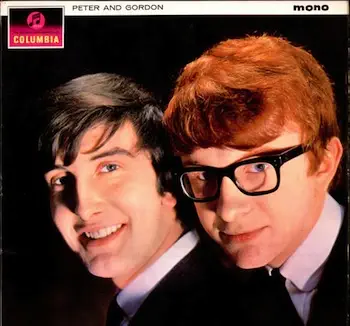 Asher: Nothing that dramatic, but it was a significant moment—More like me thinking "Wow, he's really good." So I'd found this genius guy and the first thing I did was get him signed to Apple, then when Apple was about to collapse we decided that I would become his manager. Most things can be learned by watching the people who are doing it well—You can learn brain surgery that way, and rock management isn't brain surgery. At the time the Beatles' lawyer Nat Weiss was a real mentor to me. And I also remember getting James on every kind of gig I could. I knew that if you could get people in front of this guy and just watch him sing three songs, they'd be sold as I had been.
AF: Your albums with Linda Ronstadt and James Taylor were seen at the time as the model of slick L.A. production. But in retrospect, those records now sound pretty organic.
Asher: I was accused at the time of being too slick and perfect, and that's alright with me. I do tend to like arrangements where every note is in its place and it's not noodly and vague. We did try to make it sound big and bright and good. But it was all musicians playing real instruments; that's all we had.
AF: What exactly was the Aphex Aural Exciter, which is credited on a number of albums you did?
Asher: It was a device to replace some of the various additional frequencies and harmonics that got lost in the mixing process. You put certain instruments through it, particularly backing vocals, and it made the record cooler-sounding. But people saw that credit and assumed it was what made the records sound good—No, it wasn't. It was just one of many tools that we could use.
AF: With hindsight, how do you rate the music that you and the others on this tour made in the '60s?
Asher: I rate it very highly, but so do I rate a lot of the music being made today. It's important not to get into the "They don't write songs like that anymore' school of thought. We were lucky to operate at a time when a lot of great songs were being written—and a lot of them were covers of American songs, like "Hippy Hippy Shake," "You're No Good" and the Buddy Holly song we did, "True Love Ways." The '60s were an optimistic time and this tour brings back some of that vibe, so I look at it fondly and nostalgically—but not unequally.
---
Brett Milano has been covering music in Boston for decades, and is the author of Vinyl Junkies: Adventures in Record Collecting (St. Martins, 2001) and The Sound of Our Town: A History of Boston Rock & Roll (Commonwealth Editions, 2007). He recently returned from New Orleans where he was editor of the music and culture magazine OffBeat.