The musical foolery was far more compelling than I could have imagined: the Ukulele Orchestra of Great Britain know how to throw a fun, funny, family-friendly show.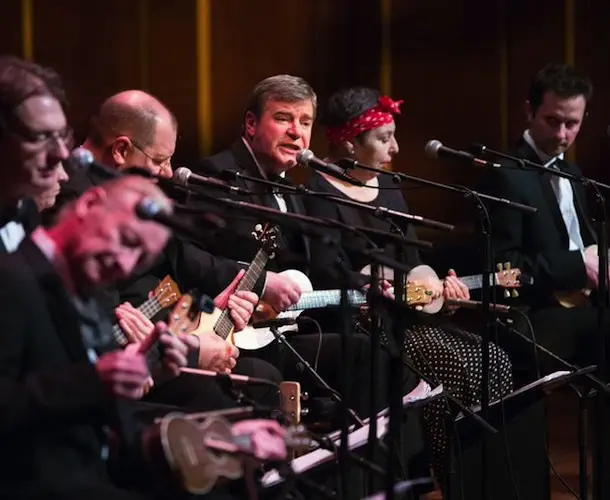 By Susan Miron
The Ukulele Orchestra of Great Britain made its Celebrity Series debut Friday night in Boston's Jordan Hall to a sold-out audience of enthused fans. I had no idea what to expect from a group who, even though it has such a formal, arch name, is an international hit, quickly selling out its concerts and recordings. What would an evening of ukulele music, which I (unfortunately) still identify with Tiny Tim, sound like, and how could it possibly keep one's interest for 2 hours?
Formed in 1985, the Orchestra is actually an octet (six men and two women) of plucked instruments. All of its members sing (when needed) and play various sizes of ukulele and a bonsai guitar. Its music has been used in films, plays, and commercials; it has collaborated with groups from Madness to The Ministry of Sound and The Kaiser Chiefs, as well as Yusuf Islam (formerly Cat Stevens). Besides its international rock stardom status, the group's hilarious, blithely British sense of humor makes it a refreshingly distinctive listening experience: the playful Orchestra performs music as it has rarely if ever been heard or conceived before. Each of the ensemble gets to have solo opportunities, and most of them run with it, leaving the audience anywhere from giggling to howling.
The instruments, "bought with loose change," run the gamut from bass ukulele to a tiny one no bigger than a pencil sharpener, which, when it becomes the lead instrument in a song, can be unexpectedly heart-breaking. Throughout the group's 30-year career, it has made imaginative use of understated sarcasm and puns, especially with the word "plucking." In its press release, the Orchestra explains, "Sometimes a foolish song can touch an audience more than high art; sometimes music which takes itself too seriously is revealed to be hilarious. You may never think about music in the same way once you've been exposed to the Ukes' depraved musicology."
One of the group members cheekily claimed that taking up the ukulele as a profession was a "lifestyle choice." Each of the Orchestra's musicians is a "dropout from other bands." Over the years a few members have taken leaves, but the magical pull of the Ukes proved to be too strong, and they returned. The group is particularly proud to have been the original ukulele orchestra: a vast number of all-ukulele ensembles have sprung up in its wake. The Orchestra's program notes detailed its success story: "while it is not normal in the nature of these artists from Britain to 'blow their own trumpets,' or in this case to 'pluck their own ukuleles,' it is undeniably a fact" that it has become "not only a national institution, but also a worldwide phenomenon." In 2015, after thirty years on the road, the Orchestra will celebrate sixteen million minutes of "ukuleleation." This motley group has certainly hit a chord, well, millions of chords.
The Ukes believe that all genres of music are available for reinterpretation on a ukulele. There was no program or song list, and sometimes this reviewer simply had a good laugh without ever figuring out what had been performed. One of the highlights early on was when one of the women saucily sung "I Heard It Through the Grapevine" with the rest of the crew as her back-up band: the rock chestnut was transformed into a combination of high art and imaginative mayhem. A Dolly Parton song "about problems with men with beards" was delivered uncannily well. There was something by Saint Saëns that one of the Ukes referred to as the "Irish St. Sean" and songs by Leonard Cohen and Lady Gaga. It really didn't matter what the Orchestra played, because few pieces ended up sounding like themselves after undergoing surprising genre shifts, or as what one of the group's members called it, "twisting things 'round a bit." The musical foolery was far more compelling than I could have imagined: these Ukes know how to throw a fun, funny, family-friendly show. The touring schedule of this group must be punishing, but it's clear that performing is as enjoyable for its members as it is for the audience.
One highlight of the Orchestra's performance, whistling included, was "The Good, the Bad, and the Ugly" by Ennio Morricone.
The concert's second half featured solo numbers from all over the musical map performed by each of the eight Ukes, "a world-tour with only hand luggage." Funny sound effects abounded, but surely the musical feat of the evening was when Jonty Bankes whistled the flute part of the Badinerie of Bach's Second Orchestral Suite. It was thrilling. There was a "a disco classic" during which "carwash" was repeated enthusiastically by the audience, and an Italian song from Naples "about pasta" during which which the players swayed. Peter Brooke Turner (who looks close to seven feet tall) sang an English folksong collected by Cecil Sharpe, and one of the female members who barely cracked a smile all evening sang "an everyday song of love and murder, "Bang Bang (My Baby Shot Me Down)," which Cher made famous.
Throughout, the musical arrangements were quite sophisticated, especially during one encore which started with one singer, then passed on to another singer who began a different song, and then on to another who had a new song: ukulele music was used to cleverly accommodate each shift. It is one of the Orchestra's signature pieces. I loved it, but I loved just about everything the Orchestra did, from The Good and The Bad to The Delightfully Daffy.
---
Susan Miron, a harpist, has been a book reviewer for over 20 years for a large variety of literary publications and newspapers. Her fields of expertise were East and Central European, Irish, and Israeli literature. Susan covers classical music for The Arts Fuse and The Boston Musical Intelligencer. She is part of the Celtic harp and storytelling duo A Bard's Feast with renowned storyteller Norah Dooley and, until recently, played the Celtic harp at the Cancer Center at Newton Wellesley Hospital.