Mr. Airplane Man was beloved in the local blues world and the Abbey Lounge garage-rock circuit. They play their first local shows in nine years this week.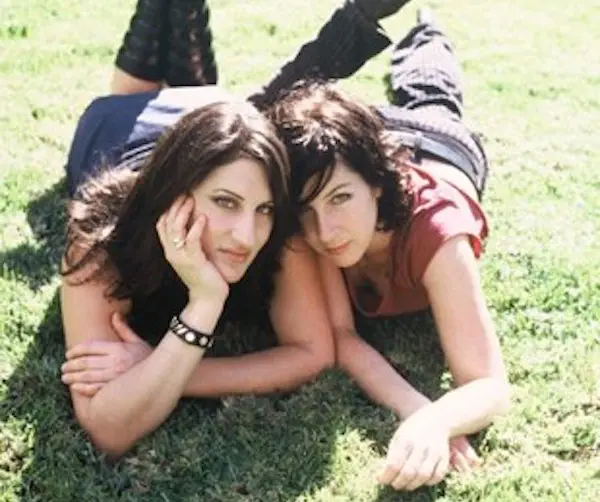 By Brett Milano
Don't ask Margaret Garrett, the singer/guitarist of Mr. Airplane Man, how she wound up with a soul full of primal slide-guitar blues. "That would be like asking why I was born," she said from her home in Northampton. "I can tell you how I learned to play it, or what I was listening to. But I can't explain why it resonated and made so much sense, only that it did."
Comprised of Garrett and drummer Tara McManus, Mr. Airplane Man was equally beloved in the local blues world and the Abbey Lounge garage-rock circuit. They play their first local shows in nine years this week; Wednesday night at Flywheel Arts in Northampton, MA and Thursday at Cuisine en Locale in Somerville. A new album, comprised of their earliest unreleased taped from 2000 will be available at the show, and they're looking to release an all-new disc next year.
Mr. Airplane Man owed some of its impetus to the late Mark Sandman, since Garrett was a major fan of his band Morphine and would often see Sandman at the 1369 Coffeehouse on Inman Square, where she worked the counter and he was a regular customer. "I asked him for advice because I really wanted to start a band, and what he told me was, 'You should just travel, go out into the world. Don't even think about putting a band together'. The only person I knew that I could make a road trip with was Tara, who'd been my best friend since we were ten. So we got into a minivan with my dog and made a trip out to Arizona, and that's where we started playing." Their early inspiration came from Mississippi's Fat Possum label—specifically raw bluesmen R.L. Burnside and Junior Kimbrough. "Tara started playing along with those records, and to this day I've never seen another drummer who could do it as well."
Sandman produced the duo's first release in 2000, but the forthcoming album was recorded a few months earlier in Mississippi, with Fat Possum's chief engineer Bruce Watson. Fuelled by a bottle of absinthe they'd picked up in New Orleans, they cut a full album's worth of material one night between midnight and 6 a.m. Included are covers of LA punk band the Gun Clun ("For Love of Ivy," a standout of their early sets) and Mississippi Fred McDowell, and some of their early originals. "The last song on the album, 'Hanging On By a Thread,' was the last thing we recorded before we crashed. You can hear Bruce playing shakers during the verses and then running across the studio to play the organ on the chorus, and then running back to the shakers. And you can hear us having a little mental breakdown at the end."
Over time Mr. Airplane Man evolved their own sound, adding their garage-rock leanings to the Fat Possum roots—Their last CD, 2004's C'Mon DJ, was their most rocking. Meanwhile certain other bands were starting to get rich doing a two-piece, blues-rock sound not too far from theirs. "Technically we came before the White Stripes, but they have a different take on blues, they come a little more from Led Zeppelin. I don't think they ever heard us and said 'That's a good idea,' it was just one of those cosmic coincidences."
Lifestyle changes caused the end of the band; Garrett had a child in 2005 as did McManus five years later; she moved to New Mexico and Garrett from Boston to Northampton. When we spoke Sunday afternoon McManus was on a plane headed east; and the two were looking forward to renewing their friendship as well as their musical partnership. They've already got dates set in New York and Los Angeles and a European tour set for next year; so the reunion has legs. "I know for a fact that if Tara hadn't moved away, we'd have played music together long before now," Garrett says. "But now the timing is right, and it feels like the universe is saying, 'We want you to play and we're going to help you make this happen'."
---
Brett Milano has been covering music in Boston for decades, and is the author of Vinyl Junkies: Adventures in Record Collecting (St. Martins, 2001) and The Sound of Our Town: A History of Boston Rock & Roll (Commonwealth Editions, 2007). He recently returned from New Orleans where he was editor of the music and culture magazine OffBeat.