Why, when finally caught, didn't Mark Landis land in jail? Here's the rub. He was a consummate liar and a big-time deceiver but he's never committed a jailable crime.
Boston Area Film Schedules — What is playing today, Where and When
Art and Craft, directed by Sam Cullman and Jennifer Grausman. Screening at Kendall Square Cinema, Cambridge, MA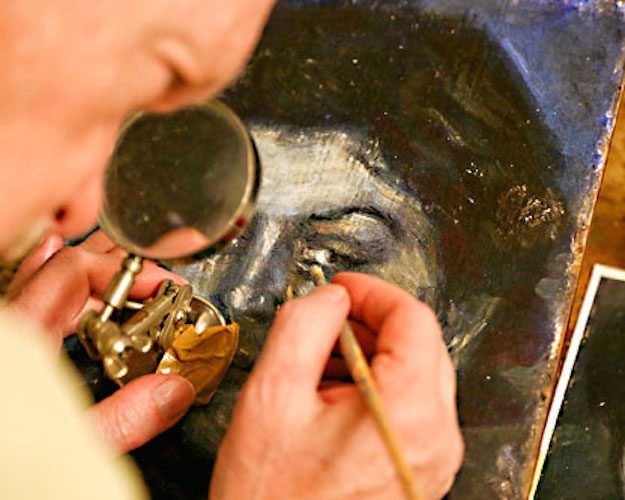 By Gerald Peary
"Why don't you paint some original work?" is the plea to Mark Landis of practically every attendant at a Cincinnati art gallery showing thirty years of his forged paintings and drawings. Landis is unfazed and uninterested. As is obvious in Art and Craft, Sam Cullman's and Jennifer Grausman's intriguing documentary about his rogue career, Landis gets his kick from copying. "Nothing is original under the sun," Landis says, and certainly not his bogus oeuvre. But he's so brilliantly skilled at duplicating arts works that many of his forgeries have hung in American museums: a fake Mary Cassatt here, a faux Stuart Davis there. He's even dared copy a Watteau and a Hans Holbein. And let's give due to his fraudulent Charles M. Schultz drawing of Charlie Brown and Lucy, and his simulated Seussian Cat in the Hat.
Why, when finally caught, didn't Landis land in jail? Here's the rub. He's been a consummate liar and a big-time deceiver but he's never committed a jailable crime. What Landis did every time was give his art away. No money changed hands. "I decided to be a philanthropist," Landis says. He would bring his manufactured paintings to museums and donate them in the name of his late mother or in memory of his deceased sister, though his mother was alive at the time and he never had a sister. The museums were grateful for free art works by artists of reputation, and seemingly never questioned their authenticity. That was the fun part for Landis. "He likes to dupe museum professionals, he likes to have his work on display," comments one of his detractors. How successful was his scam? Landis's work was accepted by 46 museums in 20 states. More than 100 pieces were out there in artland. And nobody noticed that often the same "original" painting was owned by multiple institutions. At least one Mark Landis was in the collection of five American museums!
Landis started all this as a lonely boy, home by himself while his parents were out partying. There wasn't yet a television, so young Mark would pass the time perusing art catalogues and copying some of the drawings. He wasn't particularly skilled at it until he mastered what he calls "a memory trick." He would put a piece of paper above an art illustration, peak underneath and then quickly duplicate above what he'd seen, a kind of tracing in the air. He proved amazingly accurate.
As the years went by, Landis expanded and refined his technique, learning how to pencil and to apply paint. And very important, how to make paintings and frames seem genuinely antique. For the camera, Landis showed step by step how he worked, creating before our eyes a credible Picasso 1901 portrait of Pablo's sister, Lola. In this case, he built on a Xeroxed image. Landis purchases all his frames at Walmart and makes them old by soaking them in instant coffee. "Bang up the edges a little," he says, "and you are in business."
My portrait so far of the faux artist makes Landis seem the most clever, alluring person alive. In actuality, he's a sad soul of a man with a lifetime of mental issues whose drawing is his only reason to be. He lives alone in a messy apartment eating microwaved frozen dinners and watching endless TV. He seems to have no friends and definitely no romantic life, perhaps forever. He's balding, homely, and talks like a slurred Truman Capote. He's on medication, a depressive who gets regular visits from concerned health workers.
Here's who I'm reminded of by Landis: Psycho's Norman Bates, both of them timid and lonely and reclusive and obsessed with their dead moms. Like Norman, Mark refers to her, in awe, as "Mother." Just like Norman, his judgmental mother watched over his misdeeds. "She knew I was into mischief," Mark recalls of Mrs. Landis. "Mothers know."
And who else I'm reminded of? Andy Warhol, the royal prince of mechanical reproduction. In fact, Landis is a font of bubbly Warholian aphorisms. "I just like to copy things. It's reassuring," and "My paintings look so good and real," and "Arts and crafts is the greatest thing. And watch TV while you do it."
---
Gerald Peary is a professor at Suffolk University, Boston, curator of the Boston University Cinematheque, and the general editor of the "Conversations with Filmmakers" series from the University Press of Mississippi. A critic for the late Boston Phoenix, he is the author of 9 books on cinema, writer-director of the documentary For the Love of Movies: the Story of American Film Criticism, and a featured actor in the 2013 independent narrative Computer Chess