The fine efforts of the New Rep performers and Jim Petosa's thoughtful staging can't solve this musical's central flaw.
Assassins by Stephen Sondheim (music and lyrics( and John Weidman (book). Directed by Jim Petosa. Staged by the New Repertory Theatre at the Arsenal Center for the Arts, through Oct. 26.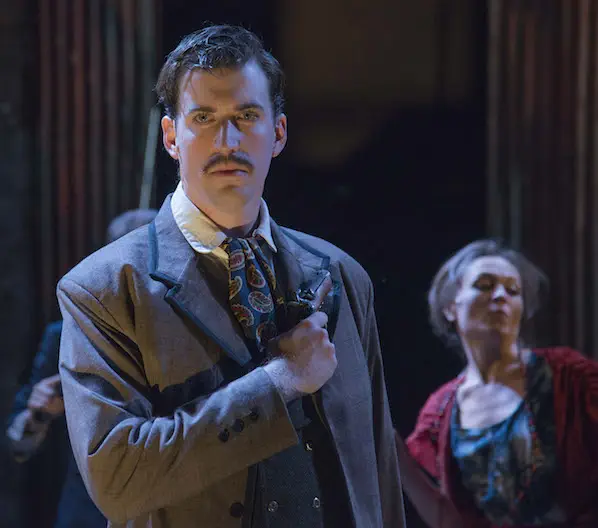 By Terry Byrne
Composer Stephen Sondheim explores the underbelly of the beast in Assassins in a sly and loose production from Watertown's New Repertory Theatre. In a show that plays more like a topical revue than a traditional book musical, Sondheim and book writer John Weidman bring to life nine men and women who attempted to assassinate United States Presidents. Still, every production of Assassins struggles with the mismatch of the book's disjointed storytelling and the music's brilliant exploration of contrasting emotions.
Sondheim has never been one to shy away from uncomfortable or even grisly topics, but here he takes his fascination with contrasts one step further. Sweeney Todd, for example, was initially a sympathetic character, a man bent on righting a horrible wrong done to him personally, but the assemblage of Assassins come from a more generalized offense: their perception of the failure of the American Dream.
The challenge with staging this musical lies in a director's ability to find the clarity in Sondheim's attempt to shake audiences from our comfortable assumptions about individuals and our expectations of society. At the New Rep, director Jim Petosa focuses on character development, and each member of his ensemble delivers a distinctly unique individual, who, while never eliciting sympathy, take us beyond the simple label of "assassin." Petosa also walks a careful line between the horror and humor Weidman often unevenly builds into the narrative, pushing each moment to its limit before balancing it with its opposite emotion.
On an evocative set in which a huge, dingy-looking American flag painting unfolds from an upper tier down across to the lip of the stage, the Proprietor (Benjamin Evett), dressed as a déclassé version of Uncle Sam, gathers an odd collection of folks together with the song "Everybody's Got the Right." As he sings the jaunty melody that encourages embracing the American dream, he hands out guns to each character, and the fear and uncertainty they initially exhibit turns to determination as he entreats them to "Aim for what you want a lot –, Everybody gets a shot."
We then follow each successful and would-be assassin through their attempt, starting with John Wilkes Booth (Abraham Lincoln), moving through Leon Czolgosz (William McKinley), Guiseppe Zangara (Franklin Delano Roosevelt), Squeaky Fromme and Sara Jane Moore (Gerald Ford), John Hinkley (Ronald Regan), Charles Guiteau (James Garfield), Samuel Byck (Richard Nixon) and Lee Harvey Oswald (John F. Kennedy). Each attempt is preceded by a scene in which we learn a little about the would-be assassin's motivation. While all believe they have been unfairly cheated out of American democracy's promise of opportunity, Weidman illuminates their struggles with inconsistent amounts of information. As Byck, Peter S. Adams is appropriately isolated and disillusioned, but Byck's rants never feel connected to the rest of the assassins' restless cries for attention. McCaela Donovan, as Fromme, and Patrick Varner as Hinkley soar in "Unworthy of Your Love," the romantic ballad that explores their obsession with Charles Manson and Jodie Foster respectively, as a way to justify their violent attempt to get their idols' attention.
Donovan and Paula Langton as Sara Jane Moore seem more dotty than dangerous, while Brad Daniel Peloquin's Charles Guiteau delivers a man who is unhinged, but unthreatening, until he isn't. Mark Linehan's Booth doesn't quite display the conviction he requires, but Kevin Patrick Martin imbues Czolgosz with a passionate desperation that makes him the only murderer for whom we can summon any empathy.
Assassins culminates with Oswald, whom Sondheim presents as undecided until the spirits of the other assassins, led by Booth, entreat him to act and make all of their attempts a part of history. The assassins' triumphant "Another National Anthem," which attempts to justify their acts, contrasts beautifully with "Something Just Broke," a heartbreaking response to the devastation these individuals have wrought.
Musical director Matthew Stern elicits a bright, compelling sound from the horn-dominated, eight-piece orchestra, adding to, but never overwhelming the singers. But the fine efforts of the performers and Petosa's thoughtful staging can't solve this musical's central flaw – an inability to match the conviction of the music with a coherent structure to illuminate this appropriately unnerving topic.
---
Terry Byrne has been writing about the arts for nearly two decades. She has an MFA in Playwriting from Boston University and is a Resident Scholar at Brandeis University's Women's Studies Research Center.