Some four centuries after Playhouse Creatures takes place, women are still facing inequality in the theater world; companies like Maiden Phoenix are part of the solution to that problem.
Playhouse Creatures, by April DeAngelis. Directed by Anna Trachtman. Staged by Maiden Phoenix Theatre Company at the Factory Theatre, Boston, MA, through August 17.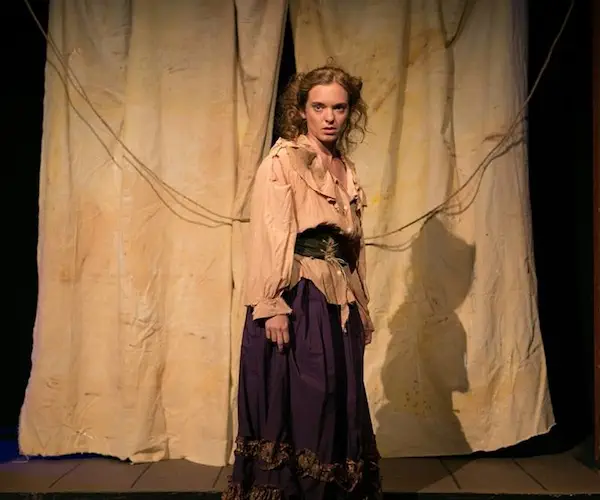 by Elizabeth Erenberg
When you enter the Factory Theatre for a performance of Playhouse Creatures you're invited to take a step back into the 17th century. The set design by Marc Ewart creates a perfect balance between minimalist and expressive, while the play's characters are an eyeful in handmade period costumes (designed by Susanne Miller and constructed by Artistic Director Erin Eva Butcher), complete with corsets and petticoats of colorful fabric.
But, though this is a historical drama, it is deeply relevant: the major topic of the evening is the role of women in the theater. There is no doubt that the choice of April De Angelis' popular play about females foraging a career on the English stage was a strategic one for the Maiden Phoenix Theatre Company, which is making its maiden voyage into the Boston theatre scene with its staging of this play.
The company's debut is a mixed affair. The play focuses on women (including actual historical figures such as Nell Gwyn) fighting for recognition in their profession. De Angelis explores what they compromised in order to achieve and maintain stage success and then pictures their eventual fall from grace. Once age, appearance, or other debilitating factors compromise their box office status, the women create a world of sympathy and unity among themselves, which then degenerates into anarchy, with powerful females morphing from protagonists to antagonists, and everything in between. DeAngelis inserts plenty of humor and charm into this yarn about the passions, constructive and destructive, released by theatrical meltdown.
The performances are generally spot-on and the production comes off as smooth and professional, but, perhaps because of slow pacing, the play sometimes felt drawn out, its scenes disconnected. What's more, the playwright leaves a number of questions dangling. Another note: whether it is the similar-looking costumes and hairstyles or the similar emotions paraded by the performers, telling the female characters apart requires more effort than it should.
As Doll Common, Maureen Adduci uses her subtle timing and expressive facial expressions to turn a supporting role into a major turn. Emma Goodman, Emily White, Christine Power, Caroline Rose Markham, and Janelle Mills also give powerful performances. The company's actresses are at the spotlit center of Playhouse Creatures, but they are well supported by male cast members David Berger-Jones and Dan Prior.
Some four centuries after Playhouse Creatures takes place, women still face inequality in the theatre world, a situation that Maiden Phoenix Company wants to remedy. This production represents an ironic confluence of beginnings and endings. Sadly, it will be one of the last at The Factory Theatre, which will be closing. But for the Maiden Phoenix Theatre Company, the evening signifies a strong opening act.
---
Elizabeth Erenberg is a flutist by trade, and additionally a freelance writer and Marketing & Communications Manager for Greater Boston at the NPR show and non-organization From the Top. With a passion for innovation and generating new audiences for the arts, she recently founded an online forum for positive news in the music industry, called Musicovation.