Director Richard Linklater does something in Boyhood that is virtually unique. He filmed it over a twelve year period, so the actors actually grow older right before our eyes.
Boston Area Film Schedules – What is playing today, Where and When
Boyhood, directed by Richard Linklater. At Coolidge Corner Theatre and other screens around New England.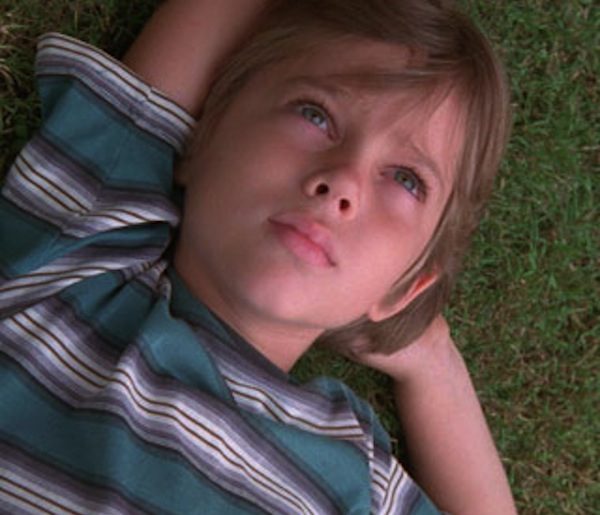 By Paul Dervis
Richard Linklater is a hybrid filmmaker. He has directed a dozen commercial films, including Dazed and Confused, School of Rock, and the tepid remake of Bad New Bears. He has also made a trilogy of interesting companion films, Before Sunset, Before Midnight and Before Sunrise, the latter the first and best of the series. In 2006 he tackled making a movie out of the controversial book Fast Food Nation. But it was his first groundbreaking indie film, Slacker in 1991 that made him a major player in the industry. Kevin Smith credits Slacker for inspiring him to make movies, admitting that it was a powerful influence in his own cult film, Clerks.
Slacker is a remarkably linear film that follows rudderless young people in a day of their lives in Austin, Texas. People float in and out of the movie, in a seemingly random way. In Boyhood, Linklater is going back to his roots. But instead of one day, the narrative takes place over a dozen years. The main characters remain constant — it is the people on the periphery who float in and out of the piece.
Even more interesting, Linklater does something in Boyhood that is virtually unique. He filmed it over a twelve year period, so the actors actually grow older right before our eyes. The only other movie that I can think of that does anything like this is Orson Welles's Chimes at Midnight, which follows Shakespeare's Falstaff over a fifteen year period of his life. But Welles didn't choose this course for artistic reasons. He had a small budget and had to halt production multiple times — he needed to continually raise money to complete the project.
Does the approach work in Boyhood? Sometimes. Linklater doesn't do a lot of explaining regarding where and when scenes take place, so often we are left confused, having to gauge how much time passed by scrutinizing the ways the characters have physically changed. How tall are the kids now? Have the adults gained or lost weight? Often we are left with the trick that movies often use to indicate passage of time. Check out the hairstyles as they morph from scene to scene. The long-term, organic nature of the director's approach can't help but be provocative. It is fascinating to watch the children as they grow, their personalities developing while we search for what has remained the same despite the inevitable changes brought on by maturity.
The storyline, if there is one, focuses on a single mother and her two children, older daughter Sam and young son Mason. It starts in 2001. The mother, who has just broken up with her latest boyfriend, can't afford the rent, so she takes the kids out of school and they leave the city, the children kicking and screaming, to go home to live with their grandmother. Mom had dropped out of college years before, and decides to try again to earn a degree. The father, who hasn't been in the picture for years, returns and tries unsuccessfully to rekindle the relationship. But at least he reconnects with the kids and that's a good thing. Mom starts dating one of her professors. They get married. He's an abusive alcoholic. This is a mistake she will repeat.
A major theme of the piece is the old adage, 'the more things change, the more things stay the same.' We see this sense of fate played out in the experience of the mother. As her finances improve, she gets her degree, goes from a ramshackle home to stay at her mother's decidedly middle class neighborhood, and then moves to a large, fancy house, finally landing up in a beautiful, rural fix-er-upper. But, at the end, she questions whether she has progressed all that far in life.
The core cast, who remarkably stayed with the project for the entire twelve years (think about it, someone could have died, someone could have changed careers and the children could have decided they just didn't want to do it anymore) are wonderful. Patricia Arquette, as the mother, drives the film throughout. The character is a rock, yet her crippling self doubts are never far from the surface. Ethan Hawke, a Linklater veteran, gives a nuanced performance as the father. The man is a little nutty and, at times, a bit scary. He goes from a being a deadbeat to finding solid employment, yet he still never seems to have a dime to his name. Still, he has a heart of gold.
But it is the kids who own Boyhood. The director's daughter, Lorelei Linklater, plays Sam, and it is not a cameo. She is a lead throughout, developing from a bossy oldest sibling to a sassy teen and finally a self-centred co-ed. Mason, the boy of Boyhood, is played by Ellar Coltrane. At just seven years old the kid brings an intensity to his performance that would put many Hollywood stars to shame. He anchors the ensemble with a shy brilliance; Coltrane does more with his silences than with his words.
Still, there are faults in Boyhood. For starters, it requires a solid suspension of disbelief. Mom goes from a college drop-out to college professor in a half dozen years. I know many struggling PhD's that would like that pipe dream to come true. All of the adults change dramatically in a short period of time, while the children essentially stay the same…the opposite of real life. And, at the end of the film, a newly introduced character tells Mason that the catch phrase 'seize the moment' is wrong, because in life the moment seizes you…just in case the audience missed the point of the film.
But, with all of its flaws, Boyhood engages the audience: it is two hours and forty-five minutes long, but the time flies by.
---
Paul Dervis has been teaching drama in Canada at Algonquin College as well as the theatre conservatory Ottawa School of Speech & Drama for the past 15 years. Previously he ran theatre companies in Boston, New York, and Montreal. He has directed over 150 stage productions, receiving two dozen awards for hs work. Paul has also directed six films, the most recent being 2011's The Righteous Tithe.