The beauty of this documentary is that even as it makes you laugh, the story's essential sadness remains. Though it is very fast-paced, the film makes you stop and think — it's as unsettling as it is charming.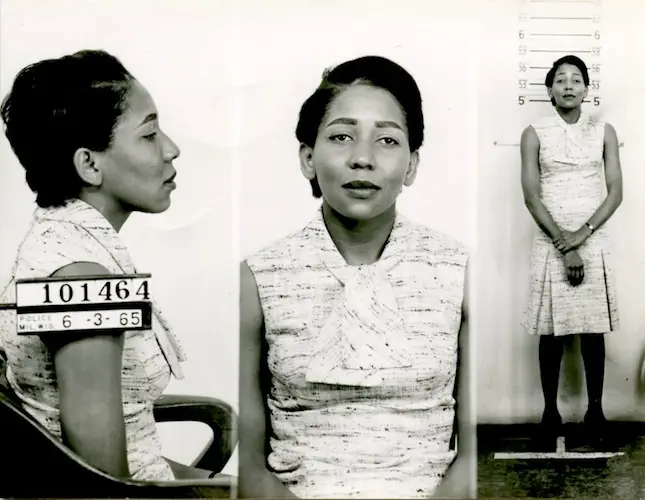 By Paul Dervis
The 16th annual Roxbury International Film Festival opens tomorrow with a dynamic documentary entitled The Life & Crimes of Doris Payne. What an amazing film to open up a festival with!
Doris is a jewel thief. She has been a jewel thief since she was a teenager. Doris is now 83 years old. She finds herself being charged with stealing a diamond ring from Macy's. For Doris, this comes off as slumming. You see, she has spent a good deal of the last 60 years stealing from high-end stories: Cartier, Tiffany, and the like. And the robberies were pulled off in cities around the world: London, Paris, Japan, Monte Carlo, and New York. She is emphatic that she did not commit the crime at Macy's, even though a videotape has recorded her for all to see.
Filmmakers Matthew Pond and Kirk Marcolina not only pick up the story with interviews with Doris, her friends and her lawyer, but also follow her back to her youth. Her father was African-American and her mother was Cherokee. Doris tells us how beautiful her mother was and how her father felt he needed to "beat the pretty out of her." It was too much for Doris to bear, so she stole a diamond ring, fenced it, and got herself and her mother out of town.
That wasn't the first time she stole. Her mother, as a present, let Doris go to the local jewelry store to buy a watch. The jeweller, Mr. Benjamin, was very kind and let her try on many watches. However, when a white man came into the store Mr. Benjamin ignored her. Feeling the sting of prejudice, and still wearing one of the watches, Doris left the establishment. And thus began her life of crime.
The filmmakers are stunningly crafty in how they portray Doris. And we see just how sly Doris is herself. She is at once refined and potty-mouthed. Although she comes from poverty, she can carry herself in high society with aplomb. Doris is able to walk into a pricey store on Rodeo Drive, get the salesman to bring out hundreds of thousands of dollars of jewels and, with sleight-of-hand, take the more valuable pieces while maintaining the employee's trust.
Just how has this woman been able to steal $2 million worth of jewels over 60 years? By playing different characters; the film suggests she is one of the world's great actresses. Maybe. She certainly gives a tour de force performance in this documentary. It would be difficult to watch the first two thirds of this film and not fall in love with her. Though one knows she is guilty, you still root for her. The screenwriter says that the secret is in her eyes and it is true. Her eyes draw you in. She makes you believe that she's Robin Hood. Maybe what she is doing is for the greater good. After all, just how sympathetic is Tiffany & Company and Cartier?
But then we follow her to an outdoor flea market. She goes to the tent of a local craftsman. She looks over several rings that he made. And then she pilfers from him, a working class stiff. A San Diego police officer says she's sweet and nice but has no morals.
The beauty of this film is that even as it makes you laugh, the story's essential sadness remains. Though it is very fast-paced, it makes you stop and think — it's as unsettling as it is charming. Doris is a lovely old lady who did not see her children until they were in their teens. She comes across as a beloved aunt, but behind the facade is a steely narcissism.
It's easy to forget this movie is very much about her trial for the Macy's theft. As the film heads towards its conclusion, the reality of the situation becomes overwhelming. Doris is offered a three-month sentence instead of going to trial. Her lawyer encourages her to take it. But Doris believes she can get off. I will not spoil the conclusion.
As the documentary nears it's end, we find out that Doris had wanted to be a ballerina. In fact, there are at least two references to her heisting 'ballerina rings.' But she was told she couldn't become a ballerina…little black girls didn't become ballerinas.
This film puts a very personal spin on growing up African-American and a woman in 20th-century America. Good for you, directors Pond and Marcolina. And good for you, Doris Payne.
---
Paul Dervis has been teaching drama in Canada at Algonquin College as well as the theatre conservatory Ottawa School of Speech & Drama for the past 15 years. Previously he ran theatre companies in Boston, New York, and Montreal. He has directed over 150 stage productions, receiving two dozen awards for hs work. Paul has also directed six films, the most recent being 2011's The Righteous Tithe.