In a world populated by talented pianists, James Brawn is a standout. He's not just a virtuoso, but also a probing, thoughtful musician with strong, creative programming instincts.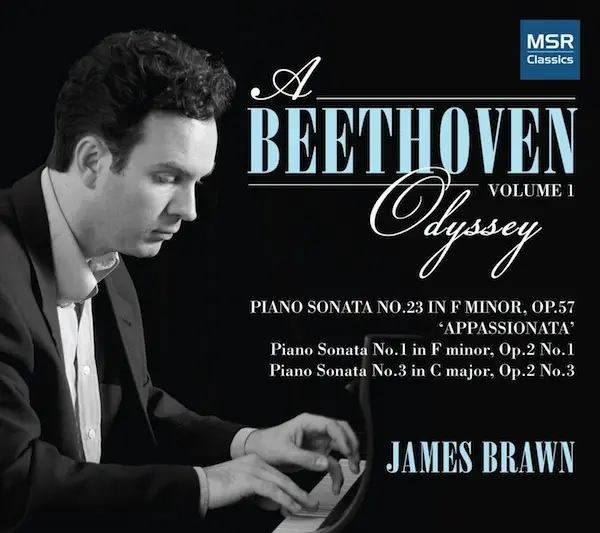 By Jonathan Blumhofer
If, like me, you question why anyone needs to make another recording of anything by Beethoven, you do so with good reason: a recent search at Arkivmusik.com turned up more than 1600 albums devoted just to the works for solo piano (and a whopping 295 recordings of the "Moonlight" Sonata, alone). Some are certainly duplicates, but the point remains that this repertoire has been documented to death several times over.
Still, that fact doesn't stop performers, including (it seems especially) young ones, from adding their two cents to the continuing musical conversation. While many efforts are forgettable, once in a blue moon, a new pianist actually has something fresh to say about the music. When that happens, you sit up and take notice.
Enter James Brawn.
The U.K.-based pianist has embarked on a complete traversal of the thirty-two sonatas with two mightily impressive discs (the third is due out soon). Volume One features a fiery account of the F-minor "Appassionata" Sonata with two of the opus 2 set (the first, also in F minor, and third, in C major), while Volume Two includes the "Pathétique," "Moonlight" (in recording number 296), and "Waldstein" sonatas alongside the two opus 49's (in G minor and G major, respectively).
At times in each of these pieces, Brawn's playing more than lives up to his name: strong and robust. And that's certainly what moments in these sonatas – the turbulent final pages of the "Appassionata," the stormy outer movements of the "Pathétique," the finale of the "Moonlight," among them – call for.
But what I found far more impressive and compelling about Brawn's interpretations is their inward focus. Take the first movement of the aforementioned "Appassionata." This can be a wildly extroverted piece – it's filled with huge contrasts of dynamics, textures, and moods – and can sound not a little bombastic. In Brawn's hands, the contrasts are all strongly present, the big moments thunderous. Yet to hear the way that he spins out the movement's opening theme, it's almost as though he's making up this familiar music on the spot. It emerges, retreats, explodes, contracts again, and continues on its way, unpredictable as ever. The whole performance continues in this vein: Brawn's is a deeply personal tour of this well-trod musical path, turning up all sorts of hidden insights along the way.
And much the same can be said, generally, for his readings of the three other "named" sonatas. The "Pathétique" and "Moonlight" balance stormy drama with warm lyricism. So, too, does the "Waldstein," which here gets a flowing, highly introspective interpretation, especially during its big finale.
Then there are the somewhat-lesser-known selections. For my money, the highpoints of both of these volumes are the op. 49 sonatas, which sparkle with warmth and humor. The two selections from the op. 2 set (nos. 1 and 3) are similarly charged with a keen attention to style and pianistic technique married to fervent interpretive sensibilities. I dare you to listen to Brawn's subtle articulation of the opening theme of the op. 2 no. 1 sonata and not be drawn in. Similarly, his delicate approach to the beginning of the C major sonata's second movement hardly hints at the huge drama that unfolds in the middle, minor key section; the expressive payoff is tremendously successful, as a result.
In sum, these two albums mark an auspicious beginning to Brawn's Beethoven survey and fully justify what, in the hands of a lesser musician, would be a hubristic and wasteful exercise. But Brawn has something to say about this repertoire and it's worth hearing.
*****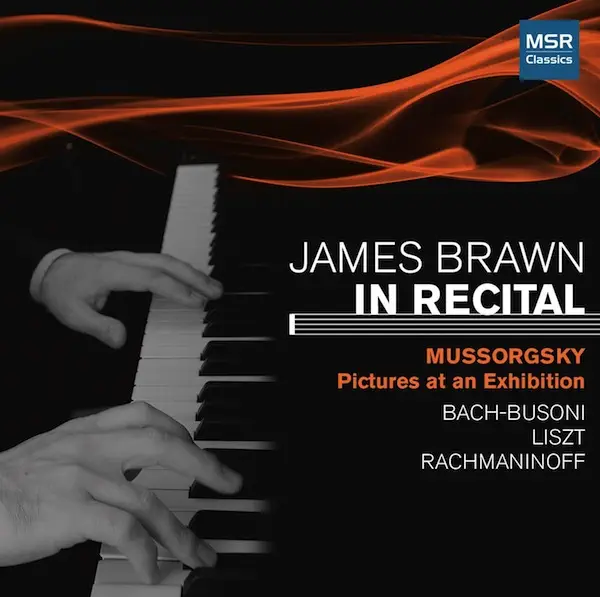 Don't be mislead by the title of Brawn's other new album, In Recital: it's a studio recording, though several moments of it capture the electricity of a live performance. The selections here are primarily Romantic (in spirit, if not strict chronology): music by Liszt, Mussorgsky, and Rachmaninoff is framed by the C major prelude from the Well-Tempered Clavier and Ferruccio Busoni's arrangement of the Chaconne from Bach's second violin Partita.
As on the Beethoven discs, Brawn's playing here is, technically, without fault, and that's especially impressive in the staggeringly difficult Busoni arrangement and in Liszt's Mephisto Waltz No. 1. Despite its programmatic nature, I'm not sure there's much anyone can do to make the latter sound like anything less than a splashy essay in pianistic facility, but Brawn captures the music's wild, rustic energy well, and the swooning, amorous waltz depicting the dancing of Faust and a "village beauty" is strongly etched.
Mussorgsky's Pictures at an Exhibition don't turn up that often in the original, solo piano version. And it can be rather disconcerting to hear the piece this way: not only is the instrumental color totally different, but Ravel (in the best known of several orchestrations of this piece) judiciously extended certain sections for dramatic and musical effect, smoothing out Mussorgsky's famously choppy phrasing.
Still, there's something bracing about Mussorgsky's original conception of the work, especially in Brawn's hands, which articulate its craggy features with color and energy. The dark undercurrents in several of Pictures' ten movements come to the fore. "Gnomus" and "Il vecchio castello" are steeped in mystery. "The Catacombs" and (especially) "Con mortuis in lingua mortua" sound downright chilling. The great, penultimate movement, "Baba Yaga," lacks some of its inherent terror, but Brawn's attention to tonal variety goes a long way to sustaining its musical focus.
Brawn's attention to the little details in "The Great Gate at Kiev" – the soft transitional sections, Mussorgsky's incorporation of the "Promenade" theme into the movement, and so forth – provide a suitably majestic conclusion to the piece, while "Tuileries," the "Ballet of the Unhatched Chicks," and "The Market at Limoges" are filled with characteristic zest and spirit.
Liszt's Consolation no. 3 and Rachmaninoff's Prelude in B minor (op. 32, no. 10) allow Brawn to flex some lyrical and dramatic muscle, and he does so convincingly. Remarkably, though, it's the short Bach C major prelude that neatly sums up Brawn's playing throughout this album in just two short minutes: beautifully articulated, restrained, and songful.
In a world populated by talented pianists, James Brawn is a standout. All three of these discs demonstrate not just a virtuoso at work, but also a probing, thoughtful musician with strong, creative programming instincts. May we hear more from him soon.
---
Jonathan Blumhofer is a composer and violist who has been active in the greater Boston area since 2004. His music has received numerous awards and been performed by various ensembles, including the American Composers Orchestra, Kiev Philharmonic, Camerata Chicago, Xanthos Ensemble, and Juventas New Music Group. Since receiving his doctorate from Boston University in 2010, Jon has taught at Clark University, Worcester Polytechnic Institute, and online for the University of Phoenix, in addition to writing music criticism for the Worcester Telegram & Gazette.