A captivating story, indeed. But is Vivian Maier, suddenly famous, and the subject of a new film, the John Maloof-directed Finding Vivian Maier, a worthy artist?
Boston Area Film Schedules – What is playing today, Where and When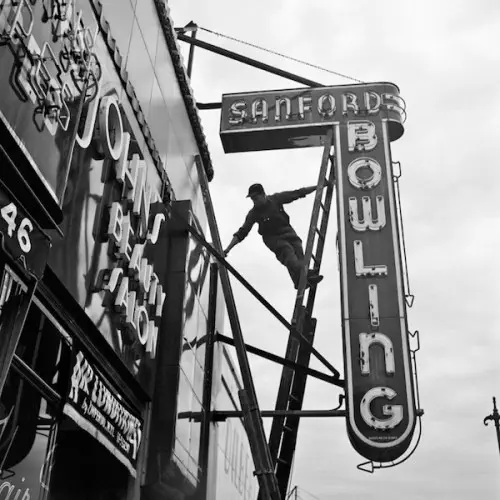 By Greig Cranna
By now, most people who follow the arts, and lots of people who don't, know the essentials of the Vivian Maier story line: A box of unprinted negatives by a never-heard-of photographer turn up at a nowheresville auction and are found to contain gems. The buyer, John Maloof, tracks down other buyers and starts amassing the detritis of Maier's life. It's no longer just a box; it's now over 100,000 negatives, super 8 films, and the paper trail of a life told in household bills and receipts.
Maloof, also a documentarian, reconstructed her biography. And he uncovered the public-relations kicker: assiduously avoiding attention, Maier had spent her whole life (1926-2009) in intentional obscurity, working as a nanny and a housekeeper, primarily in the Chicago suburbs. Though an astoundingly prolific, obsessed shooter, she apparently had no interest in ever showing her work to anyone, including to herself. Hardly any of it had ever been printed. It existed only in negative form.
A captivating story, indeed. But is Vivian Maier, suddenly famous, and the subject of a new film, the John Maloof-directed Finding Vivian Maier, a worthy artist?
Inured to the hyperbole of our culture in general, and the art world in particular, I was wary of the discovery and near beatification of Maier. Her name continued to scrape at my consciousness periodically over the months, but as it was often accompanied by the sobriquet "street photographer." I stuffed her in a bin with the likes of Gary Winogrand.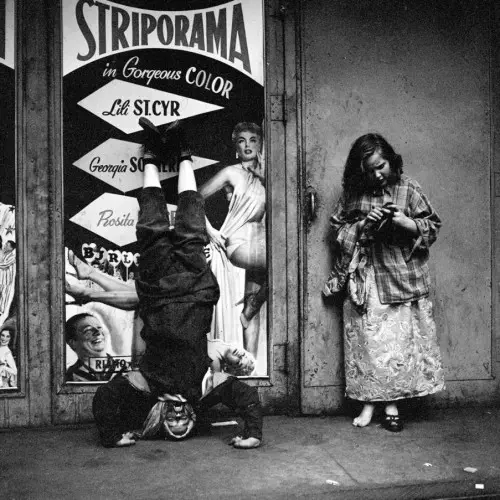 Unfortunately, there are generations of photography students who think images of their own shadows, sleeping bums, store window reflections, fire escapes and headless mannequins constitute art, amounting to meaningful statements on the human condition. I blame this on the influence of Winogrand and his ilk; acclaimed street photographers who often made no attempt to connect with their subjects, but fooled themselves into thinking they were making grand statements about rich and poor, pain, love and disaffection by surreptitiously "stealing" photographs on the street.
People have been rhapsodizing for years about Winogrand's prodigious output and, with his death, the thousands of still unprocessed rolls of film. I'll get hate mail here, but I've always felt if you shoot enough bullets into the forest, you'll eventually hit a squirrel. Winogrand hit the squirrel now and then, but there are astronomical quantities of nothingness in much of his vast output.
So, I confess, I had relegated Maier's work to this wasteland without giving her a chance. Several weeks ago, with time on my hands in San Francisco, I crawled through a bunch of galleries in and around Union Square. The Scott Nichols Gallery had a show of Maier's work, so here was my opportunity to separate the hoopla from the reality. I stopped in and, unfortunately, had my preconceived notions fulfilled. It was not a large collection, and I spent very little time with the photographs because I found them profoundly uninteresting. As I had suspected, the dreaded self-shadow photo was there as well as an uninspired group of student-like street photographs.
But then it got interesting. Back from California, I was nudged to see the documentary, Finding Vivian Maier, and the process of turning the ship began. I'm not a movie critic, so I won't weigh in on the film as a film, but as a trove of information about a very enigmatic person it proved indispensable to understanding the evolution of this body of work. John Maloof displayed a talent for selecting and editing Maier's work that led me to explore her photography further, starting with the website. I now think that the show in San Francisco was poorly curated.
Many of the photos shown in the movie are undeniably brilliant. There is no indication from her paper trail that she followed or emulated any working photographers, but some of her work contains the humor of Elliot Erwitt and the timing of Cartier-Bresson and Marc Riboud, along with an uncanny knack for filling the frame perfectly.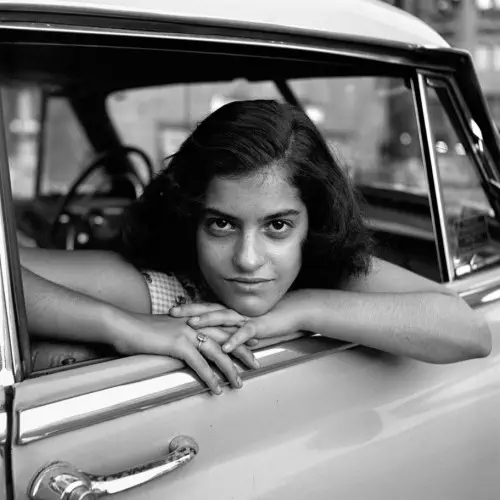 One thing is for sure, this woman was an odd duck. Seemingly content to work as a nanny her whole life, she apparently made due without friends or family. She made no attempt to get her work in front of anyone. Another thing is sure: Maier had unusual presence on the street. She ventured into questionable areas regularly, often with her charges in tow, but nowhere does her work show any level of stress, on her or on her subjects. She seems to move easily, and much of her work suggests that she established a fleeting but solid connection with the people she encounters. She's making contact; there's no subterfuge in her technique. Her camera of choice was the Rolleiflex, a twin lens reflex with a waist level finder. These are not the customary tools of the street photographer. With this camera she'd be looking down at ground glass, and the view would be backward. Maier was not seeing through the lens that was actually taking the picture. Merely 12 frames to a roll, not the 36 typically loaded into a 35mm camera. No bang, bang, bang while her subject isn't looking, no hiding her presence on the street. Maier was out there in plain view yet somehow seems to have made herself invisible.
I've spent decades working on the streets with big cameras and I know all too well the unwanted attention that comes your way. However, the oddly dressed Maier, with her Rolleiflex hanging from her neck, seems to have freely roved the street, barely raising an eyebrow from the people at whom she's aiming her camera. She either had a remarkable street presence or was so profoundly unthreatening that she was unnoticed.
A couple of years ago, I attended a Cartier-Bresson show at the ICP in New York, and included were dozens of contact sheets. Here was genius, a photographer working the streets with a vision. He was patient, and you could see him honing that vision over a series of frames until he had what he wanted. Unlike many street photographers, Cartier-Bresson wasn't firing blindly hoping, he'd hit something.
Neither was Maier. Looking at her contact sheets, and there are many on the official web site, I was struck by how rarely she shot something more than once. She saw something, she reacted, or waited for the right moment to make it come together, then moved on. She didn't shoot, reframe, shoot. Most of the great moments that she captures on the street appear to have happened quickly, yet the image fills the square perfectly. It's an amazing feat, as The Rolleiflex is not a camera that lends itself to working speedily.
Some things are probably luck, like a Maier photo of a boy rolling a tire and perfectly framing a young girl's legs; but many that quickly sum up the human condition aren't about luck at all. At first glance, one photograph appears to be an Elliot Erwitt-like ground level pairing of a mother's high heels and her daughter's baby shoes, until you follow the tiny arm up to where it's nervously clutching her mother's coat and you see the hook. And Maier shot the above in a department store with a twin lens reflex. Many of her images leave me scratching my head. How did she get so close with that big camera without, on occasion, receiving a glimmer of recognition from her subjects?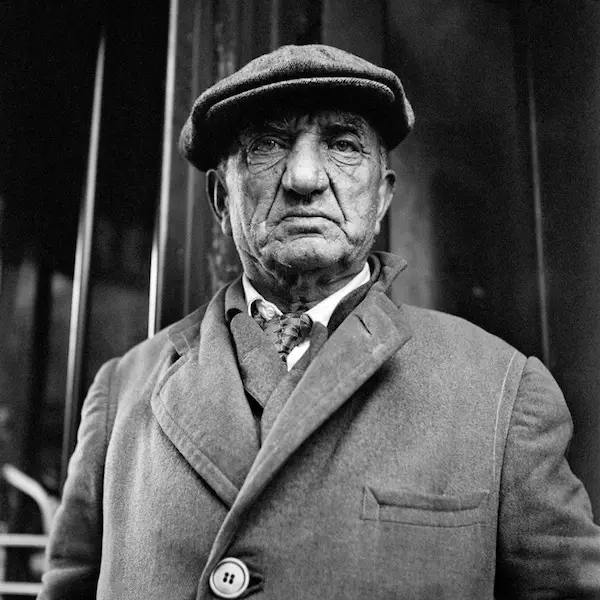 Maier found humor, irony, and all the nuances of the human condition in her wanderings. But her connection to people and her obsession with documenting their lives is perplexing when one considers the lack of friends and family in her life. But there's more. In Finding Vivian Maier, a dark portrait of the artist emerges. Her now grown-up charges speak ominously of her black moods and of themselves as victims of abuse.
Intimations of mental illness, hoarding and possibly homelessness bring me back to those endless boxes of negatives uncovered at auction. They take her art to a level of obsession and hoarding that are beyond my ability to analyze or comprehend. Still, I also can't help but find it disturbing that her inner private world has been exposed to the world without her knowledge or consent. It's clear that no one will ever posthumously figure out this woman's motivations. But one can start by seeing the film, exploring the portfolios on the official site and paying attention to the work that is printed. Maier's name should be added to a small list of photographers who, time after time, meaningfully fill the frame.
Yes, there are plenty of less-inspired images, like those I saw in San Francisco, but they are soon forgotten when you see the good stuff. Maier left behind over 100,000 negatives, and I, for one, eagerly await their gradual emergence into the world.
---
Born in Vancouver, British Columbia, Greig Cranna lived in Montreal, New England and Alaska before beginning his photography career in New York City in 1976. In a career spanning almost four decades, his clients have included The Council on Foreign Relations, The Japan Society, The International Typeface Corporation and countless publications, corporations, foundations and NGOs. Based out of Boston since 1982, his diverse clientele has had him shooting throughout Canada and the US, with forays into Argentina, Belize and Eastern Europe. You can see his work at Crannaphoto.com.