Three reviews of new classical music CDs: one is inviting, another lively, and the last could use more intensity.
By Jonathan Blumhofer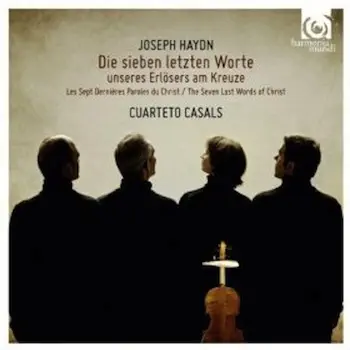 For intensity, focus, and straightforward sincerity, it's hard to imagine a more inviting recording of Franz Josef Haydn's Seven Last Words of Christ than this new disc by the Cuarteto Casals on the Harmonia mundi (HM) label. Written in 1786 to be performed in the Oratorio de la Santa Cueva in Rosario, Spain as an "instrumental oratorio" for orchestra, the Seven Last Words are a series of meditations on words spoken by Jesus during his Crucifixion. Ever the shrewd businessman, Haydn created a number of different arrangements of the piece, the most enduring and popular being the one for string quartet documented here.
A successful performance of the Seven Last Words is difficult to pull off for a number of reasons, not the least of which is the fact that nearly all of the music is written in slow tempos. In this recording, nothing feels sluggish and that's not only due to context: the Casals take Haydn's Adagios and Largos at miraculously brisk clips. But speed isn't the only thing that makes this reading work. The group's keen attention to articulation and musical detail – for example, the rhythmic precision and ensemble detail in the third and fifth movements (based, respectively, on the texts "Woman, behold thy son" and "I thirst") – give this performance a haunting depth.
Another musical challenge the Seven Last Words presents is the fact that all but the outer movements adhere to the same form (in fact, Haydn calls them all "sonatas"). But, again, a little musical intelligence can go a long way and the Casals possess a lot of it. They draw an impressive depth of instrumental color and variety across and within these several movements: listen to the increasingly desolate solo violin passages in the third movement ("My God, why have you forsaken me") or the violent hammer strokes in the middle of the sixth ("It is finished").
It all amounts to an interpretation that lingers in the mind – beautiful at times, certainly, but one that really tries to go beyond the sound of the music and get at the meaning behind the notes. More often than not, the Casals succeed.
*****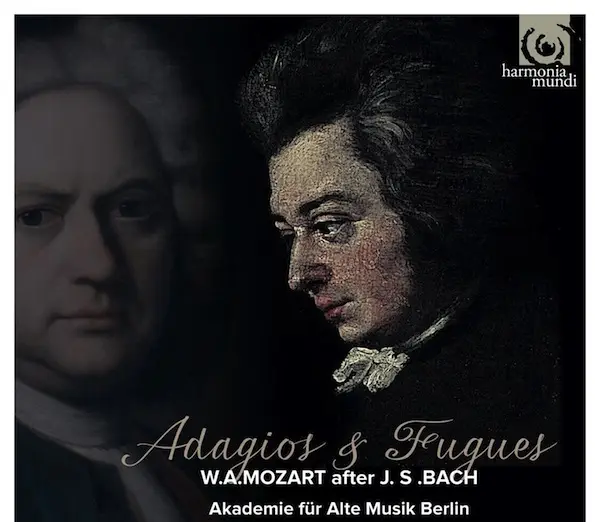 Any serious student of Mozart's life and work knows of the debt owed by the younger composer to the music of Johann Sebastian Bach. That characteristic of Mozart's output is the focus of this intriguing and well-played recording of Mozart arrangements of Bach fugues by the Akademie für Alte Musik Berlin.
In the years after he moved to Vienna, Mozart spent his Sunday afternoons at the residence of Gottfried van Swieten (author of the libretto of Haydn's Creation, among other things), playing music by Bach and Handel. For some of these gatherings, he arranged five four-part fugues from the Well-Tempered Clavier for string quartet. In 1796, five years after Mozart's death, an anonymous collection of Bach fugue arrangements closely similar to Mozart's appeared, but with additional, newly-composed preludes (the WTC wasn't published until 1801, so, presumably, Bach's preludes were relatively unknown at this time). The current recording features performances of the fugue arrangements by Mozart, introduced by the anonymous preludes, arranged for different instruments than the ones Mozart intended in his adaptations.
Of course, none of this makes for a bad recording – the Akademie is coming off some terrific Bach releases and they bring deep understanding and musicality to these scores. It's just a bit inauthentic.
And, if that doesn't bother you (judging just from the quality of the playing here, it shouldn't), there's a lot to like on this CD. The Akademie's wind section gets a workout in the Adagio & Fugue in A minor that sounds fantastically bizarre, with buzzing reeds and plangent horns. For most of the rest of these pieces, the strings are the instrumental focus (either with the winds or a continuo – or both), and they acquit themselves well, with rich, singing tone. The juxtaposition of the 1790s-era preludes with the much older fugues is sometimes a bit jarring (as in the Larghetto cantabile & Fugue in D major), but there's a nice charm to the pairings, too.
As for the two authentic, Bach-inspired Mozart works here, the Allegro in C minor & Fuga a due Cembelli and C minor Adagio & Fugue (for strings), they sound as bold and fearsome as you'd want to hear them.
If you're interested in hearing Mozart's actual arrangements for string quartet, there's a fine, old recording by the Grumiaux Trio (plus friends) on Philips. Otherwise, have at this one – at fifty minutes, it might be a little short, but it's certainly lively enough.
*****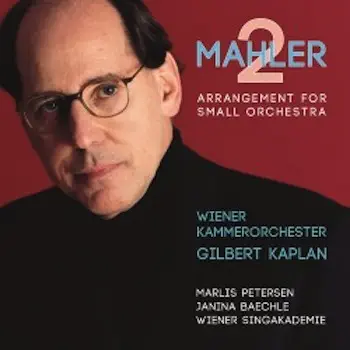 Gustav Mahler's dictum that "the symphony must be like the world…it must embrace everything" is perhaps most obviously apparent in the size of the performing forces most of his works in the genre require: typically triple (or quadruple) winds, often six to eight (or more) horns, offstage brass, extended percussion sections, and – in four of the completed nine symphonies – voices ranging from a solo soprano (in the Fourth) to two mixed choruses and a boys choir (plus eight vocal soloists, in the Eighth). And that's all in addition to big string sections.
Gilbert Kaplan and Rob Mathes's new arrangement of the Second Symphony (Resurrection), then, is an effort to make performances of one of Mahler's biggest pieces more widely feasible. It's a noble effort that, in terms of numbers alone, reduces the size of the orchestra considerably: from fifty instruments (in addition to the strings and voices) of Mahler's original score to twenty-two (or four more than are needed to perform Beethoven's Fifth).
There certainly is plenty of precedence for doing this sort of thing (Mahler made numerous arrangements, himself, of music by Bach, Schubert and others, and he reorchestrated the symphonies of Beethoven and Schumann). And in Kaplan's new recording of this edition on Avie Records with the Wiener Kammerorchester and Wiener Singakademie, the results certainly don't sound too paltry: after all, almost all of Mahler's notes are still present – there are just fewer doublings of them.
What's missing from the Kaplan/Mathes version is the overwhelming cinematic sweep of Mahler's original vision of this piece. Given the circumstances, perhaps that's to be expected. Even so, I can't help but feel that an essential part of the Mahler experience are those huge moments in which the intensity of the extended ensemble is simply overwhelming. Perhaps that won't be totally lost from performances of this edition in concert, but, on this record, those moments were fewer (and less impressive) than I had hoped they would be.
Personally, I've never been totally convinced by Kaplan's Mahler interpretations, though this performance isn't wholly unsatisfying. Kaplan doesn't linger much: the first movement is unsentimental and direct, though I generally think it could benefit from a more subjective hand. The middle movements are notable mostly for their textural clarity. Only in the last two movements does some sense of the symphony's momentous power come into view with a fervent "Ulricht" and a well-executed progression through the various scenes of the finale.
Marlis Petersen and Janina Baechle are strong vocal soloists and the Wiener Singakademie performs its role with musicality and power. The Wiener Kammerorchester also delivers a solid performance, with some particularly good percussion and wind playing in the third movement scherzo.
Whether or not community and regional opera orchestras (the target audience for this new performing version) take up the Kaplan/Mathes edition remains to be seen. The expressive and technical scope of the music probably remains beyond the abilities or inclination of many, but to have such an arrangement made by two musician-scholars who know and care so much about the original can't possibly be a bad thing.
---
Jonathan Blumhofer is a composer and violist who has been active in the greater Boston area since 2004. His music has received numerous awards and been performed by various ensembles, including the American Composers Orchestra, Kiev Philharmonic, Camerata Chicago, Xanthos Ensemble, and Juventas New Music Group. Since receiving his doctorate from Boston University in 2010, Jon has taught at Clark University, Worcester Polytechnic Institute, and online for the University of Phoenix, in addition to writing music criticism for the Worcester Telegram & Gazette.