The teamwork and chemistry of soprano Natalie Dessay and pianist Philippe Cassard were terrific, each performer delivering the music with great expressiveness and intelligence.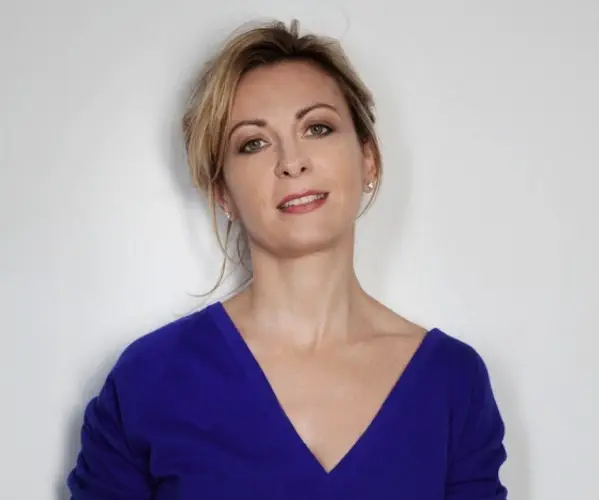 by Susan Miron
On March 7th in Jordan Hall a packed house greeted the acclaimed French soprano Natalie Dessay, who was making her belated recital debut on The Celebrity Series of Boston. Many knew her through her spectacular recordings. Others had seen her live at the Met or some other opera house, and eagerly awaited an evening of her singing. No one was disappointed. I saw her at the Met in one of her signature roles, "La Fille du Régiment," several years ago and I still smile remembering her in it (although Juan Diego Florez got the 9 curtain calls). This recital, of French and German songs, was sublime.
As aficionados of song recitals know, the latter are really a piano and voice collaboration, and Dessay's pianist, Philippe Cassard, was a perfect match for the singer. Their teamwork and chemistry were terrific, each delivering the music with great expressiveness and intelligence.
A superstar in the opera world, Dessay is famously walking away – for a presumed hiatus of several years – to sing recitals and to act (in French theater). She has also been collaborating, using a mic, with the film composer Michel Legrand, best known for his jazz compositions. Of her time as a celebrated coloratura soprano capable of hitting stratospheric high notes and whose face was on an armada of NYC buses when she was performing the role of Lucia, she has said, "I had started off as an acting student. That was my real passion. That is my real passion. It's just a detour of thirty-three years – to finally get back to my first goal. There's nothing left for me to sing. I've done most of the roles I could do. I don't want to play Juliette. At my age? Please! Or Lucia or Adina or anything else like that. That's why I'm quitting. You have to love your repertoire. For a while I thought it was fun, but no. On to something else."
A passionate singer who treasures words, Dessay sings in both German and especially French with clarity. This was extremely helpful on Friday because she insists that the lights be completely dimmed for her performances; thus it was impossible to read the songs' lyrics. So all eyes stayed riveted on the singer and pianist, with no interruptions to check out what was being sung – frustrating indeed for those of us less than completely fluent in the languages in which she was singing. We watched carefully and guessed at what she was singing about, and wished we knew. Another small gripe is that it would have been nice to have a few program notes about the songs.
Dessay's original goal as a young girl was to be a dancer, and this wish – and early training – manifests itself especially in her opera performances, but also in the use of her arms – one might say too much use – as she sings. She did the usual diva change-of-gown at intermission. First half: a midnight blue/black strapless, sleeveless number with sparkly stuff along the top. Second half: a silver, off-the-collar, sleeve on the upper arm dress, both with very high heels. Ms. Dessay is getting blonder as she matures, but no taller.
The recital opened with the songs of Clara Schumann, wife of composer Robert Schumann, and a tremendous pianist whose music is now finally being heard. Two of the songs had texts by Rückert (whom Mahler famously set to music as well), and one by Heine. The next set of three were somewhat unfamiliar songs by Brahms, but, like the Schumann offerings, they were lovely and lovingly performed. This was followed by a French set of two by Henri Duparc and finally a set of three by Richard Strauss, the composer of choice for many singers. I had the impression I was watching an intense actress who also sang. Or as critic Anthony Tommasini of the New York Times put it, "It is pointless to separate singing and acting in a Dessay performance. Every vocal phrase is impelled by the emotion and dramatic intention of the moment."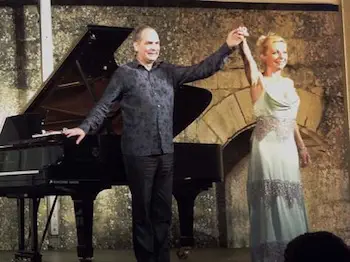 The second half – all in French – made a far stronger impression than the first. Gabriel Fauré, perhaps the most famous French composer of twentieth century French songs, was represented by five familiar songs, all but one with texts by Paul Verlaine. The first and most well-known (it exists in transcriptions for various instruments), "Aprés un Reve" is a piece I have heard (and played) countless times, but I have never heard it pack as much sparkle as it did with Dessay. When she hits her top notes (listen to Mozart's "Queen of the Night" or Bernstein's "Glitter and be Gay," among others, on You Tube), few are more dazzling. "Clair de lune" (Moonlight), "Prison," Mandoline," and En sourdine" (Muted) finished the set that, to this listener's taste, could have gone on for hours.
Francis Poulenc's rarely-heard 6-song cycle by Louise de Vilmorin, "Fiancailles pour rire" was a real find. I love Poulenc's vocal music, and was thrilled to hear this for the first time. Dessay treated the cycle as if it was cabaret music. Her manner and posture were far more relaxed than in the first half the recital; she seemed to be enjoying herself immensely.
Finally, Claude Debussy's "Apparition" and "La Romance d'Ariel" (which also exists in a version for soprano and nine instruments) were given beautiful performances. Philippe Cassard played gorgeously all evening. There were three lovely encores – half of Debussy's "Clair de Lune" from "Suite Bergamasque" for solo piano, followed by Debussy's vocal version of "Clair de Lune." A beguiling Russian song Dessay announced that she loved, Rachmaninoff's "Zdes khorochow" (How Nice It Is), and a song from Delibes's "Lakmé" were thrilling. Many in the audience left the hall walking on air. Dessay and Cassard, we hope, will return soon.
Natalie Dessay sings the last of her three concerts in America tonight in San Francisco.
---
Susan Miron, a harpist, has been a book reviewer for over 20 years for a large variety of literary publications and newspapers. Her fields of expertise were East and Central European, Irish, and Israeli literature. Susan covers classical music for The Arts Fuse and The Boston Musical Intelligencer. She is part of the Celtic harp and storytelling duo A Bard's Feast with renowned storyteller Norah Dooley and plays the Celtic harp at the Cancer Center at Newton Wellesley Hospital.