"Company" explores a very relevant question in our technological age, where human interaction can be watered down to clicking on 'like' or 'share' buttons: how do we share our lives with others?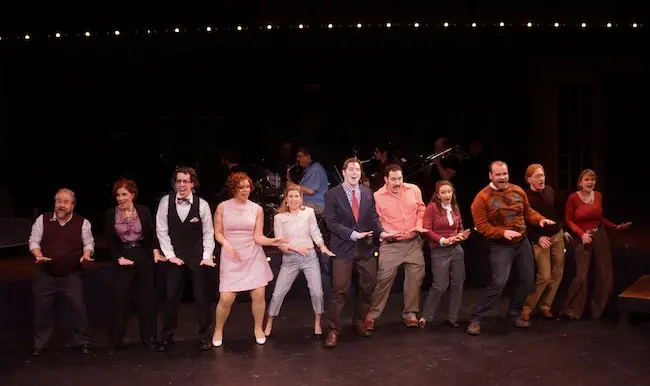 By Farah Joan Fard
Social attitudes have become a little funny, haven't they? All it takes is a ride on the bus to see how many people would rather look down at their phone than offer a smile. And, with social media, it's easy to interact with acquaintances as friends. It's easy to avoid tough conversations by just texting and never having to look someone in the face. It's also easy to overshare, without thinking too much about it. Stressed out? Passive aggressive? Sure, post it on Facebook.
You can be so alone and so surrounded with company, company, lots of company!
Company premiered in 1970, with music and lyrics by Stephen Sondheim and book by George Furth. The show is a concept musical and, like another wildly popular concept musical, Hair, it poses a lot for audiences to think about. Sondheim was quoted as saying, "Broadway theater has been for many years supported by upper-middle-class people with upper-middle-class problems. These people really want to escape that world when they go to the theatre, and then here we are with Company talking about how we're going to bring it right back in their faces."
Boom, there you have it, and there it goes. Company has been making its way to the Boston local theater scene this season, with performances by Moonbox Productions, Marblehead Little Theater, and Footlight Club recently joining the list.
The show explores a very relevant question in our technological age, where human interaction can be watered down to clicking on 'like' or 'share' buttons: how do we share our lives with others? And what version of you do you allow the world to see? Company is a show that still has pertinent things to say about the complexities of intimacy.
How does this show's themes speak to a modern day audience? I asked two of the directors of current productions.
"I think Company speaks just as much to a modern-day audience as it did to the audiences who saw its premiere. The issues it addresses are deeply universal. On its most basic level, Company is a meditation on the dangers and the rewards of emotional intimacy. How do we dare to share our lives with another person?" says Allison Olivia Choat, director of the Moonbox Productions presentation of Company. The show recently wrapped up a run at the Calderwood Pavilion at the Boston Center for the Arts. "What do we gain, and what do we lose, when we allow another person to see us for who we 'really' are? What do we do when that intimacy ends? How do we keep it going? And – perhaps the most telling and mysterious question of all – how do we begin to share ourselves if we have never done so before? The first step, I think, lies in accepting ourselves for who we are. If we cannot be honest alone we can never be honest together."
One of the standout pieces from Company is the song "Being Alive", which was performed with heart-wrenching fervor by Raúl Esparza in the 2006 revival, and by Neil Patrick Harris during the 2011 New York Philharmonic Concert rendition. It's a beautiful piece, and leaves you wanting to make a real connection with someone. In some ways, the song takes on additional resonance in today's world, where we often interact through machines, or even hide behind them.
How does Choat direct her actors to convey the emotional turbulence of this song? Does this song, or any of the pieces from the show, pack a deeper punch in today's society?
"I think they do have a deeper resonance, if only because they come from a time when a more immediate, physical way of reacting to the world was more common. 'Somebody sit in my chair and ruin my sleep' has a kind of resonance that you could never get from 'Somebody poke me on Facebook and then like my Tweet', for example," she explains. However, it's not to say that the characters in Company miss vital connections. Choat reminds us that songs such as "Another Hundred People" exemplify this attitude. The lyrics, she says, are not very far removed from the sentiment of "Can't talk now; text you later."
As Sondheim pointed out earlier, Company addresses topics that were not discussed so readily when the show premiered. Not only is it asking us about how we maintain our relationships, how we open up, and how we face ourselves, but it speaks to social issues regarding marriage, commitment, fidelity, and sexuality.
Bobby Kerrigan, producer for the Marblehead Little Theater's production of Company, which is running through March 23, observes that "the group has not done a Sondheim show in quite some time and thought it would be embraced by the North Shore community." He also noted that the music can be tricky to learn, but that he feels the cast has done a fantastic job. The show will be the final production for this season (Godspell was performed in the fall), and tickets for the staging are already selling fast online.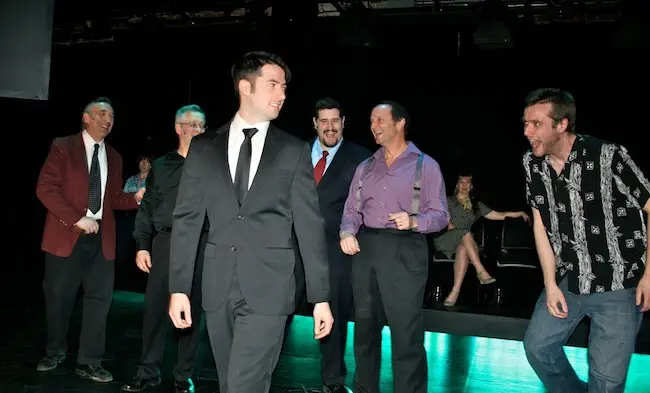 The show's director, Lance Arnold, also weighed in on Company's relevance to modern day themes.
"One of the underlying themes of Company is Bobby's loneliness and isolation," asserts Arnold. "Among all of his caring friends and an array of girlfriends, he is seeking a more solid connection with another person." "We are setting the show in contemporary times and wanted to highlight the role of technology in modern life. It turns out that technology brings people together in a new ways, while leaving us no more connected, and no more a part of loving relationships than when Company originally premiered in 1970. In the opening seconds of the play, Robert interacts with SIRI on his iPhone, receiving birthday wishes from friends who have taken the time to leave him a voicemail."
This updating makes Company even it asks us, in an age of films such as Her (man falls in love with super-sophistocated operating system), how do we interact with one another when technology can not only be a conduit, but a curtain?
What does a director hope for in terms of how the show connects with audiences?
"I think my first hope is that the audience will be able to identify with the people they meet in Company. I think there's something of all of us in the people in this show…" Choat explains. "Bobby, in particular, faces a tremendous challenge. No matter how outgoing or open we may be, I think there is at least one moment for each of us where we struggle to open up […] Bobby's decision to open that door, to try to see himself, and share himself, for who he is – that takes an extraordinary amount of bravery. And it's dramatized in what I think is one of the most beautiful, touching, and inspiring songs in all of theater. Maybe, at our best, I could dare to hope the production would inspire people to share themselves. To open up, even for a little bit, at the moment when it matters. That's the great gift this show can give, if you do it right."
---
Farah Joan Fard is a writer, musician, and media manager. She writes about the arts for various outlets, and completed a music careers project at her blog, LaParadiddle. She's worked as a producer and audio engineer, and also drums in an indie jazz band. You can follow her at @LaParadiddle