"Inside Llewyn Davis" is a watchable if not particularily compelling tale of the never-ending woes of the protagonist, a walking basket case of self-destruction.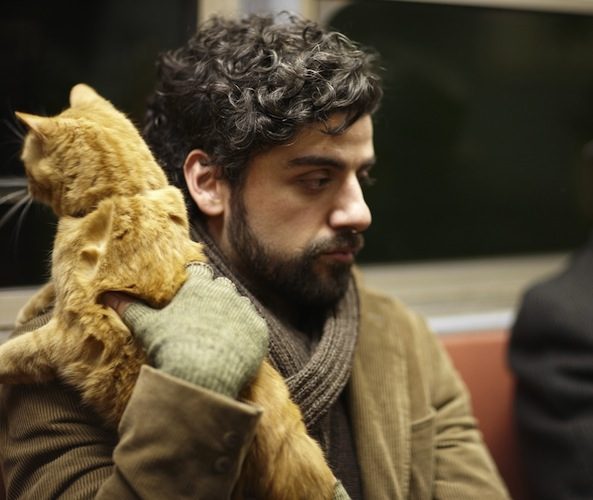 By Gerald Peary
Joel (b.1954) and Ethan (b. 1957) Coen were too young to have experienced firsthand the folk music scene of the early 1960s. So it seems an obvious question to ask what motivated a movie with that setting in that time period? Inside Llewyn Davis takes us back to those seminal days in New York City, with its eponymous lead character a guitar-strumming folk singer (Oscar Isaac) vaguely based on Dave Van Ronk. In countless rave reviews of the film, critics all assume, especially with the revered T Bone Burnett assigned to produce the soundtrack, that the Coens have some special affection for the music on screen. After all, they and Burnett had mainstreamed bluegrass in O Brother, Where Art Thou?, bringing string band mountain music to a trendy popularity.
However, I've watched Inside Llewyn Davis twice, and I have no idea of the Coen's point-of-view about the music they present in this film. All I can say is that there is music, and piles of it. The oft-inscrutable Coens, famously uncooperative when pressed to discuss themes in their movies, are more opaque than ever in their artistic intentions. Frustratingly so.
Most of the music scenes are set in a replicated Greenwich Village club, the well-situated Gaslight Café, 1961, where, each night, up-and-coming folk singers play to be discovered, to get record deals, to be reviewed in the Times. Meanwhile, they are paid by passing a hat. Among the regulars are Jim and Jean (Carey Mulligan and Justin Timberlake), two thirds of a trio most reminiscent of Peter, Paul, and Mary, and Davis, whose brooding repertoire includes, besides songs associated with Van Ronk, plaintive English ballads. We also see a callow youngster in Army uniform bursting forth with Tom Paxton's "The Last Thing On My Mind." And there's a quartet with ringing Irish harmonies and cable-knit sweaters who are spitting images of the Clancy Brothers.
Are some of the numbers by those above intended by the Coens to be viewed as works of integrity? Davis's perhaps? Are some to be viewed satirically, like the earnestly done Irish ditty? Are some white-bread fatuousness? For instance, there's Jim and Jean's faintly smug doing of "500 Miles," replicating Peter, Paul, and Mary's pious self-importance singing their hit. At the end of the movie, a new troubadour steps onto the Gaslight Café stage. It's Dylan, of course. Is his number—brash, personal, written by the artist—supposed to blow every song heard earlier into dust, render them instantly irrelevant? Or is the Dylan song great, the Dave Van Ronk songs almost-great, the others sterile, arrid also-rans?
Or perhaps all the songs are worthy?
The Coens allow almost every tune in their movie to play on through its multiple verses. Does that mean the Coens love it all? Damned if I know. Neither do we get a cue about which acts are phony, which are quality, from the way the Coens have staged the audience at the Gaslight. They are well-dressed, well-mannered. They are as quiet as library mice, the folk music venue is a veritable cathedral, and all numbers within Llewyn Davis are applauded respectfully and equally. Again, are the Coens part of the veneration? Or are they satirizing the crowd's politeness, conformity, timidity?
Damned if I know. The Coens are driving in neutral.
At this point, I would urge everyone to take an intermission break and check this out. Go for the 2012 documentary, For the Love of Music: the Club 47 Folk Revival, a stirring, emotional tribute to the Cambridge, Massachusetts, club where Joan Baez was discovered and where practically every folkie passed through and sang, including Dylan and Van Ronk. What a contrast to the constipated, zombie music scene of the Coens! The vintage footage of Club 47 from the 1960s shows vividly that the club was informal and fun, the audience was alive and rowdy. As the title of the documentary says: it's about love of the music.
Yes, I am old enough to have been about in the early 1960s, to have seen Baez performing barefoot, to have dug the world music of Theodore Bikel and Miriam Makeba, to have been stunned by the release of the first Dylan album. Exciting, exuberant times, and not reflected at all in the bloodnessness of Inside Llewyn Davis. And more: folk music was connected to anti-bomb pacifism and the civil rights movement. The always apolitical Coens, nice Jewish boys from the Minneapolis burbs, keep at bay the social-consciousness impulse of much of 1960s folk music. There's no African-American equivalent of Josh White with his "If you're white, it's all right. If you're black, get back." Or of left-wing protestors Malvina Reynolds, Tom Leher, Pete Seeger. Revealingly, a real-life political song, albeit a tacky one, "Please, Mr. Kennedy," gets neutered by the Coens, altered from singer Mickey Wood's plea to not be drafted to, in the movie, not be sent into outer space!
Away from the Gaslight, Inside Llewyn Davis is a watchable if not particularily compelling tale of the never-ending woes of the protagonist, a walking basket case of self-destruction, bad times precipitated mostly by Llewyn's infantile anger outbursts. Each time you feel that he's getting a bad break with everyone calling him an asshole, he quickly acts like one. This suffering artist is often insufferable. Davis isn't great around women, or relatives, or friends, or other folk singers, but he does, I suppose, have a heart. We know that when, guilty guy, he chases after a cat which was put in his charge and has escaped into the streets of New York. This cat is a really great one, smarter and more expressive and more alert than practically anyone in the movie.
If you get a bit bored with the narrative of Inside Llewyn Jones, you can watch it differently, seeking the fun references to other films. The escaped strawberry blonde cat is an homage to Robert Altman's The Long Goodbye, where a similar-looking pet feline scoots off from Marlowe's house into the mean streets of LA. Llewyn sings a song to his mute, inexpressive dad, who looks a lot like the Woody Guthrie, crippled by Huntington's Disease, sung to by son Arlo in Alice's Restaurant. Finally, see Coen Brothers perennial fat man, John Goodman, emerge from an auto as the Wellesian second coming of Touch of Evil's obese Hank Quinlan. He pulls himself about on crutches like the villain in another Orson Welles classic, The Lady from Shanghai.
---
Gerald Peary is a professor at Suffolk University, Boston, curator of the Boston University Cinematheque, and the general editor of the "Conversations with Filmmakers" series from the University Press of Mississippi. A critic for the late Boston Phoenix, he is the author of 9 books on cinema, writer-director of the documentary For the Love of Movies: the Story of American Film Criticism, and a featured actor in the 2013 independent narrative Computer Chess.