Jake Bugg is hardly a punk, but he's definitely acquired a bite that he didn't have on his debut album.
Shangri La, Jake Bugg (ISLAND / DEF-JAM)
.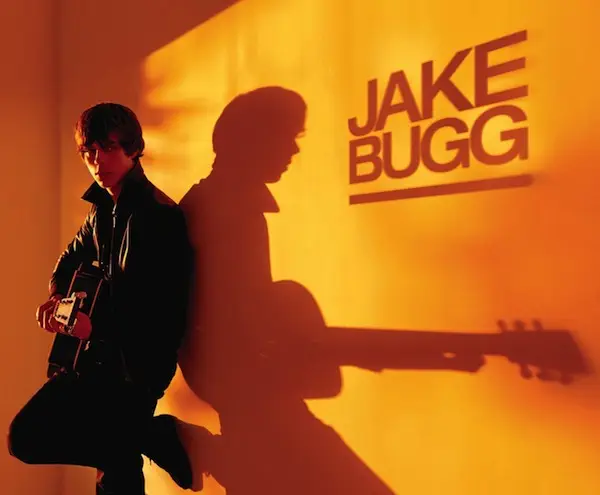 By Adam Ellsworth
It's only been thirteen months since nineteen-year-old British singer/songwriter Jake Bugg unleashed his chart-topping, self-titled debut on the UK (it was released in the US this past April), so it would be going too far to say that his just released sophomore album, Shangri La, represents a more "mature" or "adult" version of the man born the moniker Jacob Edwin Kennedy. True, a lot has happened to Bugg since October 2012, but how much did you really mature between eighteen and nineteen?
Shangri La then isn't Jake Bugg all grown up, but it is Jake Bugg better developed.
On the one hand, this is too bad really. There's a fresh-faced charm to Jake Bugg that Shangri La just can't match, at least in part because Bugg has already written and sung too many songs at this point for that to ever be possible. On the other hand, none of us is getting any younger. We're all moving forward, whether we want to or not, and Bugg is no exception.
Those of you unwilling to let go of the past just yet can take comfort in the fact that Iain Archer, co-writer of more than half of the songs on Jake Bugg, has returned to co-write eight of Shangri La's twelve tracks. Three of these songs, "There's a Beast and We All Feed It," "Slumville Sunrise," and "What Doesn't Kill You," open the album, and each one has more snarl than the last. Bugg is hardly a punk, but he's definitely acquired a bite that he didn't have on his debut.
It's the next two songs that truly bring the album to life though. "Me and You," credited to Bugg alone, is a jaunty acoustic strummer. It's reminiscent of Jake Bugg's "Simple as This," but like other songs on Shangri La that seem to harken back to Bugg's debut, "Me and You" is more fully formed, and a step beyond what he was capable of a year ago. "Messed Up Kids" follows and was co-written with Archer and Brendan Benson, who is best known for being a member of the Raconteurs. The song has a snappy melody, which is saying something considering it's about kids selling drugs and their bodies to get by. It's worth noting that Bugg is very much the observer in this song, as where he was an at least peripheral participant in songs like "I've Seen it All" on Jake Bugg. Does that dictate how successful, or "real," "Messed Up Kids" is? No. But it's just one example of how Shangri La can't be as green as the singer's first release.
If the album has a disappointment, it's "A Song About Love." When Bugg performed the tune a few months ago at the Paradise in Boston, it had a sparse backing that allowed its real beauty to shine through. (This despite the fact that the show as a whole was pretty mediocre.) Here, it feels too "big," too "slick," which is ironic considering the song, and the entire album, was produced by the master of minimalism himself, Rick Rubin.
Unfortunately, this isn't completely out of character for Rubin's work with Bugg. Prior to the sessions for Shangri La, the producer and the singer cut a new version of "Broken," a gentle, beautiful song from Jake Bugg, for release as a single. Rubin added sweeping strings, twangy guitar, and the drumming of Red Hot Chili Pepper Chad Smith (who also plays on Shangri La) to the song, and in the process he ruined it. He also undeniably turned it into one hell of a commercial sounding track, which was obviously the entire point of rerecording the song in the first place. Honestly, "A Song About Love" almost sounds simple and pure when compared to the Rubin-produced "Broken." Almost.
The second half of Shangri La goes in a few different directions, most of which are interesting. "Pine Trees" is a stripped-down fingerpicker, while "Simple Pleasures" starts with an aching electric guitar and then builds into an angry (midtempo) rocker. "Kingpin" is a return to the rockabilly-inspired sound that opened the album, though it's a bit obvious, and it pales in comparison to the likes of "Slumville Sunrise." There's also closing song "Storm Passes Away," which sounds like an old folk tune that somebody riding the rails might have sung.
Most encouraging about the album's second half is Bugg's (presumably recent) discovery of Neil Young. And not the Neil Young you hear on classic rock radio—there's no "Heart of Gold" or "Cinnamon Girl" on Shangri La. Instead, it sounds like Bugg has been gorging himself on everything from "Cowgirl in the Sand" to Tonight's the Night. This would explain the feel of the guitars on "All Your Reasons" and the darkness that marks "Kitchen Table." The latter in particular is a standout, with a Fender Rhodes to add color, and a deep bass groove. A whole album of songs like "Kitchen Table" wouldn't sell very well, but it would sure beat a whole album of songs like the rerecorded version of "Broken." As Bugg continues to develop, it will be interesting to see which path he ends up taking. Then again, it's entirely possible there are other paths he hasn't even seen yet. He is only nineteen after all.
---
Adam Ellsworth is a writer, journalist, and amateur professional rock and roll historian. His writing on rock music has appeared on the websites YNE Magazine, KevChino.com, Online Music Reviews, and Metronome Review. His non-rock writing has appeared in the Worcester Telegram and Gazette, on Wakefield Patch, and elsewhere. Adam has a MS in Journalism from Boston University and a BA in Literature from American University. He grew up in Western Massachusetts, and currently lives with his wife in a suburb of Boston. You can follow Adam on Twitter @adamlz24.