While luminary thespians and film stars such as Brian Dennehy and Christopher Plummer have trod the Stratford Festival boards, let me sing the praises of two actresses: Martha Henry and Michelle Giroux.
By Robert Israel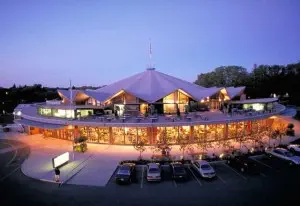 Stratford, Ontario, a sleepy town of 32,000, is home of the Stratford Festival, an ambitious theater showcase. Founded in 1952, it presents in its four venues up to eight live performances a day (from April through October), drawing from both classical and contemporary repertoires, including musicals. Stratford is one of two major theater festivals in the country, the other being the Shaw Festival in Niagra-on-the-Lake, near the New York border. (See Arts Fuse review.)
Stratford is a destination that demands patience and determination. Located 90 miles from downtown Toronto, it is best reached via automobile, though be warned — you must possess nerves of steel to endure the congestion on not-so-super Ontario highway 401.
But the challenges are worth the trouble. Stratford is an oasis, expertly designed to satisfy the discriminating palates of theatergoers. First-rate restaurants – Mercer Hall and Pazzo on Ontario Street and Bijou on Erie Street – offer gourmet lunches and four-course dinners. There are at least five bookstores, including one that sells scripts of the plays being staged at the Festival. Galleries provide local artists with exhibit space. There are self-guided tours of shops, where, between shows, visitors who pay a nominal fee sample locally made chocolates and maple products.
In short, Stratford, town and Festival, have joined forces to become a destination. Everyone, it seems, supports this union. I met the husband of the owner of Revel Caffe, a small coffee shop near the theater; he moonlights by brewing espresso during the day, but his true calling is as a union musician playing drums in the orchestra pit at the main Festival stage each night.
The Festival runs a Shakespeare School for students — it offers classes in acting, directing, costuming, and performing. Classroom instructors take courses in the Teaching Shakespeare Program. There are panels, debates, symposia, and films. The Festival employs 3,000 people and generates $76 million in yearly tax revenues.
The Canadian government pitches in with a subsidy, viewing the Festival as an essential part of the fabric of the national culture. The bulk of the remainder of its operating costs come from corporate sponsors and donors.
The play's the thing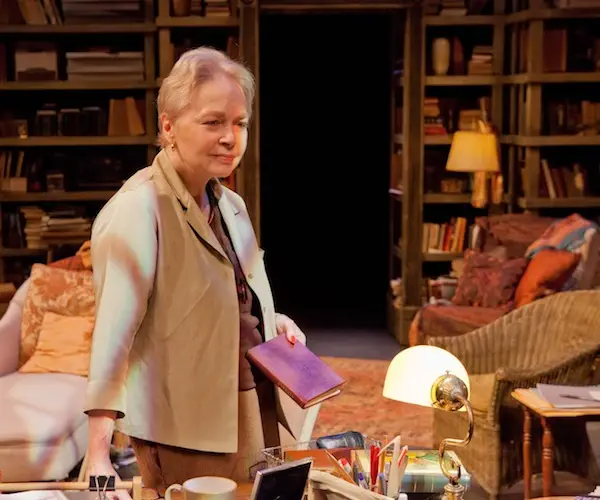 In Stratford, it's all about the stage and the men and women who devote themselves to it. While luminary thespians and film stars such as Brian Dennehy (who is starring in Samuel Beckett's Waiting for Godot this year) and Christopher Plummer have trod the boards in Stratford, let me sing the praises of two actresses: Martha Henry and Michelle Giroux. I found both these women spellbinding.
Henry is celebrating her 39th season at the festival. She has not only been a performer, but a director (of William Shakespeare's Measure for Measure). At the moment she is appearing in Taking Shakespeare, by Canadian playwright John Murrell. Admittedly, it is a minor play, with far too many echoes of Educating Rita by Willy Russell, the British comedy which paired a female hairdresser, anxious to excel at university, with an aging and jaded male professor. In Taking Shakespeare, Henry takes on the role of the veteran professor, while her charge, a disenchanted male student, is played by Luke Humphrey.
Henry, in full possession of all that is mystical and marvelous about the acting profession, seizes the day. Physically, she is unprepossessing: mousey-grey, stooped, with pale complexion and steely grey eyes. But watch her as she paces the stage. Watch her as she sinks into depression, or rises above it in a madcap dance of joy. Watch her as she broods, or takes a sip from a coffee cup. Humphrey cannot muster the necessary mojo to convince you he's lost his way through the deep dark woods of the Bard. But when Henry appears on stage it lights up with Shakespearean charisma aplenty.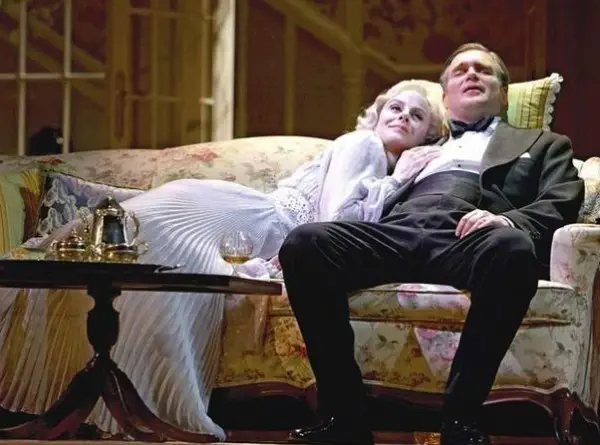 The same commanding magical charm is exerted by Michelle Giroux, who appears in Blithe Spirit, Noel Coward's wonderful play about spirits present and departed, directed by longtime Stratford presence Brian Bedford. (Bedford, who was to play Shylock in Shakespeare's The Merchant of Venice, became ill in June and was hospitalized, forcing him to withdraw from the Festival). While the seven member cast of Blithe Spirit find many moments to shine, the production belongs to Giroux, who plays the ghostly spirit of Elvira Condomine, returning to haunt her husband Charles and his inner circle, which includes his new wife, Ruth.
Like Henry, Giroux is classically trained (both women are graduates of the National Theater School of Canada, located in Montreal). Thanks to marvelous costumes and effective makeup, Giroux looks older and more ectoplasmic than her earthy form would allow. Part of the pleasure is to watch her dominate the stage without even trying. This takes tremendous skill as well as a devilish sense of humor.
An irritating drawback of attending a festival as extensive as Stratford is the matter of time – one cannot see eight performances a day or walk away with the hope of taking in, emotionally and intellectually, all of what one has had the stamina to see. Proper appreciation requires a return trip.
---
Robert Israel writes about theater, travel and the arts, and is a member of Independent Reviewers of New England (IRNE). He can be reached at risrael_97@yahoo.com