The quality of this production of Major Barbara and the seriousness which with the Shaw Festival addresses every aspect of theater – from selection of play to design to direction to program notes — makes the long trip from Boston to Niagara-on-the-Lake well worth the while.
By Helen Epstein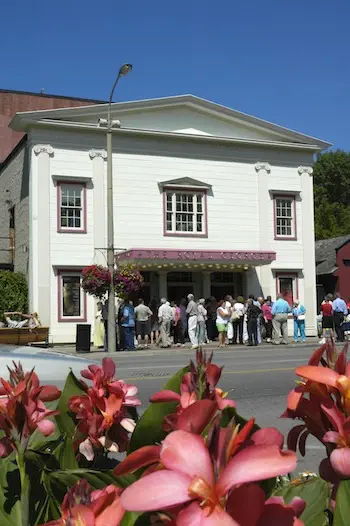 Niagara-on-the-Lake, the Canadian town a few miles drive from the famous falls, started out as a haven for British loyalists fleeing the United States after the American Revolution and it has retained its strong English flavor. The streets are bedecked with flowers, the shops with teas and crumpets, and the Shaw Festival is serving up theater through November 3rd.
The Shaw Festival revitalized international interest in George Bernard Shaw and his work when it was founded over 50 years ago. Since that time it has extended its mandate, producing most of Shaw's plays as they were written but also adaptations; work by Shaw's contemporaries; and subsequent work that its directors deem to be up to Shavian standards of theater. There were 10 productions this summer playing in four venues and I chose to see Major Barbara.
Apart from an unconvincing ending, Major Barbara is my idea of a perfect play, featuring an array of interesting themes; strong, colorful male and female characters, scintillatingly witty and multi-layered language, and brilliantly envisaged situations. I saw the production in the elegant, intimate 328-seat Royal George theater. A single set on its proscenium stage was cleverly designed by Judith Bowden to serve as an aristocrat's library, a shelter of the Salvation Army, and a munitions factory. The walls of the shelter, the shelves of the library and the products of the factory were a blend of literal and abstract elements, whose economy allowed the large cast of 19 to move fluidly about the stage. There was not a weak actor in a production that seemed to leave no nuance of Shaw's astonishingly contemporary script unexplored.
Here's the story if you don't know it: It is 1905, and the horror of the First World War is not even a cloud on the horizon. Lady Britomart, a sharp-tongued, domineering divorcee has called her son Stephen Undershaft into her library to air her financial worries about his sisters. Sarah is engaged to an upper-class dolt who will not come into his inheritance until the age of 35. Barbara spends her time working for the Salvation Army and intends to marry middle-class Greek scholar Adolphus Cusins. The time has come to call in Dad, introduce him to his grown offspring, and get him to help out financially.
Dad is Andrew Undershaft who has spent his years away from home making a fortune in the booming armaments business. He has no interest in spiritual or religious matters and is no sympathizer with the Salvation Army. But when he meets his three children, he recognizes himself in none except Barbara and determines to win her away from the Army and to his own religion of materialism. "Have you ever saved a maker of cannons?" he asks. She replies boldly, "No, will you let me try?" There's no question of the outcome but the way to it, which involves enlisting the Greek scholar in Undershaft's campaign and the revelation of the surprising circumstances of Cusins' birth, is never less than fascinating.
Belfast-born director Jackie Maxwell, the Artistic Director of the Shaw Festival for over a decade, writes in her director's note that she wanted to make Barbara the center of the play. This, unfortunately, is a lost cause. Major Barbara is primarily a play about conflicting ideas: about war, class, spiritual and material life. It pits young against old; rich against poor; men against women; intellectuals, aristocrats, and workers against one another. It is also is also a family play about a wildly dysfunctional family, possibly inspired by Shaw's own.
If there can be said to be a central protagonist, it is Andrew Undershaft a.k.a. "The Prince of Darkness, who gets to deliver the best lines of all and – unless played by a poor actor – always steals the show. Equally unapologetic about being "a profiteer in mutilation and murder" as about abandoning his aristocratic wife and three children, Undershaft combines the brilliant repartee of Henry Higgins with the gentlemanly charm of Colonel Pickering in Pygmalion. Nonetheless, Maxwell makes a valiant effort to put Barbara front and center.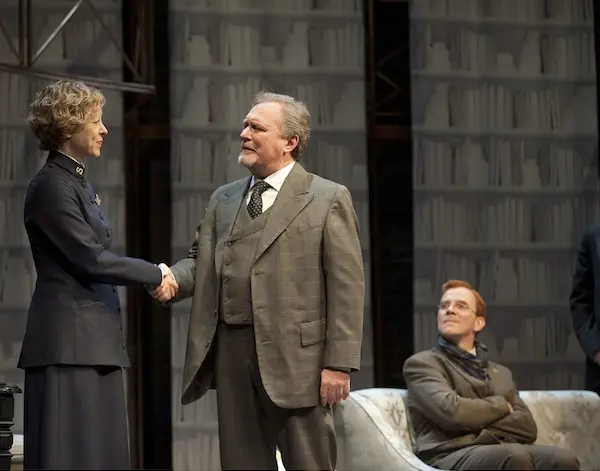 First, she begins the play not in Lady Britomart's library as Shaw wrote it but with Barbara preaching in the Salvation Army mission, an idea she took from Shaw's own 1941 screen adaptation. Second, she casts as Barbara fresh-faced and perky Nicole Underhay and has directed her to speak her lines with the bright, unchanging zeal of a fervent young ingenue. That choice makes Major Barbara far less interesting to listen to and watch than her father Andrew Undershaft (played by an engagingly seductive Benedict Campbell) or Cusins (an animated and entertaining Graeme Somerville) or Lady Britomart (an appropriately strident, overbearing Laurie Paton) or Stephen Undershaft (a fidgety and whiny Ben Sanders). When Undershaft asks his daughter, "Have you ever saved a maker of cannons?" and she declaims boldly, "No, will you let me try?" we do not doubt that he will prevail. The only question is how.
The four acts — first, in Lady Britomart's Library; second, in the West Ham shelter of the Salvation Army; third, back at the library; fourth at the Undershaft munitions factory at Perivale St. Andrews — runs for two hours and 50 minutes with one intermission. I was eager to get back to the second half. Without spoiling the play for those of you who have never seen it, Undershaft turns out to be a benevolent capitalist. He donates what we would today call a "matching grant" to fund the Salvation Army while his cannon factory turns out to be an idyllic town which Cusins calls "horribly, frightfully unanswerably perfect," with no smoke, picturesque worker's cottages and gardens, churches, a library and hospital. Even the wages of the lowest workers are above the poverty line. Each of the characters reacts to this revelation in his or her own way but, in the sole muddle Shaw could not write himself out of, our heroine manages both to lose her challenge to her father and admit he does more for the poor than her Salvation Army. She marries the Greek scholar who will inherit the factory yet maintains her job as a Salvation Army Major.
The quality of this production and the seriousness which with the Shaw Festival addresses every aspect of theater – from selection of play to design to direction to program notes — makes the long trip from Boston to Niagara-on-the-Lake well worth the while. The premises (including a well-stocked Shaw Bookstore) are a pleasure to walk through; the surroundings offer bike trails along Lake Ontario or wine tastings at the many wineries for those so inclined. There's a choice of 200 B & Bs as well as hotels and motels. If you are planning a fall excursion and considering destinations, now is the time to visit the Shaw Festival.
---
Helen Epstein is the translator from the Czech of Acting in Terezin and Under A Cruel Star, both available here.