What Ain Gordon's play demonstrates is that even when records are indecipherable and incomplete, we still have the right, and perhaps the responsibility, to imagine what happened.
Not What Happened. Conceived and written by Ain Gordon. Directed by Ken Rus Schmoll. Images by Forrest Holzapfel, in a preview presented by Vermont Performance Lab at the New England Youth Theater, Brattleboro, VT, June 14.
The Labors of Silence. Photography by Forrest Holzapfel. At Catherine Dianich Gallery, Brattleboro, VT, open by appointment during June, runs through July 26, 2013.
By Debra Cash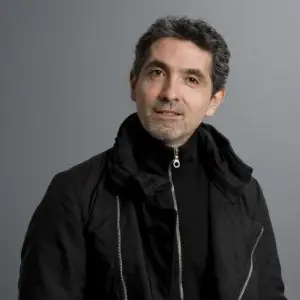 The ledger was almost impossible to decipher. Forrest Holzapfel, who had moved with his wife to Marlboro, Vermont, the small, rural community where he had grown up, was looking for images from the early nineteenth century to photograph. The mill ledger was in the collection of the Marlboro Historical Society.
On the left, a faded, scrawled hand seemed to be enumerating bushels of corn. On the facing page, overwritten to save paper, Holzapfel thinks, was a sketch for a piece of machinery—an improvement? a new line of business?—that may or may not have ever been created.
Holzapfel is drawn to "historical traces" that allow him to reconstruct and imagine bygone lives in specific geographical places. For The Labors Of Silence, the gallery show now mounted within the white brick walls of the Catherine Dianich Gallery in Brattleboro, he documents domestic life from a time before photography: black and white images of soot-stained beehive ovens and scuffed stairways, the wavy glass of a kerosene lantern shaped like a milk bottle, the fraying selvage of a dish cloth. He slips in photographs of earlier photographs, reproducing the creases and blemishes in those prints so that use and storage marks the blanched sky, the rickety house, the plowed landscape.
The Labors of Silence was created as part of Holzapfel's collaboration-in-process with New York playwright and director Ain Gordon. Where Holzapfel's parents moved to Vermont to attend Marlboro College, eventually becoming master woodworkers, Gordon grew up the scion of avant-garde New York, the son of dance/theater heavies David Gordon and Valda Setterfield. Working with Holzapfel introduced Gordon to a rural New England community with 1,000 residents—almost exactly the same number as lived in Marlboro in 1804—but was also the occasion for the New Yorker's first trips on snow shoes.
Ain Gordon was invited to explore Marlboro and surrounding villages by the Vermont Performance Lab in partnership with the process-oriented Center for Creative Research at NYU, which likes to publicize that it is "not [arts] business as usual." He participated in a special American Studies course at Marlboro College called "Presence of the Past," explored the town's archives, ducked into cellar holes, tramped Vermont byways, and spent four hours in historic Deerfield learning to bake bread in a hearth fire.
The product of this research, the hour-long theater work Not What Happened, is intended to "call into question who gets written into the historical record and who gets forgotten." In an insightful interview in the preview program, Gordon notes "at first I resist stories packaged for long-distance viewing. I go to the place and I walk. I look for current conditions and negligible clues to their beginnings. I walk. I look for some form of question that sticks."
It's not the first time he has done this: Gordon has explored historic landscapes and narratives about "what happened" in Galveston, Texas, New Mexico, and in Lexington, Kentucky. But as he explains, "Forrest and I share a fetish for the ellipses, the blanks, or holes in our historic fabric."
Those ellipses are what shape Not What Happened at both the micro and macro scales. The play is comprised of contrasting monologues. A raw-boned "reenactor" (Lynne McCollough), all pursed lips and squinty-eyed attitude, stands at a large farmhouse table describing the tour to come and notes with a cross between exasperation and satisfaction that her job won't continue much longer. "You don't visit history anymore," she chides. "You Google."
The docent makes way for a smaller, birdlike woman (Birgit Huppuch) whose name is Silence—a name reckoned alongside those many New England Hopes, Faiths, and Charities—dressed in an identical drab dress and apron. She is, no surprise, the reenactor's model and memory.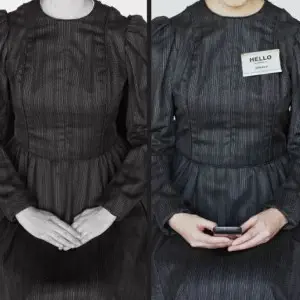 The thin plot depicts a dawn-to-sundown life consumed with endless fire tending and bread baking, where families are scarred and reconfigured by premature death. Directed in waves of tension and release by Ken Rus Schmoll, the historical Silence's soliloquies emerge in squawks of trembling intensity. It becomes the audience's job to assemble her fragmentary phrases into something like a story.
In a flash that recaps George Orwell's maxim that history is written by the winners—and even those who weren't winners exactly, but were at least male and had whatever power there was to be had in a small town with its associated right to be mentioned in a small town's records—we learn that the name on a woman's grave might be carved on stone too soft to last. When obsolete tools flash by in Holzapfel's photographs, projected on the stage's back wall, they convey that we don't even know how to begin to use the objects our ancestors took for granted.
Not What Happened is still a work in progress. Some of the actors' choices and especially the pace of the juxtaposition of Gordon's text and Holzapfel's photographs are likely to change and tighten by September, when the play has its formal premiere at the Flynn Center for the Performing Arts in Burlington. The selection of Holzapfel's photographs will be exhibited again there, too. What Gordon's play demonstrates is that even when records are indecipherable and incomplete, we still have the right, and perhaps the responsibility, to imagine what happened.
---
Not What Happened will be on tour in a workshop performance at Silvermine Arts Center in New Canaan, CT, June 22 and 23,2013. It will premiere at Flynn Center for the Performing Arts, Burlington, VT, September 7 and 8, 2013, and then tour to Krannert Center for the Performing Arts University of Illinois at Urbana-Champaign, IL, September 19 and 20; Brooklyn Academy of Music Next Wave Festival September 25–29; and onStage at Connecticut College, New London, CT, October 5, 2013.
c 2013 Debra Cash