Every aspect of Yeezus has been shaped to alienate Kanye West's fanbase—from the lack of cover art to the undernourished track list of ten songs.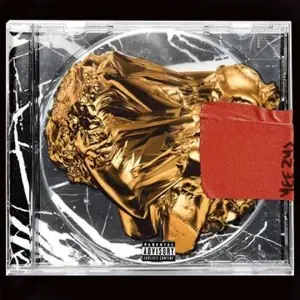 Abrasiveness in hip hop music has become increasingly tolerated over the past few years. This in-your-face trend most likely started when noise rap outfit Death Grips put out their breakthrough mixtape, Exmilitary, in 2011, which was followed by two critically acclaimed studio albums in 2012. Death Grips' success paved the way for clipping.'s well-received harsh noise gangster rap mixtape, Midcity, earlier this year.
Given the underground success of acts like clipping. and Death Grips, mixing harsh textures into rap music is not a wildly new concept. However, bringing this anti-commercial approach to mainstream music flirts with disaster. This is the challenge undertaken by Kanye West with his sixth studio effort, Yeezus.
Every aspect of Yeezus is foreign, even alienating, to Kanye's fanbase—from the lack of cover art to the undernourished track list of ten songs. Moreover, the only promotion he has given the album so far has been a series of street projections on the facades of buildings around the world. No singles were released to promote the disc.
Unlike the entirely radio-friendly My Beautiful Dark Twisted Fantasy, which Kanye now admits was a "dishonest" project, there are no radio-friendly cuts on Yeezus. Musically, it is by no means as abrasive as Death Grips' and clipping.'s material, but given Kanye's level of popular exposure, Yeezus' harshness and its risky refusal to be lyrical make it an undeniably bold effort. Moreover, Kanye's take on rough-edged hip hop music is enormously powerful and, to underground ears, refreshing.
The disc opens with "On Sight," a piece of acid house that is somewhat reminiscent of the opener of Death Grips' NO LOVE DEEP WEB, "Come up and get me." It's hard to believe that this track was produced by Daft Punk because its synth textures and mix are so dirty and raw. Kanye lays down his typically braggadocious verses over bassy synth phases that bleep and blare until they abruptly drop out to make way for a hazy choral interpolation. "On Sight" proves to be a stimulating introduction despite its terse two-and-a-half-minute runtime.
Daft Punk produced the following three tracks, as well. The Tarantino-referencing "Black Skinhead" features a pounding tribal beat and unnerving vocalizations from Kanye. "I Am a God" is a booming piece of super house that (according to the track list) features a guest spot from God himself (who is actually Justin Vernon of Bon Iver). This song serves up the most unsettling point on the album—Kanye delivers sounds of heavy panting as well as bloodcurdling shrieks over an increasingly epic string-kissed beat.
"New Slaves" features a strong contribution from Hudson Mohawke (notable as one half of TNGHT) on production—the electronics are his signature blend of trap, future garage, and dubstep. Over a banger of a beat, Kanye yells verses that address modern-day racism as well as reflect his usual fascination with hedonism. The bridge, "You see it's leaders and it's followers/But I'd rather be a dick than a swallower," provides interesting, albeit disconcerting, insight into Kanye's down-and-dirty perception of his overinflated ego.
After the first four tracks, Kanye tones down the roughhousing a bit. "Hold My Liquor" is an unexpected house music odyssey—its seemingly mismatched guest artists, Chief Keef and Justin Vernon, actually work together and enhance the track. "I'm in It" is a brazenly profane sex song with a trap beat foundation, tone-shifted vocals, and yet another vocal offering from Justin Vernon. Jamaican dancehall deejay Agent Sasco's uncredited verse on this track is one of the highlights of the album.
Perhaps the most impressive tune on the album is "Blood on the Leaves," which is also the longest, clocking in at six minutes. The song's complex progression, particularly Kanye's ability to flip Nina Simone's cover of "Strange Fruit" with TNGHT's "R U Ready," is enormously impressive, artistically and technically. TNGHT's signature choppy horns strangely compliment Simone's tinny vocals and tender piano. While the instrumental is a considerable achievement on its own terms, Kanye's tastefully autotuned vocals make this track the centerpiece of the album—just as the lengthy, autotuned "Runaway" was the heart of My Beautiful Dark Twisted Fantasy.
"Guilt Trip" features a techno beat and autotuned singing that wouldn't sound out of place on 808s & Heartbreak. Kid Cudi's vocal contribution is especially emotive, particularly when it comes up against the synthesized strings that emerge at the halfway mark. The production on "Send It Up" is minimalistic, proffering a wailing, siren-like beat on the verses and fizzling bass on the hook. It comes close to matching the nastiness of the first four tracks.
The album closes with the soulful, country-infused "Bound 2." It sounds like The College Dropout-era Kanye, although the mix here has become a bit tougher and the instrumental a bit choppier. This ironically uplifting song about love is written more for Kanye himself than for his love interest. After an album's worth of rampant narcissism and pleasure-seeking, Kanye wraps up with a legitimately clever line, "After all these long-ass verses/I'm tired, you tired, Jesus wept."
Thankfully, Yeezus is not the disaster it could have easily been—Kanye brilliantly balances mainstream catchiness with rebellious abrasiveness. The lyrics are shallow and crude throughout—just like the lyrics in his past efforts—but the dark, unpleasant atmosphere he establishes over the course of the LP transforms what could have been simply obnoxious into something disturbing, even challenging. While it doesn't take noise rap to the next level, Yeezus is Kanye's most concise, sonically compelling, and honest disc to date. For an artist with a handful of masterpieces already under his belt, that's pretty impressive.