In George Balanchine's Serenade and Symphony in C and in Wayne McGregor's Chroma, architecture comes to the fore, but not exactly conveying the message that company director Mikko Nissinen seems to have intended.
Boston Ballet Chroma. At the Boston Opera House, 539 Washington Street, Boston MA, through May 12.
By Debra Cash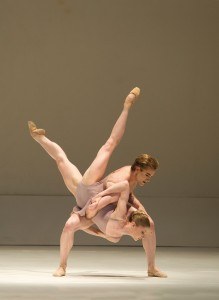 Wayne McGregor, resident choreographer of the Royal Ballet in London as well as director of his own troupe, Random Dance, and the late George Balanchine both routinely compared their choreographic structures to architecture. In Boston Ballet's mix-and-match, spring repertory program, McGregor's 2006 Chroma is bookended by Balanchine's 1935 Serenade and 1947 Symphony in C, both works that had their Boston Ballet premieres in the 1960s when company founder E. Virginia Williams got permission to present them as cornerstones of her young regional ballet company's identity. In all three works, architecture comes to the fore but not exactly conveying the message that company director Mikko Nissinen seems to have intended.
Both Serenade and Symphony in C are mid-twentieth century works that refresh but never disdain the classical ballet of the nineteenth. Serenade was the first work Balanchine choreographed in America, for a performance on the grounds of banker Felix Warburg's estate. It was created for advanced students out of simple language that composed perfect sentences. This season, it has been restaged for Boston Ballet by former New York City Ballet principal Judith Fugate.
Serenade is a ballet that floats by in a shiver of tulle and inviting spaciousness. Principal dancer Misa Kuranaga, who is having a fabulous season and most recently headlined Sleeping Beauty, beautifully balanced the choreography's requirement to alternate between crisp attack and dreamy reverie.
Serenade's architectural form is rich with baroque replications and symmetries—most famously the ensemble of women standing quietly at curtain rise, their hands signaling "wait" and "look!" When a soloist joins the action, it always seems that she is filling her rightful place, and the male dreamer, whose eyes are shielded by female hands, will open his eyes onto lucidity.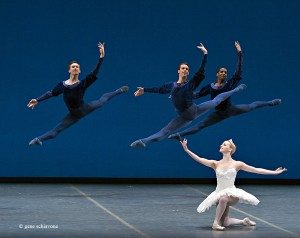 Symphony in C, with the ballerinas dressed in classical tutus and oversized "diamond" crowns (when it was choreographed for the Paris Opera Ballet, it was originally titled Le Palais de Cristal), retains the pomp of czarist spectacle and classical formations, orderly lines and spinning circles within cleanly spaced rectangles that find their apotheosis in a distingué "contradance" skipping over the Scottish drone penned by a 17-year-old George Bizet. Stable architectural forms and motion intersect as, at one moment in the ballet, a ballerina steps into the carefully rounded circle of other dancers' arms.
There is nothing random about these dances.
This week, Wayne McGregor's Chroma takes its place in the Boston Ballet repertoire alongside the works of Jiri Kylian and Jorma Elo as works director Mikko Nissinen hopes will draw Boston Ballet's audiences to the contemporary ballet of our new century.
Chroma's marketing coup is the score by Joby Talbot and Jack White of the White Stripes, but anyone looking for something as punchy as Seven Nation Army will surely be disappointed. Talbot and White's symphonic score, with its stairway of scales ascending over the gallop of multiple marimbas, sounds like film composer Danny Elfman left his gig with Tim Burton to write the score for the next James Bond thriller. (Jonathan McPhee led the Boston Ballet orchestra in an an alert, elastic rendition that probably strayed outside the musicians' expectations, too.)
The architectural form in Chroma is John Pawson's immaculate, all-white set (audience members should plan for the extra-long first intermission required for the stagehands to put down a white floor) with a deep, rectangular "window" at the back wall that is clearly inspired by the work of Japanese architect Tadao Ando. This pristine environment accepts the color washes of Lucy Carter's lighting scheme, while the dancers' slight tunics were dyed to match—well, reflect, anyway—their white or Asian skin tones.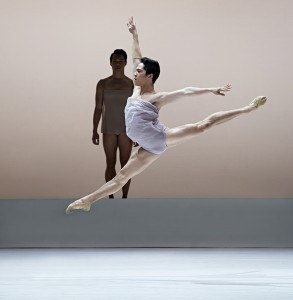 The dancers become exquisite objects in an almost empty room. Dancers dip their chins towards the floor and swim across the air, grind their pelvises, and move with the jerky phrasing of tightly-wound automata. John Lam and Jeffrey Cirio, both dancing wonderfully, take advantage of their physical similarities during a rapid fire duet where it is impossible to discern who is the follower and who the leader. McGregor, at his best, explores how the same pose can be transformed by canting it to alter the observers' perspective.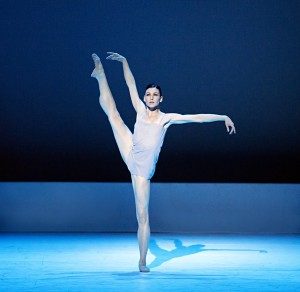 But could there be any more radical contrast than Balanchine and McGregor's attitudes towards their dancers? The comparison is easy to see in the way the two choreographers treat a signal pose, the penchée arabesque. In Symphony in C, the ballerina raises her leg behind her in a 180-degree vertical split; McGregor pushes it further into contortion territory. In Symphony in C, that motion conveys a deep bow of politesse and a sense of the dancer reaching for something, so that the ballerina's penchée is a gesture of heroic agency. In Chroma, McGregor deploys the women's crotches as hinges.
Chroma is designed to broadcast its athleticism and its difficulty, to which Boston Ballet's dancers give brilliant and confident expression. But it is a bloodless and, to me, a repellent vision. The opening night audience was thrilled.
---
Debra Cash, a founding contributor to the Arts Fuse now serving on its Board, is Executive Director of Boston Dance Alliance.
© 2013 Debra Cash