The first Boston Calling Music Festival, plus Buffalo Tom, Mean Creek, Andrea Gillis, and Math the Band.
By Kathleen Burke.
Buffalo Tom. At The Sinclair, May 10 & 11.
Long time Boston faves Buffalo Tom come to Cambridge's newest club The Sinclair for two nights this month. Both shows with the 90's staple band have sold out, but New Englanders are a crafty bunch, and my guess is that some of you will find a way in even if you don't have a ticket yet. As you plot your way to the show, watch this video of Buffalo Tom playing as Jordan Catalano and Angela engage in the most awkward high school hallway scene ever. Sigh. *digs out my My So Called Life box set*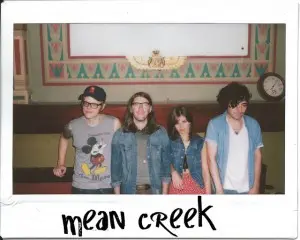 Hooray for Earth, Mean Creek, Andre Obin, and Guillermo Sexo. Downstairs at the Middle East, May 15, 8 p.m., $12, 18+.
Mean Creek, who recently toured with Counting Crows and who have opened for Buffalo Tom on more than a few occasions, are back in town this month with Hooray for Earth in a Together Fest and Middle East presented show. These 2012 Album of the Year Boston Music Award winners bring the raucous with booming drums and alternating male/female vocalists. Endearingly self-described as "Four best friends playing music," Mean Creek tours consistently and has received many accolades from the national press. If you haven't had the chance to catch up with them, now is the perfect time.
Andrea Gillis, Marc Pinansky. At Plough and Stars, Sundays in May, 11:30 p.m., 21+.
Andrea Gillis is a rock and roll singer. Straight and to the point. Dirty, whiskey-drinking rock and roll. The whole room is at her party when she's performing. Make sure you get out to the Plough And Stars on Sundays this month—the intimate setting of The Plough is sure to make for some interesting nights.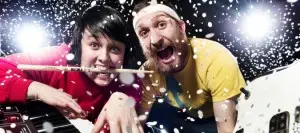 Math The Band, with What Cheer?, Brigade, Yale, Massachusetts, Funeral Cone. Upstairs at the Middle East, May 23, 9 p.m., $10, 18+.
Originally from Providence, Math The Band is a zany, manic high of guitars, keys and effects. This duo will make you dance, party, and lose your mind. The have played over 900 shows with artists like Andrew W.K, Peelander-Z, and Matt and Kim. How have you not seen them yet? GO HAVE FUN—IT'S SPRING TIME. Check out their video from "Brand New Physics" (below).

Boston Calling Music Festival: The Shins, Ra Ra Riot, Young The Giant, Bad Rabbits, and more. At City Hall Plaza, May 25 & 26, 12–10:30 p.m., ticket prices vary, all ages.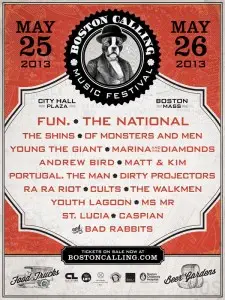 The Boston Calling Music Festival debuts this year on City Hall Plaza. This two-day festival features local hip hop-meets-hard rock phenoms Bad Rabbits (who perform live on Jimmy Kimmel on May 17th!) among many other national acts. See the full line-up here. While early bird passes are sold out, there are still single day and weekend passes available from $75 to $185 for a VIP pass (Ooolala!). Gates open at 12 noon, beer garden opens at 3 p.m., and the whole show goes until 10:30 p.m.