She Kills Monsters provides a constant stream of creative, amusing, and outrageous moments.
She Kills Monsters by Qui Nguyen. Directed by Shira Milikowsky. Fight Direction by Robert Najarian. Scenic Design by Eric D. Diaz. Lighting Design by Justin Paice. Costume Design by Miranda Giurleo. Sound Design by Aaron Mack. Puppet Design by Alexandra Herryman. Presented by Company One at the Plaza Theatre, Boston Center for the Arts, 539 Tremont Street, Boston, MA, through May 11.
By Alyssa Hall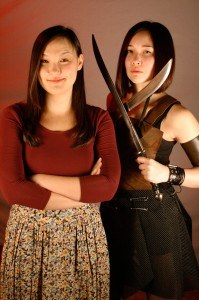 Mash together sword fights, '90's pop culture, and dance-offs between scantily-clad adventurers and evil cheerleader succubi. Flavor with Scott Pilgrim, video-game style boss battles, and a Buffy the Vampire Slayer high school fantasy allegory. Decorate with hordes of creative, colorful monster puppets, nimbly wielded.
That's the recipe for She Kills Monsters, receiving its New England premiere via Company One, and it makes for a tasty, if light, theatrical treat. A post-modern fable that unabashedly celebrates geekery, this show about about two sisters provides lots of askew humor with a touch of the bittersweet tossed in for good measure.
After Tilly, a 15-year-old dork, dies in a car crash, her older and thoroughly average sister Agnes discovers a Dungeons & Dragons (D&D) roleplaying quest Tilly had created. In an attempt to understand her sister in a way she never did when Tilly lived, Agnes recruits her high school student Chuck to be her Dungeon Master (DM) and ventures into Tilly's fantasy world Newlandia, along with Tilly's character version of herself.
Playwright Qui Nguyen, co-artistic director of the New York "geek theater" company Vampire Cowboys, inserts plenty of delightful monster cameos for D&D enthusiasts, but those who don't know a Mind Flayer from a Beholder can appreciate them simply as whimsical monsters.The D&D basics necessary for understanding the plot are clearly explained as newbie Agnes learns how to play.
The fanciful, detailed design elements seem to jump from the pages of a bright, quirky comic book. An impressive variety of puppets and costumes bring Newlandia to life: some monsters are entirely puppets, like a dog-sized, armadillo creature moved on poles; some are costumed actors with head-covering masks, like the Mind Flayer, a squid-headed creature (twice the height of a person) with dangling mouth tentacles; and some are a Avenue Q-style combination, like the small, savage, pink tutu-wearing fairy puppet held, manipulated, and voiced comically by Kaitee Tredway in a matching outfit.
Fight director Robert Najarian expertly utilizes the stage space and a dexterous cast for the many impressive battles, from one-on-one grappling to big group fights with weaponry. Filled with constant, lively action, the show could be great childrens' theater—but for the profanity, revealing costumes, outrageously cartoony violence, and some suggestive and sexual dialogue.
Inevitably, the real world scenes a bit dull in comparison with the game extravaganzas. Without any fantasy distractions, the somewhat wooden line deliveries of some of the supporting cast members, who ably fight, quip, and throw out commands in Newlandia, become more obvious. Though to be fair, the performers often don't have much character depth to work with. Most of the marginal characters are one-dimensional, if funny, stereotypes of the world of gaming: awkward, social outcast teens sporting badass, fantasy pin-up model game personas.
Some of these cartoon turns are entertaining, however, such as the hilarious Mike Handelman's unapologetically overdramatic yet also sincere DM Chuck. Jacqui Baker and Kaitee Tredway play a couple of viciously sassy, evil cheerleaders whose high energy dance moves and contagiously bitchy glee make them a delight every time they appear. Perhaps drawing on their own experiences as real life sisters, Paige Clark Perkinson as Agnes and Jordan Clark as Tilly create a believably strained yet loving sister relationship that stretches from funny sibling antagonism to a poignant shared desire to find an understanding that transcends Tilly's death.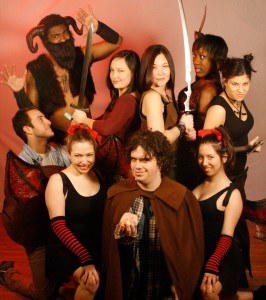 The real world side plots lack some of the madcap pace, clear focus, and delightful surprises of Newlandia. Agnes's meetings with the inspirations for Tilly's game characters are too predictable (the popular girls bullied her), and the "will her boyfriend Miles eventually propose" plot line comes off as perplexingly underdeveloped, with Nguyen offering only a meager backstory (they've dated for five years) and too few unique individual traits and details about either of them to convincingly present the pair as a well-suited couple worth rooting for.
Nguyen's script also misses some potential dramatic opportunities and payoffs. Seemingly ominous signs about Miles—Tilly and Agnes's friend Vera dislike him, Agnes doesn't mind he hasn't proposed, he barely seems angry or upset about her perceived infidelity—amount to nothing in the end. In another case, the shadow puppet prologue tells us that Agnes's parents died in the same crash as Tilly after Agnes made a wish that her life be less boring. A great set up to explore an orphan's grief and guilt right? Bewilderingly, the parents and the wish are never mentioned again by anyone after the prologue.
Still, as Tilly insists repeatedly, "this is not therapy" but merely meant to be a totally awesome diversion and a way for Agnes to get to know her sister better, seeing her as she wanted to be seen. Both the D&D quest and She Kills Monsters certainly accomplish this. Agnes's improved appreciation of Tilly and new connections with her living friends make for a simple, melancholy yet hopeful resolution to her tale. The latter is a nice bonus given the show's constant stream of creative, amusing, and outrageous moments—small missteps along the way are forgiven given this delightful tour of La Vida Nerd-a.