Employing every trick of digital capability to astound and amaze eventually becomes little more than hocus-pocus.
Oz the Great and Powerful. Directed by Sam Raimi. At theaters throughout New England.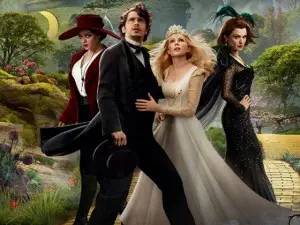 By Tim Jackson
Sam Raimi's Oz the Great and Powerful reinvents, references, and conjures up a prequel to the story of the Wizard of Oz, this time without Dorothy. Instead, the film traces the wizard's path from carny hustler to the throne of Oz. Like Frank Morgan's man behind the curtain, James Franco's wizard finds himself over his head but saves the day with magic and platitudes. Escaping in a hot air balloon from the clutches of a strongman whose girlfriend he was seducing, Oscar Diggs (Franco), a small-time circus magician and womanizer, is carried away by a tornado to the land of Oz. There he meets a stunningly beautiful woman (Mila Kunis), discovers chambers of full of gold, and is presumed by the citizens of Oz to be the wizard they have been predicting would arrive. But things go wrong very quickly. After various convolutions of plot, Oz (the name by which Oscar is known) finds himself battling two very bad witches (Kunis and Rachel Weisz) and is called upon to save the city of Oz with help from the Good Witch Glenda (Michelle Williams) and his traveling companions, a three-foot, porcelain doll named China Girl and Finley, a winged monkey.
Director Sam Raimi is serious about his special-effects. The dazzling artistry and imagination behind these digitally rendered fantasy landscapes and the design of the film's surreal creatures, all in 3-D, is astounding. I am in awe of how far this technology has come and how clean the 3-D is. Raimi used a finely crafted marionette as a stand-in for China Girl, voiced by 11-year-old actress Joey King (Ramona and Beezus). Zak Braff, as Finley the talking, wise-acre monkey, wore a blue chroma key suit and performed with a stand-in puppet version of Finley for certain scenes. This gives the performances an eye line match, which generates an impressively spontaneous interaction between the actors and the computer-generated (CG) characters. Raimi told Slash Film: "I challenged my visual effects designer with 'How can I make these characters more human than human? I want to capture Joey's performance absolutely. I want to capture Zack's performance absolutely. I don't want a CG performance.'"
But reinventing something as iconic as the Wizard of Oz is a risk. Legendary film editor Walter Murch did yeoman's service with the story in 1985's Return to Oz. It was a dark and imaginative sequel to the original featuring an entirely new Dorothy performed by a brooding, young Fairuza Balk. His imaginative creatures had a primal creepiness. That movie had both heart and chilling images that, like the spirit of the original books, could haunt the imagination of a child. It is only fair to take this version of Oz on its own terms, but when it looks much too much like the current army of special-effects-laden fantasyland features, it ceases to reach our hearts, preferring instead to dazzle our eyeballs. If Oz the Great and Powerful wants us to accept it as a prequel to one of the most iconic films in American history, it needs to provide more than a wink and a nod to the original cloaked in a remake of Tim Burton's Alice in Wonderland.
The original had the beautiful shift from black and white into Technicolor, which this version also replicates in the opening. Judy Garland embodied a sensuous innocence combined with a ravishing singing voice. Fetishizing Mila Kunis's perfect beauty and skin-tight pants is hardly the equivalent. Michelle Williams does bring a soulful integrity to the role of Glenda the Good Witch and Annie, the girl with a crush on Diggs (a plot device that's never followed through on). James Franco a fine, endlessly working actor of great range, suffers from a too studied quirkiness and an overabundance of toothy grins. In the original film, the music was joyful and there was a childlike integrity to the costumes, the makeup, the painted scenery, and the simplistic special-effects. The music in the current version has one entirely forgettable song, the rest is an endlessly soaring and in-your-face score by Tim Burton regular Danny Elfman (who also composed the music for Raimi's Darkman).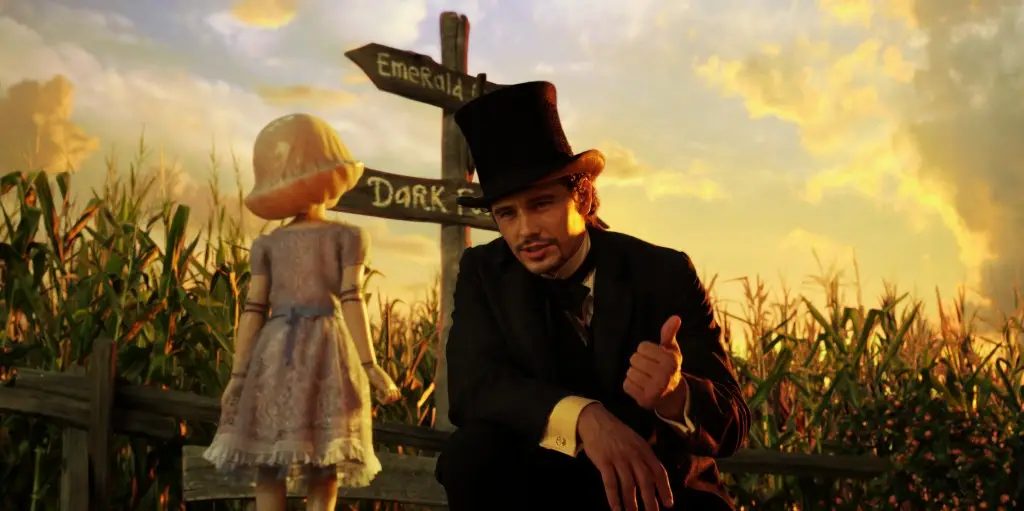 The only sense of innocence we get is by way of the surprisingly cliched and insipid dialogue. Pulitzer Prize-winning playwright David Lindsay-Abaire (Rabbit Hole, Good People, Shrek the Musical) was brought in along with Mitchell Kapner (The Whole Ten Yards) to humanize the characters and the dialogue. Thus it is surprising that the dialogue feels underdeveloped, plot points random, and the jokes cloying.
I recognize that comparisons may be odious. But employing every trick of digital capability to astound and amaze eventually becomes little more than hocus-pocus. It cheapens the ability for a story to breathe. It doesn't allow, particularly for young viewers, any elbow room for them to imagine for themselves. Everything is thrust at us. That not only includes the three-dimensional seduction but the actors, who are forced to compete with overloaded images, pushed to get bigger, wilder and more frenzied, as the movie goes along. It doesn't invite our attention but demands it by shaking us up. That is not what makes for a mythic or magical experience. I am not suggesting defaulting back to 1939, but movies that obsess on their digital strategies end up losing something essential when it comes to the power of storytelling. As veteran critic J. Hoberman suggests in his new book Film After Film, it turns into a celebration of technology. And worse, perhaps the new history of movies will morph into the history of animation.
One tag line for the film says "In Oz, nothing is what it seems." Therein may lie the problem.