A collection of short films and a documentary at The Boston Jewish Film Festival serves up plenty of decision, determination, devotion, and delight.
by Joann Green Breuer
Brief Takes on The Boston Jewish Film Festival's Second Annual Short Film Competition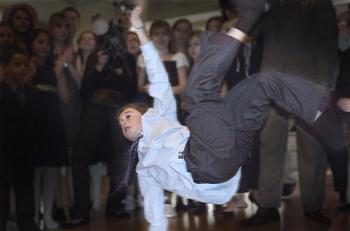 Essential to a worthy short film (2 to 20 minutes) is a moment that matters, or a sense of history in miniature. Essential to an estimable program of short films is the order in which they are shown. Kudos to the 2012 Boston Jewish Film Festival for, for the most part, this difficult, dual accomplishment. Here are the films (the line-up for the Festival's Short Film Competition) in the order in which they were shown out of respect for the evening's curator, who merits much respect.
Woody Before Allen, a 14 minute documentary directed and overly narrated by Konigsberg native Masha Vasyukova, whose Prussian accent is a bit too thick for comfortable comprehension. No matter. One bends an ear most carefully to the charmingly nebbish Woody Allen, who is to be honored by a statue of him erected in the (almost) town center. It is a terrific sculpture. Even Woody likes it. This is the surprising evaluation from the perpetual comic whine who says of a previous stay in Russia, "Put me on a plane, I don't care where it goes." Just as the film captures Woody as we love to know him, so the statue is a delightful metonymy, its bronze and Vasukova's celluloid in iconic parallel.
The Promised Land, a 15 minute Israeli fiction directed by Vanessa Knutson, is the least successful of the gathering. A black woman and a white woman, hand in hand, dash from a food market. The urgency of the illegal immigrant escape is called into cinematic question by the relaxed scenes of packing belongings and playing soccer that follow. An attenuated seder is a cliché contrivance. This is meant to be a moral fable about the bonds between mother and mother, as well as a look at the fractured relationship of mother and son, but neither plot revelation nor character portrayal measure up to merit any such message.
The Basketball Game is a five minute animation by Canadian Hart Snider. Preteen fears of anti-semitism fuel fantastic imagery; innocence proffers fearful powers of imagination. Here the animator's pen and voice give this nightmare of youth its daring due. KKK and Nazis loom in blended figure strokes. Like the genie in the lamp, whose compression provides the energy to make a wish come true, these few minutes extinguish nightmare in the reality of daylight. It may not be true that 'hate cannot hold up to a basketball game,' but Snider makes this wish come true for a few minutes.
Nothing like an extraordinary child to dazzle our eye and win our hearts. Enter Eli. B-Boy begins at his Bar Mitzvah. My heart sinks… all too soon. American Lisa Cohen gives us a mere 15 minutes of the freckle faced, tooth-braced, spectacled phenom. Eli is a Jew with soul not evident at his, admittedly, bravo, Torah trope. Here is a hint: Break dancing to Hava Nagila. Eli is a dedicated, petit bundle of limber muscle, a tumbler, a spinner on any limb, an infectious rhythmic miracle. He is, yes, adorable, but serious enough to be taken seriously. Cohen is not averse to letting much of her 15 minute reel linger on a dance sequence, honoring the adults of the break dance company OUTKAST, as they surround, support, welcome, and marvel in Eli's confident, seemingly impossible, moves. This is multiculturalism with moxie and mighty music. More. More. Please.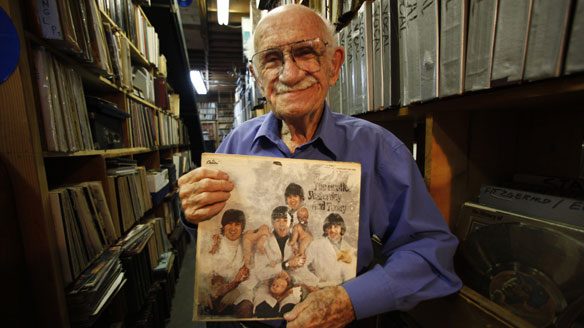 Filmmaker Jessica Dorfman, American, has created Orbit, a 14 minute fiction viewed through the eyes of a young teen on the verge of womanhood. Body and sex are magnetic mysteries, tempting, to be approached but not touched. It is her father's second wedding. She is family yet an outsider, orbiting the ceremony, undecided about how to act, what to say, what to feel: a little girl lost in a big moment. The blankness of her affect can become a bit of an artifice, but the brevity of the film keeps annoyance at bay. For the record, the groom and bride are such remarkably realistic actors that one slips into believing that this is a documentary about a wedding. Even better, Orbit does eventually add up, and resonates in silence.
Continuing with the theme of unforeseeable multicultural creativity, The Pitch offers six minutes of hilarious physical fiction by Israeli Mysh Rozanov. He brings pluckiness to an absurd hilt, pun intended. Funding a film is dilemma enough. Bringing sword play into a Jewish script is cutting edge (pun intended), indeed. Perhaps this Israeli Mysh is a reverse nickname for ToSHiro MIfumi. Or should be.
The final offering of the evening, Music Man Murray, is a 22 minute documentary. The camera of Richard Parks, American, follows narrator Irv Gershenz through the racks housing the four hundred thousand recordings owned by his 89-year-old father, Murray Gershenz. The man has collected, copied and, to a small degree, sold music throughout his life. Murray, once a cantor, now alienated from Judaism, (he '"just forgot to go back") is a persistent and unapologetic lover of music. His son is a persistent and unapologetic lover of Murray. Irv has tears in his eyes as he speaks of his love. Murray eschews such sentiment, let alone sentimentality. The film sings, as hoarsely and as honestly as Murray himself. This is homage with humor, and a fitting coda to a remarkable evening.
The winning film in this year's Short Film competition was B-Boy; Music Man Murray took second place.
---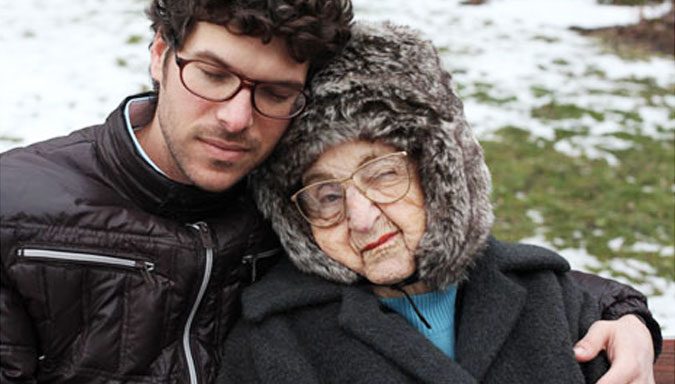 Life in Stills, a documentary directed by Tamar Tal
Israel 2011
The film will be screening at the AMC Framingham on Monday, November 19th at 7. p.m.
Grandma's weathered hands, nails well manicured, pick through a file drawer of photographs, one drawer of many in her collection of over a million stills of the history of Israel and Israelis. A young man's hand reaches for hers and Life in Stills, a disarmingly cool filmed dance of survival between generations, continues.
Like the chronicle about music man Murray of the closing short film evening, Life in Stills is a portrait of an artistic obsession, his aural, hers visual. They each hoard with significance, organization, and love. As 86-year-old Murray guards his record store, in this film 96-year-old Miriam Weissenstein tends the Photoshop store her husband bequeathed to her. Her walking is limited, getting up from her wheelchair requires help, she is blind in her left eye, the right eye is weak, and her speech is slow. She is sensible, terse, bitter, amusing, sad, and resolute. The black and white of her archival photographs are physical signs of the memories which are locked in her sharp mind, and which shape her idiosyncratic will. Reason not her will, but respect it. Her grandson, handsome helper, reliable arm, unassuming partner, does exactly that.
Still, there are shockers in this documentary. I imagine even the filmmaker was surprised as events skewed the story from the narrative hook: the pair are fighting to save the store from developers of the destructively modernizing kind. One expects events to amount to a heartwarming tale of the little guy/grandmother against the big bad city government. To some extent it is. That extent is cut short. Family tragedy revealed and the arrival of an intruder turn what might have been a warming tug of the heart into a heart-lurching yank. Amazingly and to be admired, the film keeps its cool. Melodrama is not the medium; decision, determination, and devotion are.
Grandson and Grandma know what is important. Grandson is gay, and it is of no matter. Autobiography laden with justifiable, immutable pain, for which even the most lovingly sincere comfort cannot suffice, matters, yes, but is, despite everything, surmountable impediment.
How? Miriam offers partial answers, and her grandson listens.
"How old to do you want to live to?" he asks her, leaning close so she can see him more clearly.
"I'm past it,'" she answers with a nervy sincerity.
"I have no strength," Miriam says, when told all that is needed of her. "But I will do it."
"How will you do it if you do not have the strength?" her grandson questions carefully.
"Without strength" is her succinct answer.
And that is enough.
The job, the film, is done, and done well. Memory persists, and is good.