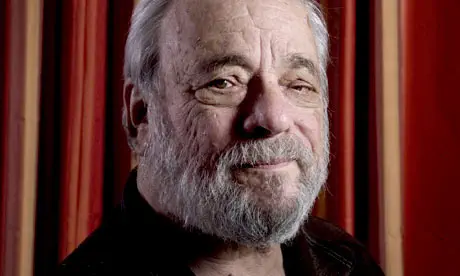 Reviewed By Caldwell Titcomb
Much attention has rightly been paid to Stephen Sondheim, who has reached the age of 80 and is the greatest composer/lyricist our country has produced. Boston University got into the act by mounting a production of Merrily We Roll Along in the large B.U. Theatre for a five-day run (April 28–May 2) under the direction of Jim Petosa, head of the institution's School of Theatre since 2002.
This musical has had a troubled life since its original New York mounting in 1981. It ran for only 16 official performances and was poorly received by the press. But whatever the problems with George Furth's book, the work had absolutely marvelous music and lyrics. I saw one of those 16 performances and came away with total admiration for Sondheim's contributions. It was scandalous that the press and public took such a dim view of it.
It's not as though Sondheim was starting to stretch his legs. In the previous decade or so, he had turned out Company (1970), Follies (1971), A Little Night Music (1973), Pacific Overtures (1976), and Sweeney Todd (1979)—every one a masterwork.
Merrily has since been subject to some revision and a little new music and has had a number of successful mountings in the U.S. and England, though it remains one of the more rarely staged Sondheim works. One of the major complaints about the original was its use of a young cast. How silly! Here in Boston the musical was mounted in 1997-98 by the SpeakEasy Stage Company with laudable young players. And the B.U. students showed they can handle this difficult score splendidly.
The work itself is based on the 1934 play of the same title by Moss Hart and George S. Kaufman, and the plot moves in reverse time back into World War I days. The musical does the same, backtracking through two decades from the mid-seventies. The central character, Frank, has sold out to Hollywood. Mary, who has always loved him, is an alcoholic. He has also had strained relationships with Beth (a sometime wife) and villainously self-centered Gussie, while his friendship with Charlie has foundered.
Petosa assembled a gifted cast of 22. His five principals were all impressive: Harry Hobbs as Frank, Melissa Carter as Mary, Farrell Parker as Gussie, Maggie Erwin as Beth, and Benjamin Drew Thompson as Charlie. Thompson was especially antic with his Act 1 solo, though at the performance I caught he had a bit of pitch trouble with "Good Thing Going" in Act 2; but he had the character down pat.
The ensemble players came on and departed smoothly and sang with gusto. The music is skillfully and extensively built on reassembled motives, and the score contains some now classic numbers such as "Old Friends," "Not a Day Goes By," and "Our Time."
Set designer James Edward Fluhr provided some slightly tilted platforms on rollers, which were moved about from time to time. There were lots of long, white strings reminiscent of Richard Foreman productions and most of them were attached to items hung in the air. A series of poster boards was displayed in the left and right boxes to indicate the place and date, all the way back to a rooftop where the idealistic youngsters are gazing at Russia's satellite Sputnik orbiting the earth in 1957.
Jennifer Hebner's costumes and Aaron Sherkow's lighting were always suitable. The admirable music director was Matt Stern, who served in the same capacity for the fine production of Sondheim's "Saturday Night" at Brandeis in 2008.
So let's hear it once more: Happy Birthday, Steve—and many thanks for your genius.