By J. R. Carroll.
From the Berkshires to Cape Cod, and with a major stop in Beantown, Massachusetts is the place to be for the autumn jazz festival season.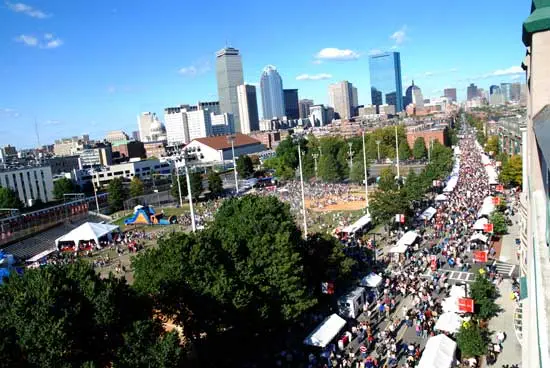 ---
Autumn is prime tourist season for Western Massachusetts, and so it's appropriate that the concluding run of outdoor jazz festivals starts there.
The Berkshire Gateway Jazz Weekend in Lee, running Friday, September 14, through Saturday, September 15, emphasizes artists with strong ties to the region. On Saturday at 2 p.m., you can catch saxophonist Charles Neville, and at 8 p.m. vocalist Karrin Allyson joins forces with the Amherst Jazz Orchestra; both concerts take place at the Lee Meeting House. (Allyson and the Amherst Jazz Orchestra will also be performing the night before at 8 p.m. at the White Brook Middle School as the main musical event of the 2012 Easthampton Bear Fest.)
---
The following day, Sunday, September 16, the action shifts eastward a bit to the Northampton Jazz Festival. There are events happening on three stages, but the best bet is probably the Main Stage, starting at 2:30 p.m. with guitarist Sheryl Bailey and her trio (organist Ron Oswanski and drummer Ian Froman) and picking up again at 3:50 p.m. with the Valley Cookers (saxophonist Geoff Vidal, keyboardist Jeff D'Antona, bassist Nate Reeves, and drummer Bob Weiner), followed at 5:10 p.m. by a terrific quartet (with organist Mike Le Donne, guitarist Peter Bernstein, and drummer Kenny Washington) led by baritone saxophonist Gary Smulyan. The day wraps up at 6:30 p.m. with drummer Matt Wilson and his Arts and Crafts ensemble (trumpeter Michael Rodriguez, keyboardist Gary Versace, and bassist Martin Wind).
The Northampton Jazz Festival will also pay tribute to the late saxophonist and composer Marion Brown, who spent many years living, playing, and teaching in the Pioneer Valley.
---
At the other end of the state, JazzFest Falmouth returns on Tuesday, September 25, with an 8 p.m. gig by longtime collaborators guitarist Howard Alden and trombonist Dan Barrett, joined by saxophonist Harry Allen and bassist Frank Tate, at the Fishmonger Cafe in Woods Hole.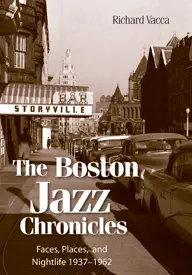 Did you know that during its all-too-brief existence George Wein's Storyville jazz club had a summer home in Harwich? On Thursday, September 27, at 7 p.m. at the First Congregational Church of Falmouth, Richard Vacca builds on his terrific The Boston Jazz Chronicles (watch for a review, coming soon) to deliver a presentation entitled "Let's Get Away From It All: The Boston/Cape Cod Jazz Pipeline."
September 28 is the date for the Falmouth Friday Night Jazz Stroll, with a dozen groups playing in a variety of locations around town.
At 7:30 p.m. on Saturday, September 29, Falmouth's Highfield Theatre hosts a double bill of saxophonist Grace Kelly and her quintet (trumpeter Jason Palmer, guitarist Pete McCann, bassist Evan Gregor, and drummer Jordan Perison) and stalwart Cape Cod drummer Bart Weisman and his ensemble.
The festival wraps up on Sunday, September 30, with jazz brunches at Persy's and Nimrod, both starting at 11 a.m.
---
The Berklee Beantown Jazz Festival, one of Boston's premiere events, returns to the South End on Saturday 29 from noon until 6 p.m. As always, there are continuous performances on three stages, so you'll have the opportunity to sample widely. However, if you prefer to stick around for complete sets, here's a suggested sequence that will allow you to at least hit some of the high points in the day's schedule:
http://www.youtube.com/watch?v=r7eUo6L3pvI
12 p.m.
Wally's Showcase featuring the Jason Palmer and Willy Rodriguez Group
Berklee Stage
A fixture at Boston's legendary Wally's Cafe, trumpeter Jason Palmer steps out into the autumn sun in the company of drummer Willy Rodriguez and friends.
http://www.youtube.com/watch?v=kGs_huE0jMw
1 p.m.
The New World Jazz Composers Octet
Subaru of New England Stage
The New World Jazz Composers Octet, led by saxophonist Daniel Ian Smith, is now in its second decade performing the invaluable function of bringing work by contemporary, Boston-area composers and arrangers to a wider public.
http://www.youtube.com/watch?v=xjb5dXd_30g
2:15 p.m.
Hey Rim Jeon and Friends
Subaru of New England Stage
Korean-born, classically trained Berklee piano faculty member Hey Rim Jeon is a jazz composer and improviser who has developed a distinctive approach on (and sometimes inside) her instrument.
http://www.youtube.com/watch?v=FKQRms3bUS0
3:30 p.m.
Terri Lyne Carrington and the Mosaic Project
Natixis Global Asset Management Stage
Drummer Terri Lyne Carrington's The Mosaic Project was one of the top CD releases from the past year. At the Beantown festival this year she's bringing together many of the musicians—all women—who participated in those sessions for a live performance of compositions from the CD.
http://www.youtube.com/watch?v=gMee3BodHxw
5 p.m.
Lalah Hathaway
Natixis Global Asset Management Stage
Daughter of the great Donny Hathaway, vocalist Lalah Hathaway has emerged as a significant artist—and one hell of a singer—in her own right.
---
Sharing part of the Beantown weekend, the Newton Jazz and Wine Festival is a little more laid-back, and definitely oriented toward its host community.
Saturday, September 29, is centered around a Jazz Block Party as part of the Newtonville Village Day and Jazz Festival, which runs from 10 a.m. until sundown. Exact performance times are unclear, but the list of performers includes keyboardist Nate Aronow and his Nextet, guitarist Phil Steffen and his trio, Zili Misik, and the Rusty Scott Organ Group.
On Sunday, September 30, the action moves to the Jackson Homestead from 1-5 p.m. for an afternoon of Jazz-in-the-Yard. The event opens with the Cape Verdean sounds of Cruzamente, followed at 2 and 3 p.m by the trios of guitarist Fred Woodard and pianist Rusty Scott respectively. Closing out the day is the fusion groove of Persian Blue.
---
The autumn festival season winds up right where it began, in Western Massachusetts. The Pittsfield CityJazz Festival spans October 5-13 and sprawls across a variety of venues in downtown Pittsfield. Here are some highlights:
Trumpeter Adam O'Farrill (son of pianist Arturo, grandson of composer/arranger Chico) and his quartet perform at the Berkshire Athenaeum on Wednesday, October 10.
The Jazz Arts Trio comes to Barrington Stage at 7:30 p.m. on Friday, October 12.
On Saturday, October 13, vocalist Giacomo Gates and flutist Ali Ryerson join the New England Jazz Ensemble at 8 p.m. at the Colonial Theatre to close out the festival.
---
Also on Saturday, October 13, the Holyoke Latin Jazz Festival lights up the Winter Palace Theater from 4 p.m. to midnight. The full schedule is still evolving, but a high point is sure to be vocalist Jesús Pagan with bassist Luis Morales and Conjunto Barrio (flutist/saxophonist Ahmed Gonzalez, pianist José "Junito" Sánchez, and percussionists Bobby Torres and Roberto Piñeiro Jr.)