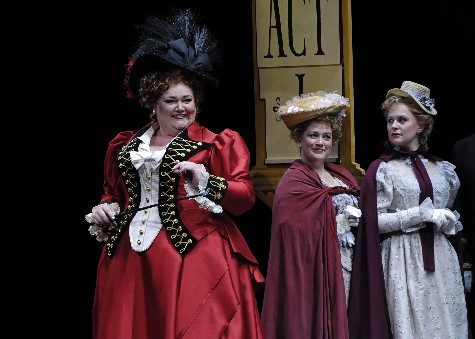 Reviewed By Caldwell Titcomb
Opera Boston is winding up its season with a delightful production of Jacques Offenbach's La Grande-Duchesse de Gérolstein (1867). This operetta, one of more than 100 of Offenbach's works for the music stage, followed closely after three of his most accomplished contributions: La Belle Hélène (1864), Barbe-Bleue (1866), and La Vie Parisienne (also 1866). All four had libretti by his favored collaborators, Henri Meilhac and Ludovic Halévy.
Offenbach was born in Germany, the son of a cantor. But he went to Paris at 14, became a professional cellist, converted to Catholicism, and started composing for the stage in his late twenties.
The current Boston show takes place in the imaginary duchy of Gérolstein in the year 1720. The plot is outrageously comical. The Grand Duchess is charming but bossy. She finds war an amusing pastime and is more attracted to military uniforms than to the personalities that wear them. Betrothed to Prince Paul, she takes a liking to Fritz, a soldier in love with Wanda, and promotes him in stages to captain and finally commander-in-chief.
She sends Fritz into battle, where he conquers the enemy by letting the latter get drunk on 3,000 bottles of booze. An aborted assassination conspiracy ensues. The Duchess casts her eye on a new object, Baron Grog, only to find that he is married with four children. So it's back to Prince Paul for her. "If you can't have those you could love, you must try to love those you can have." It's all hilariously nonsensical, and this production conveys the silliness splendidly.
Opera Boston could not have done better than bring in mezzo-soprano Stephanie Blythe to make her local debut in the title role, which she has done elsewhere. Making her first entrance in bright red, she is a commanding presence with a huge voice. She has no trouble handling more than a two-octave range and clearly loves lording it over everyone around her.
Tenor Scott Ramsay is an appealing Fritz, and baritone James Maddalena a properly jealous General Boum. Dressed in white, tenor Lee Gregory is memorable as the luckless and then lucky Prince Paul. Wendy Bryn Harmer's Wanda, Frank Kelley's Népomuc, Torrance Blaisdell's Baron Puck, and David Kravitz's Baron Grog are all admirable.
Robert Perdziola designed lovely sets—a military encampment (with a large cannon), a grotto, and a gaudy red bedroom—as well as handsome outfits for the soldiers and gossamer gowns for the 10 court ladies. The stage director is David Kneuss, who was also responsible for the English dialogue (the singing is in French, the spoken text in English). Kneuss had the amusing idea of bringing on a series of hobby horses to deliver the mail and devised some funny byplay with the Duchess's heirloom saber, which winds up a corkscrew.
Conductor Gil Rose, with his orchestra of 37 players, brings verve to Offenbach's infectious score. It is not the least of Offenbach's achievements that he laid the groundwork for the wonderful operettas of Gilbert and Sullivan.