A nineteenth-century, Russian masterpiece presented in a translation and a production whose mishmash of style distorts the play and confuses both actors and audiences.
A Month in the Country by Ivan Turgenev. Translated from the Russian by Richard Nelson, Richard Pevear, and Larissa Volokhonsky. Directed by Richard Nelson. Staged by the Williamstown Theatre Festival, Williamstown, MA, through August 19.
By Helen Epstein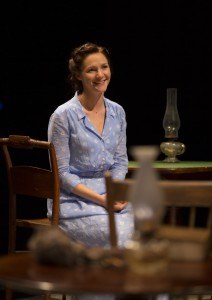 In this summer of tight budgets and two-handers, the Russian classics with their estatefuls of characters are a rarity on the American stage, unless brought over by companies from abroad. So the Williamstown Theatre Festival's world premiere of a "new translation" of Ivan Turgenev's play A Month in the Country is both admirable and noteworthy, especially since the work is by the famed translating duo Richard Pevear and Larissa Volokhonsky with respected director/playwright Richard Nelson.
I'll leave it to my colleague Bill Marx to review the details of this production and, instead, weigh in on my reactions to yet another (the American Repertory Theatre's Broadway-ized version of Porgy and Bess) case of dumbing down a classic.
Turgenev published the very Chekhovian A Month in the Country in 1855, five years before Chekhov was born. It was initially banned by Russian authorities under its original title The Student, changed to Two Women, and finally produced under its final title in Moscow in 1872. It takes place in the 1840s on a rich, Russian landowner's estate, in a multi-generational family, attended by servants, tutors, a physician, and neighbors. Although it's Russia and a few decades later than Jane Austen's England, society is similarly class-bound, women marry for a good standard of living rather than for love, and rural life offers few diversions.
We're accustomed to seeing that tedium through Chekhov's eyes. That far more familiar playwright infuses his ensembles with indirection and psychological vagueness. Turgenev is much more explicit. The focus is clearly on 29-year-old Natalya, married to 36- year-old landowner Arkady, mother of 10-year-old Kolya and guardian to 17-year-old Vera, who falls in love with the 21-year-old tutor Alexei while ignoring the adulation of her contemporary, family friend Mikael. In the original, a fussy, German tutor; two servants; a physician; a mother-in-law; and her companion round out the cast.
In this "new translation," Nelson has eliminated the German tutor and female servant, edited out their scenes for length, and axed the many French phrases that Turgenev used to characterize Natalya, which give us a sense of the pretensions of her time and class. These three choices not only shorten the play; they rob it of its texture, making it and Natalya, in particular, less interesting, less complex, less formal, a kind of melancholy Mrs. Robinson from The Graduate.
Directed on a minimalist set built out into the orchestra, with actors sitting on the sides when they are not performing, this production references later and unrelated playwrights, such as Ibsen and Brecht. The result is a mishmash of styles that distorts the play and confuses both actors and audiences.
I'm all for new takes on the classics if everybody's read and seen it multiple times. But this is not the case with Turgenev's masterpiece. I would have liked to have heard the playwright's lines in one of the more faithful, older translations—such as Isaiah Berlin's, which was written for a major 1981 production of A Month in the Country at The Olivier Theatre in London.
---
Helen Epstein is the author of Joe Papp and other books about the arts.