Orango is one of the tantalizing "what might have been's" of musical history: a biting social commentary on Soviet society on the fifteenth anniversary of the October Revolution, written when Shostakovich was at the height of his musical powers and popularity.
Shostakovich, Prologue to Orango and Symphony no. 4.  Los Angeles Philharmonic Orchestra/Esa-Pekka Salonen, Deutsche Grammophon, 2012.
By Jonathan Blumhofer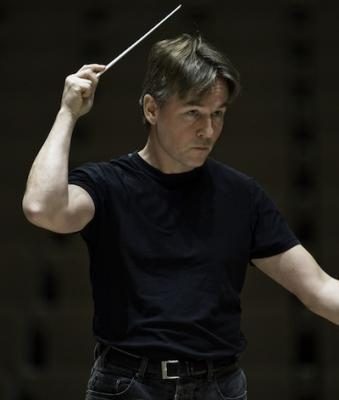 It's not all that often that a composer who died in 1975 has a world premiere; even less common is when the composer in question was one of the leading musical figures of his century. But that is just what happened in December 2011 when the long lost Prologue to Dmitri Shostakovich's abandoned opera Orango made its debut at Walt Disney Concert Hall in Los Angeles. Esa-Pekka Salonen conducted the Los Angeles Philharmonic Orchestra (LAPO), Los Angeles Master Chorale (LAMC), and soloists, while Deutsche Grammophon was on hand to document the performance as part of their DG Live series; the album (which is coupled with a powerhouse reading of Shostakovich's Fourth Symphony) has just been released.
Orango is one of the tantalizing "what might have been's" of musical history: a biting social commentary on Soviet society on the fifteenth anniversary of the October Revolution, written when Shostakovich was at the height of his musical powers and popularity. The projected plot—which no doubt had something to do with why work on the project was broken off after Shostakovich wrote the Prologue—centers around a half-man/half-ape called Orango, who becomes a celebrated, Western press baron before being betrayed and sold to a Soviet circus to entertain the masses. The Prologue was meant to set up the opera proper, which was planned to recount the story of Orango's life as, essentially, a series of flashbacks. After putting aside the score in 1932, the work was presumed lost until Shostakovich scholar Olga Digonskaya unearthed it in the archives of the Glinka Museum in 2004.
Musically, Orango features Shostakovich at his most youthful and carefree: various musical styles collide in a hodge-podge of raucous energy and wild abandon. But it's also a fragment, a piece that might easily be lumped with some of his lighter fare, like the Ballet Suites or some of his film scores. As such, it's easy to imagine a performance in lesser hands degenerating into some sort of shtick that undermines the score's message.
Not so with this cast and these musicians (though it doesn't necessarily benefit the listening experience, Peter Sellars directed this staging). Singing the Entertainer, Ryan McKinny is suitably entertaining and pathetic in his character's attempts to rein in (and direct) the attention of the masses. Eugene Brancoveanu's Orango doesn't get too much to sing, but he chews the scenery (vocally) with what little he's got. Additionally, Michael Fabiano, Timur Bekbosunov, and Abdiel González highlight an overall superb cast in the small roles. The LAMC maintains its usual excellent standards, capturing the spirit of a bored and distracted crowd with nuance and crisp diction. And the LAPO, playing once again with their former music director, show just how good a pairing this ensemble and conductor are, teasing out the underlying tension and bitterness latent within Shostakovich's music.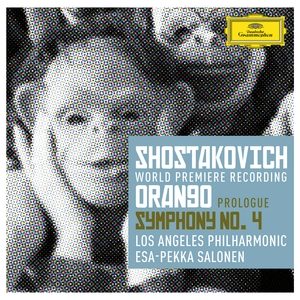 Nothing lets up on the second disc either: if anything, the tension is ratcheted up a few degrees. Though written just four years later, Shostakovich's Symphony no. 4 hails from a very different world than Orango. True, there's plenty of humor and irony to be found within its 60-plus minutes, but this is music deeply influenced by the darker impulses of Mahler, as well as the increasingly grim political situation of Shostakovich's own day. It's a sprawling, peripatetic essay that demands a conductor with musical vision and an orchestra that will follow fearlessly.
Mr. Salonen and the LAPO are just that combination: they turn in a performance of the Symphony that is simply electrifying. The work's outer movements, clocking in at nearly 30 minutes each, are among the longest that Shostakovich wrote and they offer many opportunities for wayward distraction, particularly during some of their quieter moments. Thankfully, nothing of the sort happens here: there is a musical idea and an urgency behind every phrase the LAPO plays that gives the music a sense of purpose and inevitability. The big moments, from the first movement's dissonant opening to the tremendous chorale that leads into the finale's closing pages, run the gamut from thrilling to terrifying. Also, the score's closing pages feature one of the best-executed diminuendos on record: it's positively hair-raising.
Though a live recording, there is minimal audience noise (some laughter and applause during and after Orango notwithstanding), and the recording's sound is very good: DG's engineers have done a particularly fine job bringing out the lower, Wagnerian sonorities of the Symphony. Gerard McBurney (who orchestrated the Orango prologue) and director Sellars each contributed essays to the singularly excellent program booklet in which (among other things) they emphasize the eerie relevance of this music to our age. In a sense, though, such amplification is superfluous: the LAPO and singers well understand the timelessness of Shostakovich's themes and run with them, making for a powerful and memorably unsettling album.
---
Jonathan Blumhofer is a composer and violist who has been active in the greater Boston area since 2004. His music has received numerous awards and been performed by various ensembles, including the American Composers Orchestra, Kiev Philharmonic, Camerata Chicago, Xanthos Ensemble, and Juventas New Music Group. Since receiving his doctorate from Boston University in 2010, Jon has taught at Clark University, Worcester Polytechnic Institute, and online for the University of Phoenix, in addition to writing music criticism for the Worcester Telegram & Gazette.