If you're a Gil Evans devotee, or even a casual appreciator, have I got good news for you: Ryan Truesdell's Centennial, more than 70 minutes of Evans that we never thought we'd hear, 10 tunes realized so beautifully and brilliantly that they should win a Grammy for Truesdell and a second posthumous Grammy for Evans.
By Steve Elman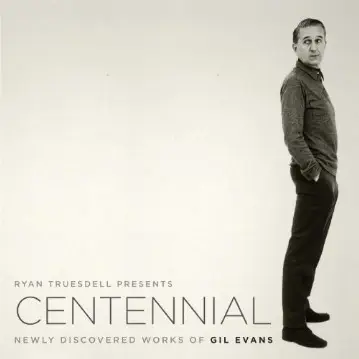 Nearly everyone who cares about great music owns one of Gil Evans's records. It's usually one of the sessions with Miles Davis—Sketches of Spain or Porgy and Bess, most likely. But quite a few listeners have ventured beyond the Miles dates to Gil's own releases—Individualism, Out of the Cool, Gil Evans & Ten, There Comes a Time, the arrangements of Jimi Hendrix material, the Perugia concert with Sting, possibly even the now-reissued Pacific Jazz titles (Great Jazz Standards and New Bottle Old Wine) or one of the many live dates with the big band he led for the last decades of his life.
If you're an Evans devotee, or even a casual appreciator, have I got good news for you: Ryan Truesdell's Centennial, more than 70 minutes of Gil Evans that we never thought we'd hear, 10 tunes realized so beautifully and brilliantly that they should win a Grammy for Truesdell and a second posthumous Grammy for Evans (his first was for Bud and Bird, which was released just after his death).
Evans was both an influential stylist and an inimitable personality. When you hear his arrangements for Claude Thornhill in the 1940s, or the sessions with Miles in the 1950s, or his studio dates from the 1960s, or his ever-evolving live ensembles (especially after 1969), you hear consistent qualities that delight the ear and bring you back for more.
More than any other single individual in jazz, he championed and celebrated the sonic and harmonic innovations of the French Impressionists. He was a master of orchestral color, always selecting voicings and harmonies that gave his writing distinction and freshness. He rethought the traditional structures of large-ensemble jazz, blurring the established roles of reeds, brass, and rhythm. He added unusual instrumentation—tuba, oboe, bassoon, French horn, occasional solo string instruments, miscellaneous percussion—to the standard big band arsenal. He cultivated a collective approach within his groups that gave even the most carefully-written scores a loose, rambling quality. His own compositions were often simple structures that he could massage, sometimes within the course of a performance, to spotlight the strengths of the players at hand. And, most remarkably for a jazz leader, he chose to arrange and re-conceive the work of other composers more often than he chose to write his own stuff.
Still, the sum of these technical parts does not describe the distinctive emotional heart of his music. Evans wasn't just different from other jazz writers. He owned a personal world of sound that transported listeners to places of feeling they'd never visited before. Even though his work draws on many of the traditional mindsets of jazz—the broken heart, the driving beat, the dark night of the soul, the cool, the exotic, the ballad, the blow-em-away fortissimo, the blues—there isn't a single moment of any of his performances that isn't nuanced away from the expected qualities of those old paradigms. Over and over again, his music says, here is real emotion, experienced as a real human heart feels it in real time—un-simple, multi-leveled, self-contradictory, slippery, unfocused, through a glass darkly, in a mist.
And Evans, like Ellington, took his secrets to the grave. Other writers can learn from or imitate his work, but no one else can be the artist he was.
So the discovery among Evans's papers of nearly 50 scores that have never been recorded is a musical event of major importance. But having Evans's notes on paper is less than half the battle: a prospective musical interpreter has to ask himself or herself, "How did Gil balance the instruments in the ensemble—which notes should be louder and which softer, and how should the players attack those notes? And how am I going to get the resources to preserve these things as they should be preserved, in performance?"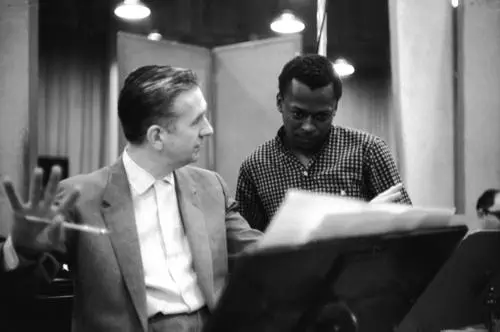 Ryan Truesdell has fearlessly answered those questions, digging into the memories of musicians who were at the sessions and tapes of rejected performances and relying on his own deep familiarity with the sounds Evans created.
On May 13, the hundredth anniversary of Gil Evans's birth, ArtistShare released Centennial, the first of what I hope will be a series of recordings bringing these previously unrecorded scores to life. If you have Evans's music in your collection of recordings and you love the way it makes you feel, do not miss Centennial.
Bravo to the package, beautifully designed by Andrew Neesley. Double bravo to the investors who contributed money to the project through ArtistShare, one of several vehicles devoted to helping artists fund their work through collective contributions from fans and admirers.
Triple bravo to the sure-footed Ryan Truesdell, who gives everything about the release the love and care it deserves. Nearly every choice he made in completing the scores, choosing the soloists, directing the ensemble, and producing the CD was informed by a deep respect for Evans and a thorough understanding of the existing recordings. This would be a triumph for a musician at any stage of his career; it is a career-making achievement for an artist making his debut as a leader.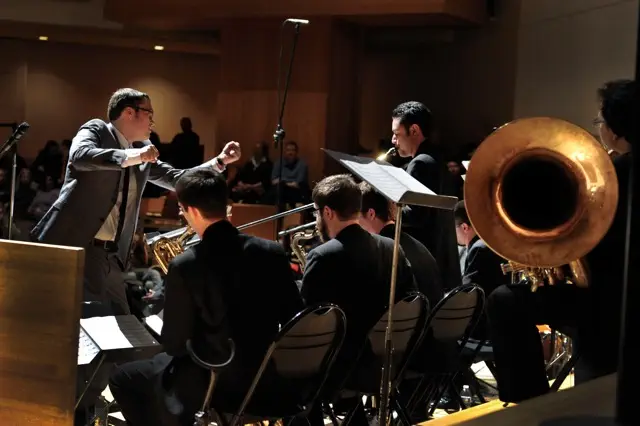 If you're surprised by my inclusion of the production credit in the previous paragraph, you should think about how important the sound of Evans's recordings was to our appreciation of his music. The Pacific Jazz recordings, produced by George Avakian and Dick Bock, used a good deal of period reverb to approximate a concert-hall sound, but as a result, the ensembles seemed distant and the rhythm section was compromised. Teo Macero's work on the Columbia Miles Davis-Gil Evans sessions inevitably emphasized Miles, and it compressed Gil's delicate textures unnecessarily. Creed Taylor got a lot of the details right for Individualism and Out of the Cool, but he loved reverb and used it to excess. Gil's own work as a producer on the RCA releases is competent and he make sure that every detail is audible, but he fails to place the orchestra in a defined acoustical space. The live recordings have all the usual problems of live recordings (except for the Atlantic release Svengali, produced by Evans and Kenneth Nolan, which is remarkably good for a live date). Sonically, my two favorite Evans releases are pretty obscure: Where Flamingos Fly, produced by John Simon, and the Ampex release simply titled Gil Evans, produced by Sam Gordon.
Truesdell understands that Gil's sonorities need a rich blend, the blurring that they would get in a big hall, but that the CD listener wants clarity for the individual voices. He manages to square that circle very effectively here.
He also made some savvy repertoire choices, dividing the time of the CD almost equally between early and later material.
The most unfamiliar pieces are six songs arranged by Evans in the 1950s for the Claude Thornhill band. Giving modern production values to these beautiful arrangements demonstrates just how visionary Evans was and makes a case not for just Truesdell recording all the previously unrecorded Thornhill arrangements but for rerecording the ones that actually were released.
"Smoking my Sad Cigarette" is a great, great find. It appears to have been arranged so that Thornhill could cover Jo Stafford's version of the tune, which was recorded around 1955. Don George's beautiful lyric complements Bee Walker's melody marvelously, so Evans has a great foundation to build on. He opens the performance with lugubrious mutters from the band (an effect he later used in "Sunken Treasure" for his own Out of the Cool LP), and he reharmonizes the song, pushing it into late-50s, progressive jazz territory. Truesdell chose Kate McGarry to sing the Centennial version, and she ices the cake with her superb pitch and perfect grace. We also get a taste of one of Evans's unusual instrument choices, some tenor violin obbligati played by Dave Eggar.
A close second for interest is an early version of Leo Delibes's "Maids of Cadiz," which Evans drastically reworked for Miles Davis seven years later on Miles Ahead. The Davis version is brooding and dark; in the Thornhill version, the Delibes theme is much more clearly heard.
The Ralph Freed / Burton Lane tune "How About You" and "Who'll Buy My Violets" by Jose Padilla and Ray Goetz are more conventional but still lovely, and both feature breathy, woody clarinet spots from Scott Robinson.
Evans's own tune from this period, "Dancing on a Great Big Rainbow" aka "Cannery Row," is clearly intended to have a lyric; the principal motif corresponds exactly to the rhythm of the "Dancing" title. This one and "Beg Your Pardon," by Francis Craig and Beasley Smith, were peddled to other bands as well as to Thornhill's, so they represent a less adventurous approach—still head and shoulders above the typical arrangements of the time. Wendy Gilles turns in a very nice vocal on the latter.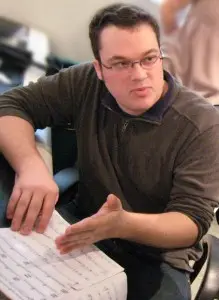 Evans's mid-sixties work is represented by "Look to the Rainbow," written by Yip Harburg and Burton Lane, and Evans's own "Punjab." Truesdell says he "immediately fell in love" with the original "Rainbow" on the eponymous Astrud Gilberto recording, arranged by Evans. It appears that this is the one tune on the CD that is a remake of a previously issued Evans arrangement, but to my ears it is one of the most welcome pieces on the disc. I have never been an Astrud Gilberto fan and have never listened to her fey, mannered performances without gritting my teeth. Truesdell called on a far more talented Brazilian singer, Luciana Souza, to sing the tune on Centennial, and now I can finally enjoy Evans's arrangement without having to hear Gilberto.
"Punjab" is the one tune with which I have a small quibble. Truesdell notes that he heard a rehearsal of the tune (from the sessions that produced Individualism) and understood why it didn't make the cut. "There was something about the groove from the rhythm section that just didn't seem to fit," he says, so he decided to add tabla for the debut recording. This was a perfectly reasonable choice, and the result is sumptuous when the whole ensemble is engaged. The problem is not with the instrumentation but rather with the length. In Evans's longer, hypnotic pieces (like "La Nevada" or his arrangement of "Lotus Land" on Kenny Burrell's Guitar Forms), there is almost always something interesting going on behind the soloists. Either Truesdell didn't have enough material to work with here, or the two soloists take too much time to develop their ideas. You could hardly ask for better players than altoist Steve Wilson and pianist Frank Kimbrough, who are both fertile and interesting, but after a minute or so of either, you start to yearn for some push or color from the ensemble that doesn't appear. The performance would have been much stronger at 10 minutes; it just doesn't justify 14. Still, praise to Kimbrough for coming up with inside-the-piano strumming to simulate sitar, an effect of which Evans certainly would have approved.
The chronology of this disc stops in 1971, with previously unrecorded, alternate arrangements of tunes that appeared on Individualism and the Ampex LP. Evans rethought them for a concert in Berlin with a 24-piece ensemble that included two oboes, English horn, three bassoons, and three French horns. Truesdell chose to add vibraphonist Joe Locke to this instrumentation and to give him a prominent role -— another wise decision that Evans surely would have endorsed. Locke has a "drier" sound than most vibraphonists (a la Walt Dickerson), and both of his feature spots are superb.
Kurt Weill's "Barbara Song" features Kimbrough again, and Locke extensively, although what Locke provides is not a "solo" in the traditional sense. He decorates the pre-written material improvisationally, working within and around it, creating a very special kind of interplay.
The other pieces are Evans originals, played as a medley. Each of them is no more than a few chords and a series of ensemble effects, but so much is accomplished within these simple frames that they put much more ambitious works by less talented composers to shame. "Waltz" (aka "General Assembly") features Locke and trombonist Marshall Gilkes. "Variation on the Misery" spotlights an electrifying solo by Steve Wilson on alto, and "So Long" gives Donny McCaslin a chance to shine on tenor. Here the extended length of the performance (19 minutes) seems absolutely right.
What could be better than this release? The fact that Truesdell is taking a 23-piece version of the ensemble, now officially called the Gil Evans Project, on the road, including the rhythm section that performs so well on Centennial (Kimbrough, bassist Jay Anderson and drummer Lewis Nash, with tabla player Dan Weiss) and nearly all of the fine soloists heard here (Wilson, McCaslin, Robinson, Gilkes, Eggar, and trumpeter Greg Gisbert).
Lucky, lucky listeners at the Umbria Jazz Festival (Perugia, Italy, July 7-12) will hear six concerts, undoubtedly including a lot of stuff that Truesdell hopes to record in the future. The band also plays at the Rochester [New York] International Jazz Festival on June 29—not, alas, in the acoustically rich Eastman Theater or in beautiful little Kimball Hall but in a club setting at Montage.
New Englanders will get their chance on the first weekend in August at the Newport Jazz Festival (Fort Adams State Park, Rhode Island). In fact, fans of large ensembles and great young composers will have a couple of field days this year: on Saturday afternoon (August 4), Dave Douglas will bring out new tunes for his quintet featuring Joe Lovano and Darcy James Argue's Secret Society will perform. Even more riches are in store on Sunday August 5: the Evans Project, Maria Schneider's band, Jason Moran and the Bandwagon, Miguel Zénon's Rayuela, and John Hollenbeck's Claudia Quintet + 1.
Here's hoping that many other Evans Project dates fill in their performance calendar, and that volume 2 of the Evans unreleased scores will appear in short order.
---
Details on the recordings mentioned above, chronological by year of release:
Miles Davis: Miles Ahead (arrangements by Gil Evans) (Columbia LP, 1957; CD restoration, 1993; remastered for CD reissue, 1997)
Gil Evans: Gil Evans & Ten (Prestige / New Jazz LP, 1958; reissued as "Big Stuff!" [Prestige LP, 1970]; remastered for reissue on Prestige CD, 1991)
Gil Evans: Great Jazz Standards (Pacific Jazz LP, 1958; for CD reissue, see below)
Gil Evans: New Bottle Old Wine (Pacific Jazz LP, 1959; for CD reissue, see below)
Miles Davis: Porgy and Bess (arrangements by Gil Evans) (Columbia LP, 1959; remastered for CD reissue, 1997)
Miles Davis: Sketches of Spain (arrangements and compositions by Gil Evans) (Columbia LP, 1960; remastered for CD reissue, 1997)
Gil Evans: Out of the Cool (Impulse LP, 1961; remastered for CD reissue, 1996)
Miles Davis: Quiet Nights (arrangements and compositions by Gil Evans) (Columbia LP. 1963; remastered for CD reissue, 2008)
Gil Evans: The Individualism of Gil Evans (Verve LP, 1964; CD reissue with additional tracks, 1989)
Kenny Burrell: Guitar Forms (arrangements by Gil Evans) (Verve LP, 1965; remastered and reissued on CD with alternate takes, 1997)
Astrud Gilberto: Look to the Rainbow (arrangements by Gil Evans) (Verve LP, 1966; CD reissue with additional tracks, 1990)
Gil Evans: Gil Evans (Ampex LP, 1971; CD reissue, as "Blues in Orbit," on Enja, 1997)
Gil Evans: Svengali (Atlantic LP, 1973; CD reissue, 1998)
Gil Evans: Plays Jimi Hendrix (RCA LP, 1975; CD reissue, 1998)
Gil Evans: There Comes a Time (RCA LP, 1976; CD reissue, 1990)
Gil Evans: Where Flamingos Fly (Artists House LP, 1981; CD reissue on A&M, 1989)
Gil Evans: Bud & Bird (ProJazz CD, 1988)
Sting and Gil Evans: Last Sessions (Jazz Door CD, 1989) (reissued as "The Gil Evans Orchestra in Perugia, featuring Sting" on Jazz Door CD, 2006)
Miles Davis and Gil Evans: The Complete Columbia Studio Recordings (contains all four of the Davis – Evans LPs noted above, plus rehearsal takes, alternates, breakdowns, inserts, and outtakes) (Columbia CD set, 2004)
Gil Evans: Great Jazz Standards / New Bottle Old Wine (alternately known as The Complete Pacific Jazz Sessions) (contains both Pacific Jazz LPs, remastered) (Blue Note CD, 2006)
Ryan Truesdell & the Gil Evans Project: Centennial (ArtistShare CD, 2012)
---
Steve Elman's four decades (and counting) in New England public radio have included ten years as a jazz host in the 1970s, five years as a classical host in the 1980s, a short stint as senior producer of an arts magazine, thirteen years as assistant general manager of WBUR, and currently, on-call status as fill-in classical host on 99.5 WCRB since 2011. He was jazz and popular music editor of The Schwann Record and Tape Guides from 1973 to 1978 and wrote free-lance music and travel pieces for The Boston Globe and The Boston Phoenix from 1988 through 1991.