The vocal ensemble Blue Heron closed its season with "a marvelously expansive concept of the divine" in a program of sixteenth-century Spanish music based on or inspired by the Song of Songs.
By Susan Miron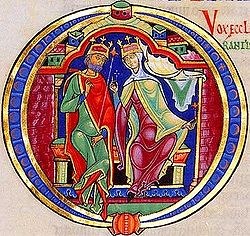 Blue Heron, a 13 person dynamo of a choir, ended its 13th season on Saturday with a fascinating program: sixteenth-century love songs based on or inspired by the biblical Song of Songs. In his superb program notes, Scott Metcalfe, the artistic director of Blue Heron, gives a brief but compelling history of this most erotic of Biblical poems, imbued throughout the ages with extraordinarily diverse meanings. Translators especially have evaded or obscured its erotic vocabulary and images, neutralizing the undertow of its sexual allusions, especially if they were translating directly from the Hebrew.
Although it was written down sometime in the third century BCE, Song of Songs wasn't admitted into the canon of the Hebrew Scripture until around the end of the first century CE. Historically, it has been seen as an allegory—between God and Israel, Christ and the Church, the chaste love of the Virgin Mary, and many more, some slightly far-fetched. But the erotically charged text remains, albeit in seemingly countless translations and musical settings, dramatic and utterly human. The Spanish composers featured—Francisco Guerrero, Tomás Luis de Victoria, and Sebastian de Vivanco, as well as Nicolas Gombert, who traveled in Spain—set the texts to music for various feasts of the Virgin Mary. As Scott Metcalfe writes, "Language like this addressed to the Mother of God signals a marvelously expansive concept of the divine."
The evening opened with a most surprising entrance of a young, barefoot woman clad in a black dress running toward the stage, breathless, reciting the opening verse of Song of Songs (1:1-4), a feat she would repeat suggestively and seductively several times throughout the concert. "Kiss me, make me drunk with your kisses. Your sweet loving is better than wine. . . . My lover, my king, has brought me into his chambers. We will laugh, you and I, and count each kiss, better than wine." Others in the audience seemed to enjoy this. I felt as if I had fallen into a Shakespearean production featuring an emboldened Juliet. (The actress, Kateri Chambers, wore shoes the second half.) She opened the six sections of the program, after which the singers would sing loosely-based illustrations of that piece of text.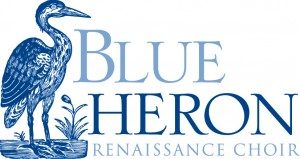 Blue Heron's singers—some well-known like Pamela Dellal and Jason McStoots, others merely really good—cannot hide in a group this small. They were given plenty of chances to shine; each impressed time after time in groups from trios to the full choir. These are singers with real personalities, and they're allowed to show it, savoring the music and words (in Spanish and Latin) of love, both sacred and profane. Almost everyone wore some red—a blouse, tie, handkerchief—I presume to remind us of the role of red (outside of bullfighting) in Spanish culture.
One of the fun oddities of the evening was an instrument, played by Marilyn Boenau, that looked like a squared-off bassoon. It is a bajón or dulcian, used frequently in sixteenth-century Spanish choirs. It basically doubles the bass, providing a reedy boost (from Spanish baja or low, I presume).
Each of the many songs were sung ravishingly and with lovely diction. I only wish they had recorded this program, which was just performed in California and in NYC on their usual series (St. Ignatius of Antioch Episcopal Church). I would love to hear it again.