Here is what I learned from watching the film Peace, Love, and Misunderstanding: Boomers are being sold down the river.
By Tim Jackson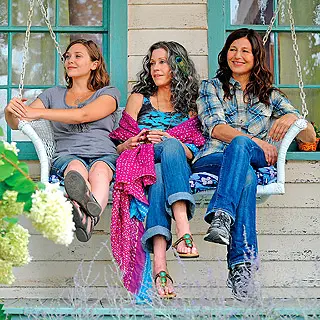 Although I am a devoted attendee of movie theaters, I confess that I do go to my oh-so-convenient Netflix streaming queue to catch up on overlooked chestnuts and commercial curiosities. It is mildly disconcerting that they have pegged my viewing tastes as "Social Issue Drama," "Fighting the System," and "Strong Women."
With some trepidation, I applied my ratings to the opening of the new Bruce Beresford film, a solidly sappy chick flick starring Jane Fonda, Catherine Keener, and Elizabeth Olsen as three generations of "strong women," all "fighting the system." Beresford has fashioned some wonderful human dramas, including Breaker Morant, Tender Mercies, Driving Miss Daisy, Black Robe, and last year's wonderful Mao's Last Dancer, but here's what I learned from watching Peace, Love, and Misunderstanding: We are being sold down the river.
The problem isn't so much that it's riddled with clichés and undeveloped characters as it feels based on algorithms devised from calculations on the proclivities of a newly acknowledged boomer audience. "If you create a movie that appeals to the boomers, they will come out and see it. You have to give them a good reason," says Paul Dergarabedian of Media by Numbers. Boomers are nostalgic and reject age categories. Check. They don't feel past their peak. Check. They are grandparents. Check. They are about experience more than "things." They think life is cyclical, not linear. They are on the road to "self-actualization." The men are in touch with their feminine, the women with their masculine. Check. Check. Check.
Researching for an audience is nothing new, of course, but when driven by the predictability of market research, it makes fools of everyone, compromises our intelligence, and when poorly done is both disappointing and maddening.
But how do I really feel? Let's begin with the actresses. Using the cache of three good actresses, the film gives us types we recognize rather than flesh and blood characters. It's terribly frustrating. I've always been ambivalent about Jane Fonda's acting skills, though I have admired her politics. But here she is, icon of the 1960's, as Grace the pot-growing, pot-smoking, irredeemable artist, hippie earth mother of Diane, a fairly uptight New York lawyer whose husband (Kyle MacLachlan) has just asked for a divorce.
Diane, played by Catherine Keener, who brings intelligence and sex appeal to middle age in Nicole Holofcener's films, is reduced to storming through cliché-driven arguments with her mother. Diane has arrived at Grace's house in Woodstock, New York with her son Jake (Nat Wolff) and daughter Zoe. As Zoe, Elizabeth Olsen, who was so good in Martha Marcy May Marlene, struggles with a poorly written role, phony conflicts, and an unmotivated romance.
Diane has not seen her mother in 20 years. It seems mom sold pot at Diane's wedding. Diane had her mother arrested, causing a two-decade rift. Why she chooses to visit mom now is not quite clear. Presumably it's the divorce, though they never discuss it. Nor do we get a sense of how she herself was raised or how she raised her own kids. What is made evident over and over in a panorama of predictable moments is that Grace represents Dionysian freedom and Diane Apollonian order. Zoe, on the other hand, likes to philosophize, shuns meat, and wrestles with whether, ironically, she can fall for the impossibly handsome local butcher (Chace Crawford).
Meanwhile, Diane stumbles into a kiss with the local hunk (Jeffrey Dean Morgan playing the Javier Bardem cliché of the handsome, middle-aged sexpot with a heart of gold). He coaxes her onstage during a rendition of "The Weight." This dreadfully phony musical moment and unlikely concert is all the more cringe-inducing when you realize how the late Levon Helm lent such authentic spirit to Woodstock, which here is reduced to a pattern of romantic and musical trivialities. When a scene lacks cause or sufficient dialogue, the soundtrack reliably brings on some minor acoustic guitar plucking to ensure the audience understands the emotional tone.
Not even son Jake escapes the contrivances of plot. Will he find romance with an adorable local hippie girl and escape his distressing nerdom? Everything is about acceptance and transformation, a theme delivered through a relentless barrage of hackneyed bromides, which may be meant as parody. Somewhere I lost track of whether the film took itself seriously. "Sometimes with art as in life you just don't know where you're going, and that leads to transformation," Grace suggests. Later recalling having met the Dalai Lama ("who was quite attractive") she intones, "He told me the artist must look into the heart." Is that all the great man could come up with?
There is not a single scene that develops beyond the surface. Perhaps this is reflected by the fact that Jake is constantly shooting his experiences in Woodstock with a digital camera. Spoiler alert: The result is an experimental film that he submits to student festivals. We see in his three-minute creation what the entire movie attempted in 90 minutes. This meta device of a student film is used as one more unlikely plot device where it would be better seen as a self-reflexive criticism of an underwritten and misdirected feature.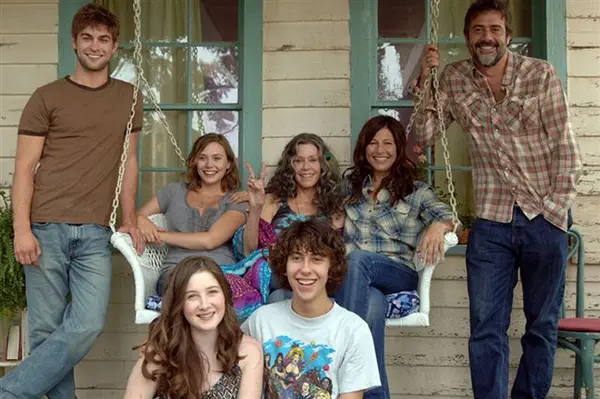 You can't peel the surface off the market research of a demographic and sell it as a movie. Too many unanswered questions stretch credibility. Who are these women who dance and howl at the full moon? How can Grace afford to decorate her designer hippie house? What is the anti-war protest that conveniently takes place during ths visit? Why is there suddenly a rock concert in the middle of town? Do Diane and her kids have any friends, or do they talk about anything with each other? There are successful films that have looked at similar generational conflict stories. These are compassionate, character driven films like Lisa Cholodenko's Laurel Canyon and The Kids are All Right, Tony Goldwyn's A Walk on the Moon, and Ang Lee's Taking Woodstock.
With a little research into the film, I discovered that Peace, Love, and Misunderstanding was "developed" by a French producer, Claude Dal Farra, and his partners, who hired the screenwriters Christina Mengert and Joseph Muszynski to pen a script that would target older audiences. Jane Fonda tempted Catherine Keener and the package no doubt brought on director Beresford. Bingo! The European financiers knew they could sell this American folderol in Europe. Blame the French!
There is a moment when earth mother Diane says to her uptight lawyer daughter, "What are you doing here? I don't even know you." My feeling exactly.
---
Tim Jackson was an assistant professor of Digital Film and Video for 20 years. His music career in Boston began in the 1970s and includes some 20 groups, recordings, national and international tours, and contributions to film soundtracks. He studied theater and English as an undergraduate, and has also has worked helter skelter as an actor and member of SAG and AFTRA since the 1980s. He has directed three feature documentaries: Chaos and Order: Making American Theater about the American Repertory Theater; Radical Jesters, which profiles the practices of 11 interventionist artists and agit-prop performance groups; When Things Go Wrong: The Robin Lane Story, and the short film The American Gurner. He is a member of the Boston Society of Film Critics. You can read more of his work on his blog.