By Caldwell Titcomb
NEW YORK CITY–Nearly thirty years ago – 14 December 1979, to be exact – the estimable Negro Ensemble Company (NEC) opened at its off-Broadway venue a play by one of its actors, Samm-Art Williams. Entitled "Home," the production proved one of its major hits, and was extended thrice its scheduled run to 82 performances, then transferring to Broadway for a remarkable total of 279 further performances.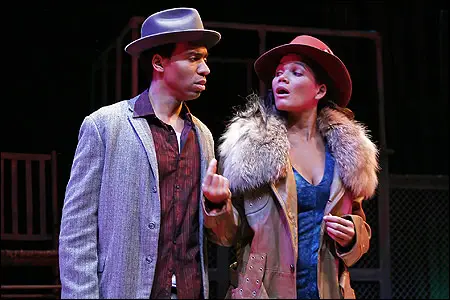 Kevin T. Carroll and January LaVoy in Samm-Art Williams' Home.

Williams was born in North Carolina in 1946, graduated from Morgan State University in 1968 with a degree in political science and psychology, and acted for five years with the black Freedom Theatre in Philadelphia before moving to New York and joining the NEC.
"Home" is a kaleidoscopic memory play about Cephus Miles, a North Carolinian who grew up on a farm in the 1950s and underwent colorful experiences over the next two dozen years. Part serious and part comedic, "Home" won a best-play Tony nomination.
Except for Miles, all the play's many characters – male and female, young and older – are assigned to two actresses. In the original production, Miles was beautifully acted by the late Charles Brown (1946-2004), who garnered the first of two Tony nominations, and was handsomely supported by Michele Shay and L. Scott Caldwell.
The Signature Theatre Company is devoting its current season to reviving important NEC offerings. In its 160-seat Peter Norton Space it is presenting "Home" with three strong players: Kevin T. Carroll, January LaVoy, and Tracey Bonner. In addition to modern works, Carroll recently played Horatio in "Hamlet," and LaVoy's credits include Portia in "The Merchant of Venice" and Isabella in "Measure for Measure." Bonner appeared in an earlier production of "Home" with the Madison Repertory Theatre in Wisconsin.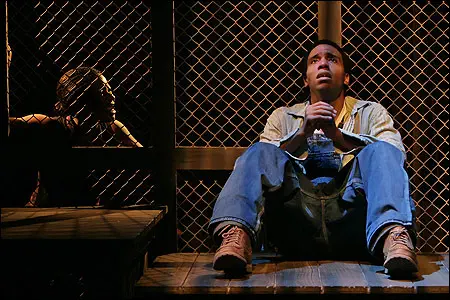 Tracey Bonner and Kevin T. Carroll in Samm-Art Williams' Home.
Carroll does not convey the extraordinary warmth that Brown brought to the role of Miles, but he makes up for it with uncommon intensity. Bonner is a real live wire in many of her portrayals, while LaVoy is more restrained, especially as Miles' childhood sweetheart Pattie Mae Wells, who goes off to college, marries and divorces a Boston-born lawyer.
Williams' language is highly rhythmic, at times even poetic. Near the start, Carroll does a fine job with Miles' paean to his grandfather's farm: "I love the land, the soft beautiful black sod crushing beneath my feet." The first four words recur several times as a refrain. Eventually Miles inherits the farm, but on refusing to go fight in Vietnam he is jailed for five years, and loses the farm for being unable to pay his taxes. Upon his release he heads north to a "very, very large American city" – presumably New York, with the frequent mention of the "subway roll." He gets a job loading trucks, and indulges in booze, cocaine, and disturbing the peace. He takes up with Myrna (Bonner), who dumps him when his money runs out.
Finally he heads back to Carolina, where he is surprised to find "white folks and colored folks in the same waiting room." At the end Miles and Pattie May have a reunion – wonderfully touching in this production – which leads to an optimistic conclusion that I won't reveal, but one where God, whom Miles has asserted to be on vacation in Miami, comes back into his life.
Director Ron OJ Parson has kept this show moving fast, with the two women racing around Shaun Motley's farm porch and the wooden slats behind it, changing character via a host of minimal costume props. Michael Chybowski's lighting design is always helpful too.
Williams has written quite a few other plays, but none has had the widespread appeal of this one. Thomas Wolfe famously proclaimed that you can't go home again. Samm-Art Williams shows that indeed you can.