William Kentridge spoke of the value of using a mirror to re-learn what he already knew how to do; the clear implication was that we are daily surrounded by mirror-images that we do not see for themselves but that hold the potential to alter our relationships to our tools and to our visions.
Information Regarding William Kentridge's Charles Eliot Norton Lectures. The lectures are held in Sanders Theatre in Memorial Hall at Harvard University, Cambridge, MA. Tickets are required and are available beginning at noon on the day of each lecture at the Harvard Box Office in the Holyoke Center or by phone (service charge applies to phone orders) and starting at 2 p.m. at Sanders Theatre. Limit two tickets per person. See end of this dispatch for a list of the remaining lectures.
Here is the dispatch from Drawing Lesson One.
Here is the dispatch from Drawing Lesson Two.
Here is the dispatch from Drawing Lesson Three.
---
Drawing Lesson Four, "Practical Epistemology"
Introduced by Maria Gough. April 10.
By Daniel Bosch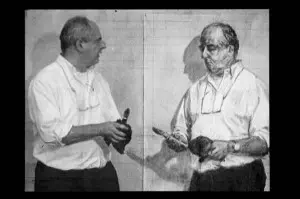 Since English "epistemology" comes from Greek epistasthai, "know, to know how to do," my wife points out that the title of William Kentridge's fourth Norton Lecture is slightly redundant. But hold the blue pencil. Redundancy in Kentridge isn't for nothing, as we learned on April 9th in Sanders Theatre.
Redundancy and repetition—"that bad backwards walking"—do not equal waste in his studio, where the artist's effort is to try "to find from the action and the repetition what the rules of the game are." Under such a rubric fall any number of Kentridge's artistic practices, from making nearly endless series of small and therefore similar adjustments to a charcoal drawing, changes that add up to an illusion of animation; to stillness transformed; to minutely arranging and re-arranging bits of torn, black, construction paper against a white background (and photographing each arrangement to fix it as a "moment" and not merely something spatial); to marching onto and over a chair in Muybridgean style, then splicing copies of the film that recorded this spectacle into a sequence so long it must be read as metaphor; to pacing the studio container ("830 laps of the studio"), book in hand, chanting the words to a beloved poem.
A studio so busy with repetition and redundancy, argued Kentridge, is a "space for the medium to lead," a space wherein the artist may follow and play with his materials, even into whimsy, even into stupidity. But the studio space is not purely aleatory—the operations inside its containers tend to be unsystematic (nothing so limited as the values on a die, for example) and do not have the sweeping quality of randomness. The play Kentridge described is closer, I think, to the play that Johan Huizinga postulated as a ground of human culture. The discovery of its rules brings more joy than fear; we might figure joy as the adult and fear as the child in tow, tightly clasping joy's hand.
In his redundant "Practical Epistemology," Kentridge returned to his early emphasis on the strength of the artist who is two artists: one who makes and a second who knows how to look at what he has made. He also repeated his point that this pair of co-parents makes possible a third artist, he who having made, and having looked, understands how to revise, finalize, sharpen, and perfect. But according to "Practical Epistemology," in Kentridge's studio there resides a fourth incarnation of the artist: he who can exploit the other three artists' efforts to discover new possibilities to be explored in the next making.
One of William Kentridge IV's favorite tricks (how neatly Kentridge conjures him in this lecture!) is reversal—he likes to turn a thing the other way round or inside out. The simplicity of reversal notwithstanding, it is a sophisticated tool in his arsenal because when the fourth artist conscientiously employs reversal, the made thing is renewed in its physicality. Studio artists who say phrases backwards, who walk backwards, who closely observe the filmic traces of actions in reverse, they all re-physicalize the past. Since the object of their attention has already been accomplished in its positive dimension, studio artists can count on it to repeat the physical strengths that reside in the original and to engage an audience's delight in skillful undoing—delight, especially, in the skillful undoing of time.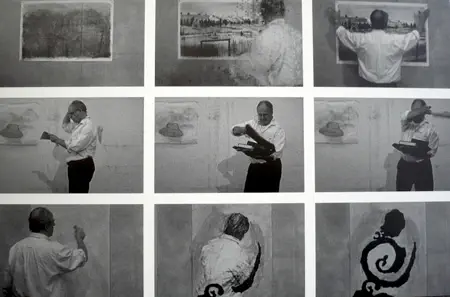 Kentridge used both stage and screen to demonstrate how this works. Early on he strode from stage left toward stage right speaking a simple line of English and then put himself on "rewind," reversing (repeating) his motions backward while speaking those same words in Hsilgne. Later he spoke as a short film describing the making of a kind of reverse drawing was projected behind him. Kentridge had set a cylindrical mirror near the center of a large, white sheet of paper. Accompanied by the words, but independent of their narration, images of his hands and tools made and erased "negative" marks (repeatedly) on the paper until a "positive" image appeared in the reflective surface of the cylinder. Without the reversal in the mirror, the marks on the paper are an illegible scrawl; without the studio practices of studied negation and reversal, forward and positive action is less-well understood. Kentridge spoke of the value of using a mirror to re-learn what he already knew how to do; the clear implication was that we are daily surrounded by mirror-images that we do not see for themselves but that hold the potential to alter our relationships to our tools and to our visions.
Two images of the studio where the four Kentridges come to "know how to do" persist for me. One is an agonistic self-portrait: the artist violently scratching and scraping and gouging and abrading his mirror-image in a polished, copper plate in a frenzy that belies his showman's flair in Sanders. (Be wary if Kentridge asks you to come upstairs and see his etchings! But laugh with him as I did, as he recites a few of the tools and moments in the etching process as proof of its inherent erotics: the bed, the blanket, the sheet, the open bite, the spit bite, the sopping of excess liquids.) The image sticks with me because it shows how ardently any one among the different Kentridges might at any point resist the images of Kentridge that are produced by his own practices.
The second image of the studio is contained in the short film A Trip to the Moon, which Kentridge produced in homage to the 1902 short film of the same name by motion picture pioneer Georges Méliès. In Méliès' original, an artillery shell full of contentious wizard-scientists is fired at the moon and strikes it in an eye pretty close to Mare Imbrium, the Sea of Showers. Recapitulating a common colonial narrative, the shell's payload disembarks and begins to explore the moon, only to discover complex and resistant life—sublunary mushrooms and humanoid creatures. The wise moon-men seem to know they must be willing to die to defend their fungi, and the wizard-scientists are more than willing to dematerialize them into puffs of dust. Outnumbered, and panicked, the terrestrials regain their shell only to fall back to Earth—how did Chuck Yeager put it—"like Spam in a can."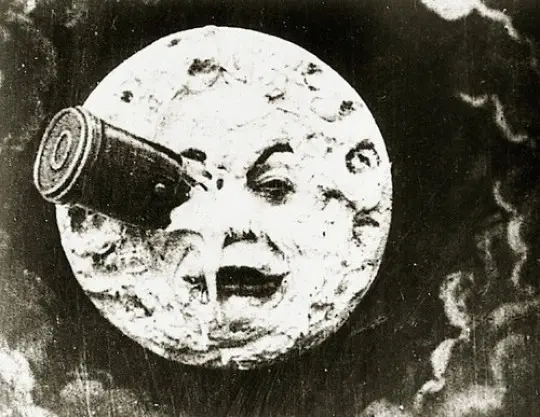 In Kentridge's version, Méliès' unprecedented voyage is inverted, distorted, eerily present. A lone artist mills about his small studio. Mills. Makes. Unmakes. Mills some more. For the 830th time, perhaps, an espresso pot is launched from the the studio into outer space, and at blast-off the studio is re-launched as the interior of an espresso pot that is heatedly progressing toward communion with a heavenly body. When Kentridge-the-artist-astronaut gazes through the time-thick lens of an espresso cup as if into space, he finds sweet contours he himself has drawn—a lovely female form and a nice twist on a common colonial narrative. In the next frames, we see the artist greedily zooming in to see more of her—he's added two more espresso cups, and he twists the handle of one like the focus band on a sophisticated camera lens. This Trip to the Moon never quite gets there and so movingly portrays long-distance longing; the arrival of the imaginary lover in the studio as a "real" naked female reconfigures Kentridge's ascent as a Pygmalion-like falling in love. What if she wants sugar in her coffee? Is that a contingency beyond the artist's control?
Some of the most beautiful drawings in this contemporary Trip to the Moon are attractive because they are not precisely made by Kentridge. He depicts the spill of the milky way by inverting positive images of ants eating sugar poured in sweet contours on a white ground. When Kentridge shows the ants' motion in negative, white ant film "stars" perform for him in a heaven of sucrose, follow their appetites against a blackness too dark to be matter, the purely empty space of the vacuum. The viewer both knows and doesn't know what he is seeing. The wily ants' attempt to colonize his studio has been accommodated by all four Kentridges at play. And the artist is ready to begin again, and again, all over again.
Though teaching duties will keep me from Drawing Lesson Five: "In Praise of Mistranslation" on Monday, April 16th, we can look forward to a dispatch by novelist-critic and Arts Fuse contributor Grace Dane Mazur!
---
A public viewing of films by William Kentridge will be offered by the Harvard Film Archive on Monday, April 16 at 7 p.m. (followed by Q&A with the artist) and again on Sunday April 22 at 7 p.m. (without Q&A).
Drawing Lesson Five, "In Praise of Mistranslation"
Introduced by Glenn Lowry. April 16, 4 p.m.
This is the only lecture not on a Tuesday. Tickets for this lecture may not be picked up at the Harvard Box Office (closed on Mondays) but rather may be picked up at Sanders Theatre.
Drawing Lesson Six, "Anti-Entropy"
Introduced by Peter Galison. April 24, 4 p.m.
Kentridge's Norton Lectures will not be followed by Q & A. Instead, a separate opportunity to converse with Kentridge has been scheduled for Monday, April 23rd at 4 p.m. This extra session is to be held in Emerson Hall 105.
The Charles Eliot Norton Professorship in Poetry was endowed in 1925 by C. C. Stillman (Harvard 1898). Incumbents are in residence through their tenure in the Chair and deliver at least six lectures. The term "poetry" is interpreted in the broadest sense, to include all poetic expression in language, music, or fine arts.
Previous holders of the Norton Chair include Gilbert Murray (1926–27), T.S. Eliot (1932–33), Igor Stravinsky (1939–1940), Charles Eames (1970–1971), Leonard Bernstein (1972–1973), Frank Stella (1982–84), John Cage (1988–89), Nadine Gordimer (1994–1995), and Orhan Pamuk (2009–2010).