Though rooted in Boston history, The Luck of the Irish, with its racial, class, marital, and inter-generational conflicts, could be set anywhere in the world.
By Helen Epstein
The Luck of the Irish by Kirsten Greenidge. Directed by Melia Bensussen. Staged by the Huntington Theatre Company at the Calderwood Pavilion, Boston, MA, through May 6.
For those of us who did not grow up in the Boston area, the world premiere of The Luck of the Irish is a local history primer as well as a moving theatrical experience. As a New York Jew who came here late in life, I've often wondered about the sociology of the Metro West suburbs and their racial and ethnic mix. The town of "Billington" is a Boston suburb I take to be an amalgam of Belmont and Greenidge's hometown of Arlington, and, as I watched and listened to this multigenerational drama, I was absorbed by the unspoken back stories of my neighbors just over the Arlington line in Lexington.
According to an instructive program note by dramaturge Charles Haugland, "court-enforced restrictive homeowners covenants barred home sales between individuals of different races" until the Supreme Court made it illegal in 1948. But real estate remains a discriminatory space in many communities across the United States, and what Greenidge's family called "ghost-buying" also remains in practice. "Ghost-buying" refers to the paid or unpaid services of a "ghost" who buys a piece of property on the "undesirable" purchaser's behalf. Mayor Michael Bloomberg's Jewish parents hired an Irish lawyer to purchase their Medford home in 1945. Playwright Kirsten Greenidge's grandparents paid an Irish couple to "front" their purchase in Arlington of the 1950s.
The Luck of the Irish opens in the early 2000s as a pair of sisters, Nessa and Hannah, prepare a picnic after the death of their grandmother Lucy. They had moved in to care for their grandmother during her last days in the house she and her husband acquired the 1950s. Lucy and her husband, Dr. Rex Taylor ("The Great Negro Doctor," as the white-gloved, middle class Lucy refers to him in a moment of exasperation) were then living in Boston's South End. Wanting space and better school for their kids, they made a deal with a working-class, Irish couple, Joe and Patty Ann Donovan, to buy a house in an all-white Billington. "$1500, when you sign it over to us.,???" as Dr. Taylor says. They have already tried once to move to the suburbs and were humiliated in Newton. The Donovans, Catholic parents of six children, need the money and Joe, who is respectful of the role of Negroes in the military, is happy to help them. But Patty Ann, a classmate of the Italian girl whose family is selling the house, is ambivalent and pressures Joe to ask for more money. Fifty years later Patty Ann, who believes "there's an order to things," returns to Billington claiming that the title to the house really belongs to the Donovans.
Though rooted in Boston history, The Luck of the Irish , with its racial, class, marital, and inter-generational conflicts, could be set anywhere in the world. At two hours and five minutes (two acts with a 15-minute intermission), shifting between the two time periods, this rather old-fashioned, 10-character drama is influenced by August Wilson's Pittsburgh plays. Like them it draws the audience into its protagonists' lives so completely that my interest rarely flagged.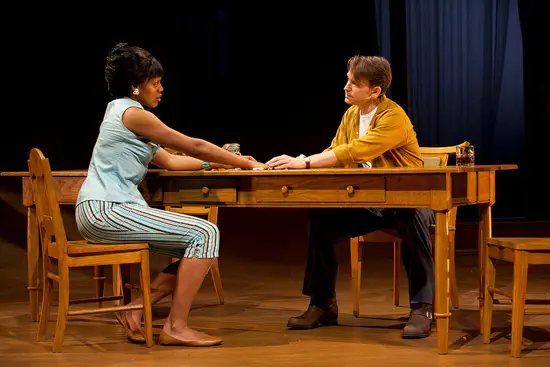 Greenidge, who has written close to a dozen plays, has created a compelling world in this one, addressing stereotypes as well as paradigmatic suburban concerns directly. Although the script could still use some tinkering (I found the very beginning a muddle), she has drawn a group of sympathetic male and female characters and powerful dramatic situations that evoke universal experiences. Director Melia Bensussen keeps the play moving briskly between time frames, aided by an able design team and a costume designer who had a blast with those 1950s outfits.
On press night, my only reservation was a seemingly uneven cast. I particularly liked Nikkole Salter's ambitious, restrained and caustic Lucy Taylor; Victor Williams as the hard-working, patient, and wistful Dr. Taylor; and McCaleb Brunett as Joe Donovan, the young, Irish dreamer who did the right thing by his family and didn't get to lead the life he might have led had he been born at another time and place.
Although it is a drama, many parts of the The Luck of the Irish play as comedy, and it was interesting to hear this ethnically mixed audience in the South End laugh at lines that were not at all funny 50 years ago. A serious play about a very serious subject, The Luck of the Irish will leave you thinking and smiling.
---
Helen Epstein is the author of Joe Papp: An American Life and other books on the arts.