The Arts Fuse has added some new features that make us easier to read and share.
By the Arts Fuse Webmaster.
Regular readers may have noticed a few additions to our pages recently, so let me take you on a brief tour.

If you look at the top of the middle column, you'll see a slightly cryptic, little menu of links to Readability.com, a terrific site that allows you to turn one of our articles into an easily readable and printable format that can also be saved if you have a Readability account. (Readers who prefer black-on-white should like this a lot.)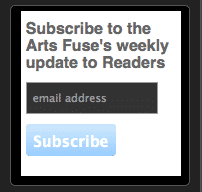 Next to it, at the top of the right column, is a brief form where you can sign up for our free weekly email update. If you don't stop by The Arts Fuse on a daily basis, you'll find this to be a very helpful reminder of outstanding recent articles.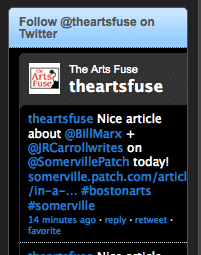 Just beneath the email subscription form, you'll find the latest items from our Twitter feed (@theartsfuse). See something interesting? Retweet it to your own followers, reply to it, or mark it as one of your favorites.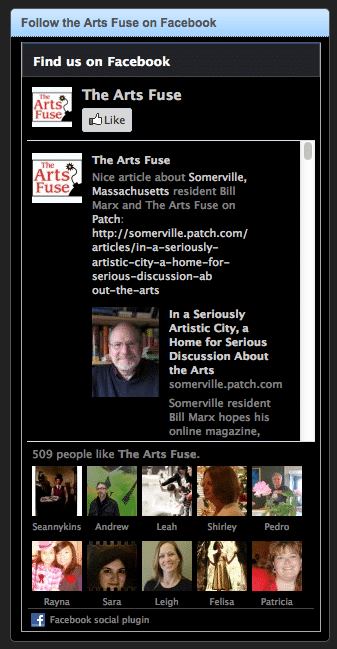 Back in the middle column, a bit further down, underneath the Recent Comments, you'll see our Facebook Like Box. Here you can click through to The Arts Fuse Facebook page and read any of our recent posts—and be sure to "Like" The Arts Fuse so you'll get all our Facebook updates in your news feed.